Who Can Use This Feature?
Business Plans
Essentials
Growth
Enterprise
Looking to cancel your subscription? We're sorry to see you go, but if you feel like you're not making the most of Vidyard Pro, you can follow the steps below to cancel your plan.
Cancel your Vidyard Pro subscription
Sign in to your Vidyard account
Select My Profile in the bottom left-hand corner, then select Billing
Select Cancel Plan
Check the box to agree to the Terms of Use for Vidyard Free that will apply when your billing cycle ends, then select Yes, cancel plan.

After cancellation, you will be provided with an exit survey to help us better understand how to improve Vidyard. We appreciate any and all feedback you are willing to provide!
What happens after I cancel my subscription?
When you cancel your subscription, you will continue to have access to all Vidyard Pro features until the end of your current billing cycle.
At the end of the billing cycle, your account will revert back to Vidyard's Free plan, and you will lose access to the following features:
Unlimited videos
Downloading videos
Securing videos with password
Embedding up to 20 videos
Customizing your video sharing page
Adding a default Action to all videos and your sharing page
Receiving replies from viewers on your videos' sharing page
Ability to see individual video analytics
Will canceling affect my videos?
Canceling your subscription does not affect the videos in your library. You can continue to access your videos and viewers can continue to watch wherever your videos have been shared.
Going forward, your account will return to having the limits associated with Vidyard's Free plan: limits on recording length, the number of videos in your library, and the number of video embeds. Learn more about Free plan limits.
After canceling, videos that exceed these limits in your library will not be changed or affected. However, new videos will be subject to the limits of Vidyard's Free plan. For example, you will not be able to:
Record new videos greater than 30 minutes in length
Add new videos to your library until you are under the 25-limit maximum
Enable embedding on new videos until you are under the 5-limit maximum
How to resume your Vidyard Pro Subscription
If you'd like to continue with your Vidyard Pro subscription after having cancelled, you can always resume your existing plan anytime before the end of the current billing cycle.
By resuming your plan, you will:
Prevent your account from reverting to Vidyard Free
Continue the subscription with your original billing frequency (monthly or annual)

—

this means you will be charged on the next upcoming billing date
Continue to have access to your Vidyard Pro features
Sign in to your Vidyard account, then select My Profile > Billing from the bottom left-hand corner
Click on Resume Plan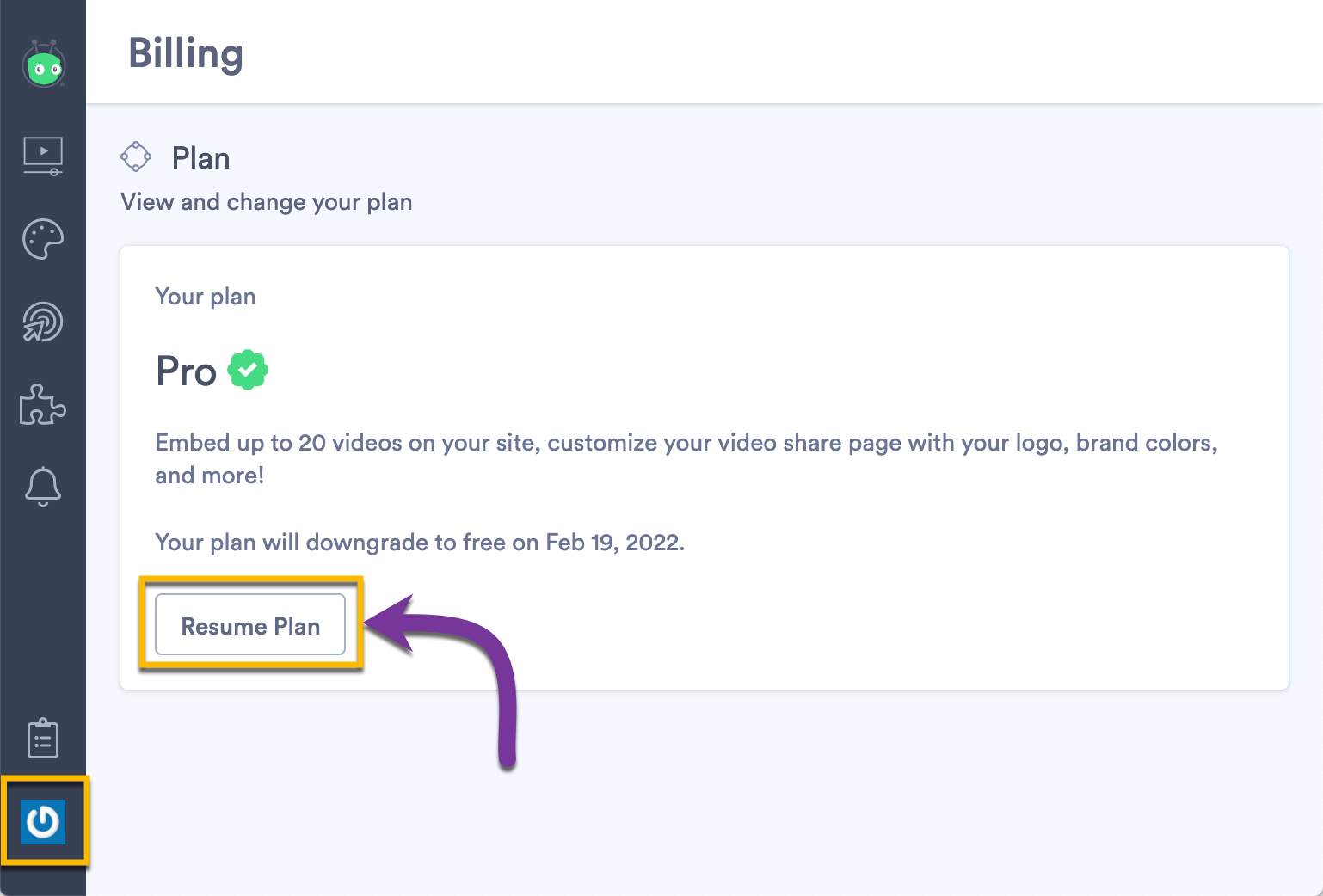 If your account has already downgraded to our Free product and you want to resume your Pro plan, you will have to set up a brand new subscription. Sign in to your account, then select the Upgrade button to re-subscribe to Vidyard Pro.