What are events and why are they important?
Events are what transform a regular video into a powerful content and lead generation tool. 
Examples of events are annotations, email gates, forms, and calls to action (CTAs)—these are the "enhanced moments" during the playback of your video.
When coupled with your marketing automation platform (MAP) or CRM, events perform the vital function of an information gatherer, enabling further interaction and outreach with your viewers. 
In essence, events help to ensure that your video content "never fades to black."
Gather information about your viewers and generate new leads
Provide supplemental material about your business or product
And most importantly, events help to enable continuous engagement, enhancing the experience of your video while directing the viewer to the next stage of the content journey.
Where do I use events in Vidyard?
Think of events as assets that you create, manage and assign inside the Vidyard platform. All of these actions take place inside the Event Library.
The Event Library is designed to:
Provide a simplified event creation and editing experience
Make choosing an event an easy and seamless part of your workflow
Enable users to leverage events across their video assets and manage them from one central location
Assign events to videos on a one-to-many basis
Using the event library
From the Vidyard dashboard, select Content > Events (this will open the Event Library)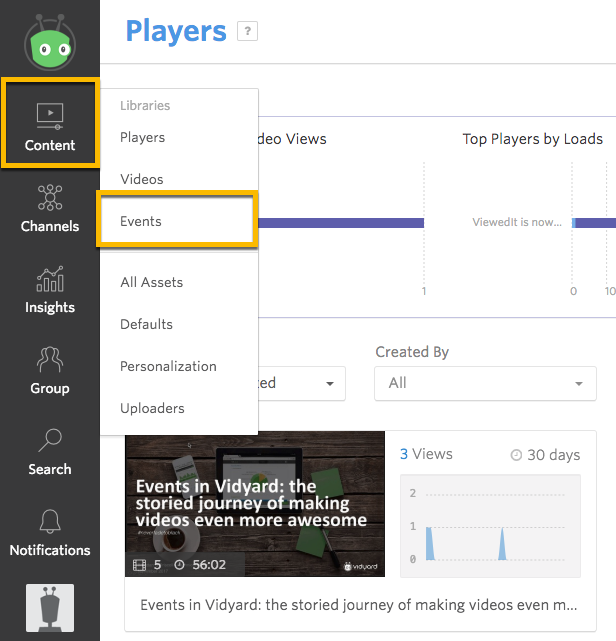 The Event Library acts as the central location where you can both create and assign events to videos. You'll also find an overview of the collection of events in your group:
A list of your existing events by name
The type of each event (fullscreen, annotation, etc)
The number of videos in your organization to which each event is assigned
The option to preview, edit, or delete an existing event, as well as the further option to assign or duplicate an event (under the Advanced menu)
The + New Event button to create an entirely new event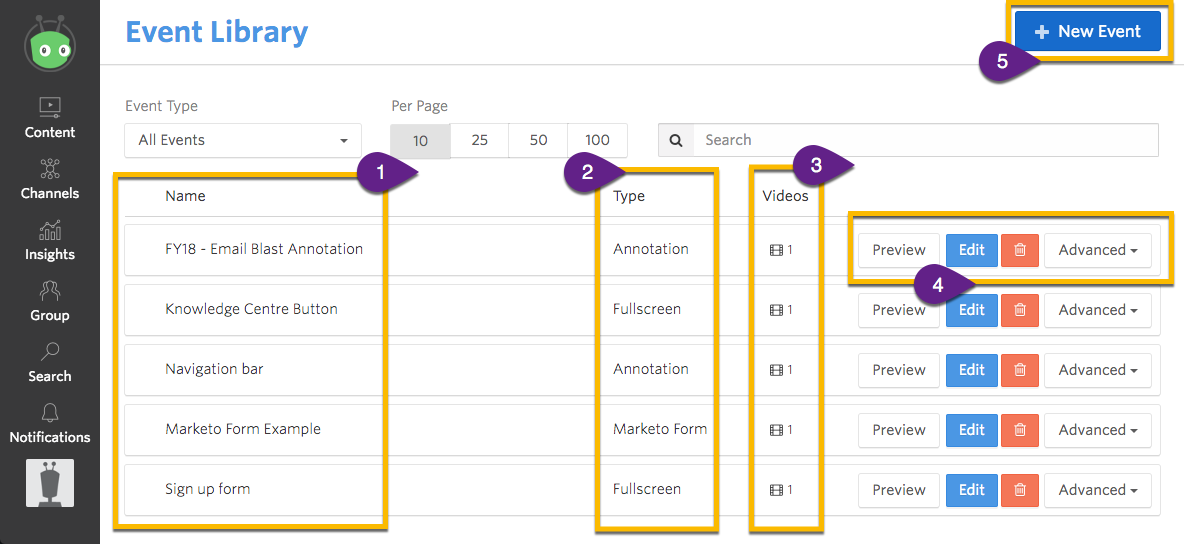 ---
Create and assign events
New events are created from within the Event Library.
Create either a pre-canned Quick Event OR design a Custom Event from scratch
Place a Marketo form on your videos from within Vidyard
Learn more about how to create events
After you've designed your event and determined how it should behave, assign it to one or more videos within your group.
Determine where in the video your event should appear
Apply the event as a default to all videos in your group
Learn more about how to assign events to videos