Move to group is an enterprise-level feature available to users of the GoVideo Chrome extension.
The feature allows users to move a video from their personal GoVideo account to any additional shared Vidyard groups of which they are a member. 
By moving the video, it becomes available to other members of that group to use when building and sharing a new player.
Requirements
Must be a GoVideo Enterprise user
Must belong to a role in the group to which the video is being transferred. The role must have the Create players, Edit players, and Upload videos permissions enabled.
Move a video to another group
Open the GoVideo Chrome extension
Under the Videos tab, select Open Video next to the recording that you want to move
From the editable sharing page, select Share > Move to Group

This will open a list of groups to which the video can be moved
The list includes groups to which you belong and have the required permissions

Select a group, then click Move
Frequently asked questions
Can I continue to share a video after it has been moved?
Once the video has been moved, it will no longer reside within your personal GoVideo account. 
When using the GoVideo app (in Gmail or Outlook, for example), you may still access the video through the shared group dropdown menu. As long as you remain a member of the group, the video can be share and included in playlists.
In the GoVideo app, use the Groups dropdown menu to to access content from shared groups.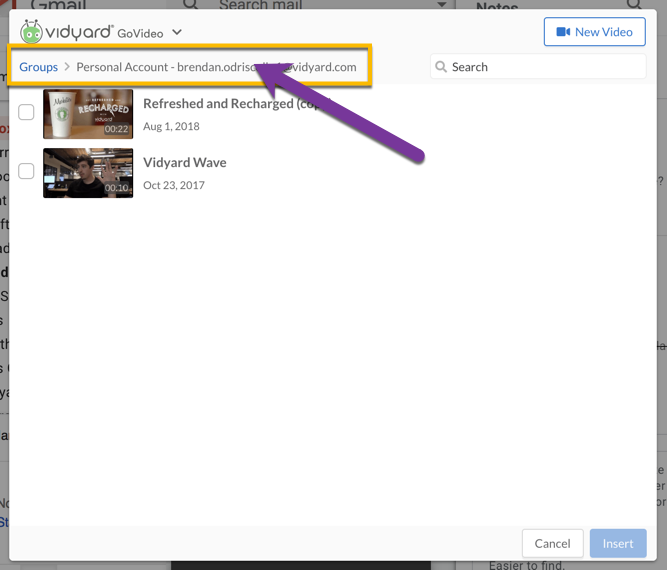 Where do I find a video in Vidyard after it has been moved?
In the Vidyard platform, you'll find videos that have been moved from a GoVideo account in the recipient group's video library. Within the recipient group, navigate to Content > Videos to locate the moved video.