The Vidyard web app is a video communication and sharing tool that acts as an extension of the core Vidyard platform. You'll find the web app in many of the products where you already work—Zendesk, Salesloft, Outreach, Salesforce, + many more.
If using Google Chrome, you may encounter the following error when signing in to the Vidyard web application:
Your browser has third-party cookies blocked. To sign in, permit Chrome to use third-party cookies in your browser settings.
Vidyard requires that your browser can save and read cookie data in order to authenticate users. If Chrome has been configured to block third-party cookies, you may not be able to properly sign in to your account.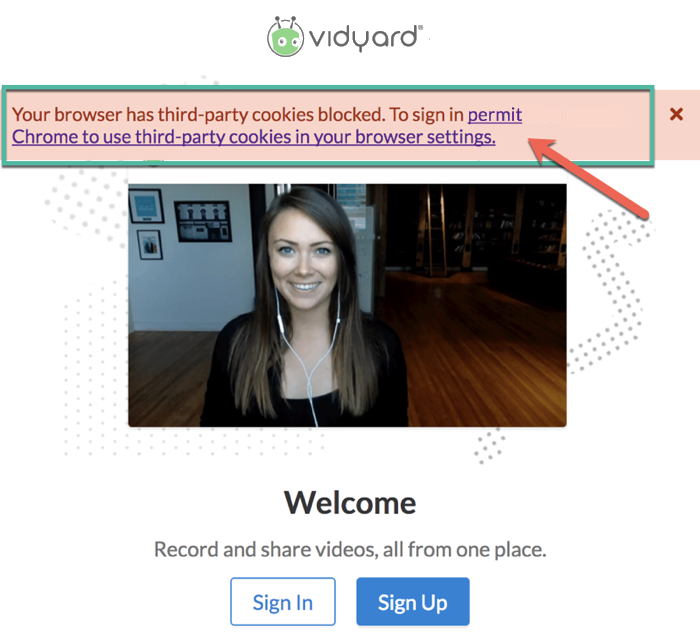 What are browser cookies?
Browser cookies are files created by websites that you've visited. Cookies make your online experience easier by saving browsing information. Cookies allow your browser to:
Keep you signed in to websites
Remember site preferences
Serve up locally relevant content
There are two types of cookies:
First-party cookies are created by the site you visit. The site is shown in the address bar.
Third-party cookies are created by other sites. These sites own some of the content, like ads or images, that you see on the webpage you visit.
Permit Chrome to use cookies
Open the Chrome menu in the upper, right-hand corner of the browser (three dots)
Select Settings > Advanced
Click Content Settings > Cookies
Toggle on Allow sites to save and read cookie data
Return to the Vidyard app and attempt to sign in again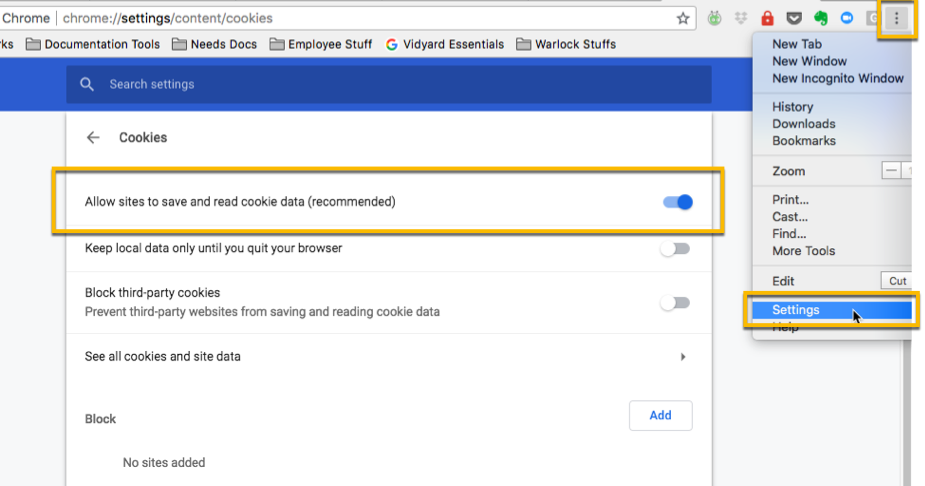 You may also refer to Google's documentation for further assistance with cookies and browser settings