Vidyard for Salesforce Marketing Cloud allows you to easily create and share videos in your marketing outreach and email campaigns.
Using the Vidyard custom content block inside of Marketing Cloud's Content Builder, users can leverage their personal and shared libraries to build one-to-many marketing communications that include video.
Simply drop the Vidyard icon onto an empty email template to launch the Vidyard app. Then, select a video or playlist from your library to insert it as a clickable thumbnail that directs your viewers to your sharing page.
Requirements
To install Vidyard package: Administration role permission required
To use Vidyard app: Content Builder role permission required
Install the Vidyard package
Under profile, select Administration
Under the Account dropdown menu, click Installed Packages
Click New to install a new package

Provide the package with a name and description ("Vidyard", for example)

Click Add Component
Choose Custom Content Block > Next
Click Save


Make the Vidyard app available to your users

Select Licenses > License all current and future users
Build an email with the Vidyard content block
From the Marketing Cloud dashboard, select Content Builder > Content Builder
Click Create > Email
Define the properties of the email

Choose from an existing template or email, then click Select
Provide the email with a name and, if necessary, a description, save location and campaign

Click Next
Select the Vidyard custom app and drag it to an available content block

If necessary, authorize the app, then create or sign in to a Vidyard account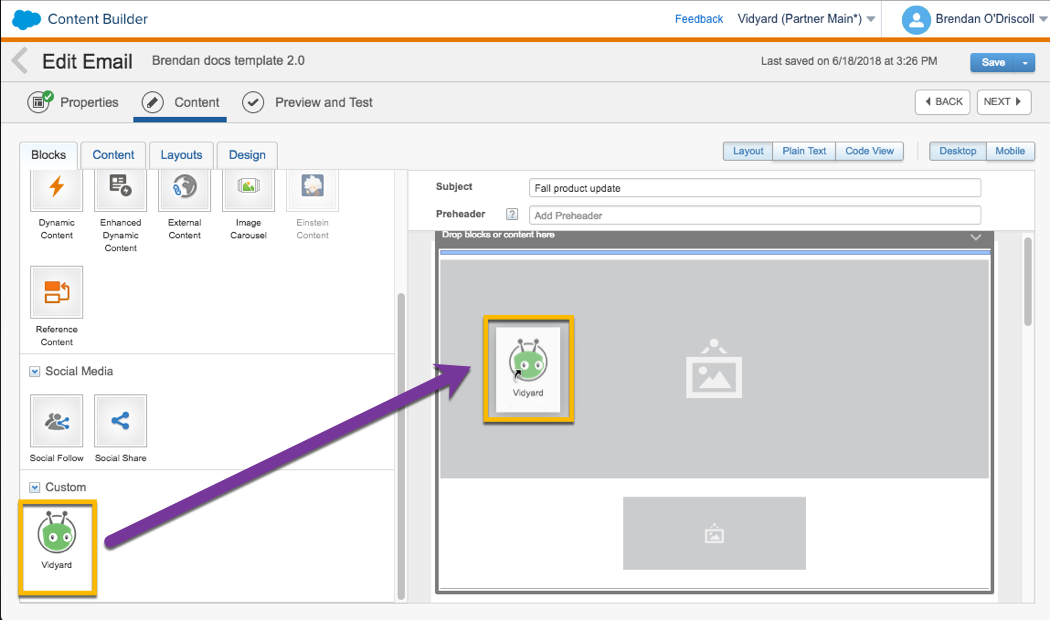 Using the Vidyard app
Use the Vidyard app to either record or insert an existing video or playlist into the selected content block:
Record or upload new videos
Build playlists from your video library

Use the Folder dropdown to add video from across shared content folders in Vidyard to which you have been given access (this is a paid subscription feature)
Use the Selected tab to arrange the order of your chosen playlist
Select the title of any video to preview it in-app

Insert a recording or playlist directly into the Marketing Cloud content block
Note: Learn more about the Vidyard app's supported browser functionality