Understand how limits apply to your Free account 💡
We've updated Vidyard Free accounts to include new limits on the number of videos you can have in your library and the length of new recordings.
In this article, you'll learn about:
About the changes to Vidyard Free
After hearing some feedback that users on our Free plans want to do more with video, we launched some great new features in 2022, including Chapters, Default Thumbnails, Enhanced Trim, and Video Notes.
Along with these improvements, we started to introduce limits to new users who signed up for Vidyard Free accounts in April 2022:
A limit of 25 total videos in your library
A 30-minute length limit on new recordings
Over the course of 2022, users that signed up for Vidyard Free prior to April will receive the same limits. Don't worry–if this is you, we'll give you plenty of notice (at least 30 days).
We know that limits are not always popular, but in the long run they allow us to deliver more valuable features that help you get the most out of Vidyard, whether you choose to upgrade to a paid plan, or stay with a Free account.
Video storage limits
Vidyard Free plans include a limit of 25 videos. Each video that you upload or record (via our browser extension, desktop app, or other recording tools) counts towards the limit. For example, if you have 5 videos in your library and then record another, your new total will be 6/25 videos.
Once you reach your limit, you'll receive a notification in Vidyard that prompts you to either upgrade to a paid plan or delete old videos to make room for new ones.
Don't worry–when you reach the limit we'll never delete any videos from your library (unless you choose to delete them). Your existing videos also never expire.
Plan Type
Video Limit
Free
25
Pro
Unlimited
Business (Essentials, Growth, Enterprise)
How do I know what my current video limit is?
Sign in to your Vidyard account in a browser window and open your video library. You'll see your current total in the top right-hand corner (x/25 videos).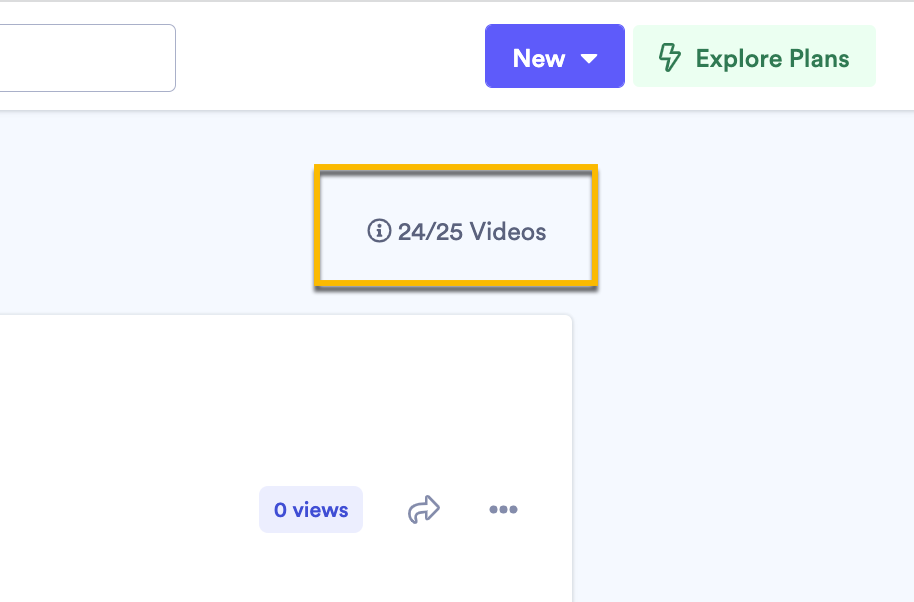 Am I notified when I'm approaching my limit?
Yes, we'll send you a notification in Vidyard when you're getting close to your limit (after you record or upload 20 videos).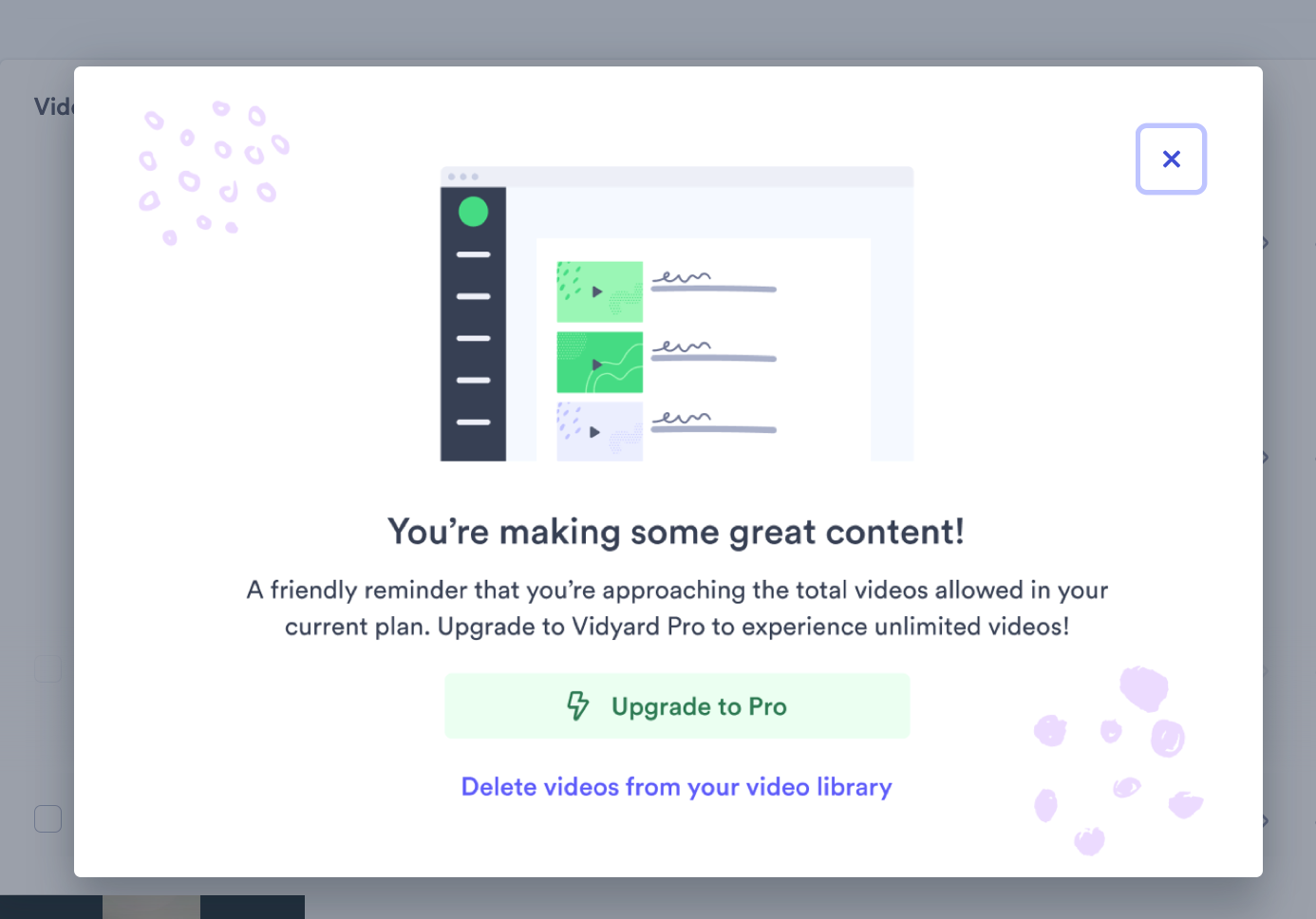 You'll also receive an email, and a message in Vidyard once you've reached 25 videos. If you try to record or upload a new video, we'll remind you to either delete an existing video first, or upgrade your account.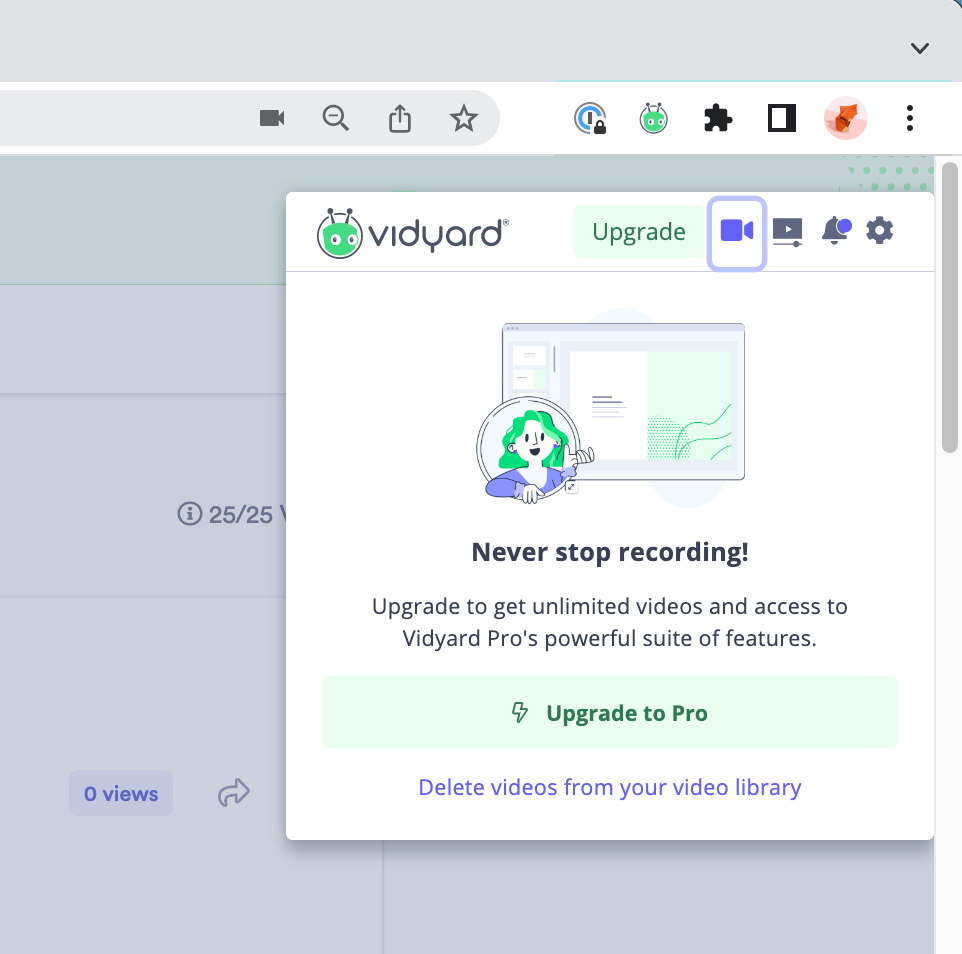 Do duplicate videos or playlists count towards my limit?
If you duplicate a video, the new copy of the video counts towards the 25-video limit.
Playlists combine videos that you already have in your library, and therefore do not count toward the 25-video limit.
What happens if I delete a video that I already shared?
If you need to make room in your library for new videos, make sure to consider where and when a previous video was shared before you delete it.
When you delete a video from your library it will no longer be available for viewers to watch wherever it has been shared (either via link or embedded on a webpage).
Note: With Vidyard Free, you cannot restore a video once it has been deleted.
Video recording length limits
Vidyard Free plans include a 30-minute length limit on new recordings. Whether you record videos with the browser extension, desktop app, or another Vidyard recording tool, your recording will stop at 30 minutes.
Don't worry–as you approach the 30-minute mark, we'll give you a warning notification. If you do reach the limit, we still upload whatever you've recorded so far to your library.
| | |
| --- | --- |
| Plan Type | Recording Length Limit |
| Free | 30 min |
| Pro | 60 min |
| Business (Essentials, Growth, Enterprise) | Unlimited* |
*Note: While Business plans do not tangibly limit recording length, in practice we do limit video uploads greater than 24 hours in length to ensure a stable and optimal playback experience.
Can I keep track of how long I've been recording?
You can always look at your recording controls to keep track of how long you've been recording. If you choose to record your screen, you'll find the controls in the bottom corner of the window or monitor that you're capturing.
Just make sure you have recording controls enabled in your preferences.

To make sure you can wrap up your recording successfully, we'll give you a warning notification on your screen 5 minutes and 1 minute before you reach the 30-minute mark.

Does the length limit apply to playlists?
No, the length limit only applies to videos that you record. If you create a playlist, we do not count the total runtime of all videos in the list.