The GoVideo Chrome extension allows you to share videos with your audience through several different channels: a sharing page link, an email message through Gmail, and various social channels (including Twitter, LinkedIn, and Facebook).
You can also connect GoVideo to YouTube and share videos to your channel.
Share videos to YouTube from the edit page in the GoVideo extension at any time. The edit page will also open whenever you finish a new recording.
Requirements
Open a video from your library
Whenever you finished recording a new video, the edit page will open. You can also open the edit page for a video at any time.
Click on the GoVideo extension in the top, right-corner of your browser
Click on Videos to open your GoVideo library
Hover over the video you want to edit, then click Open Video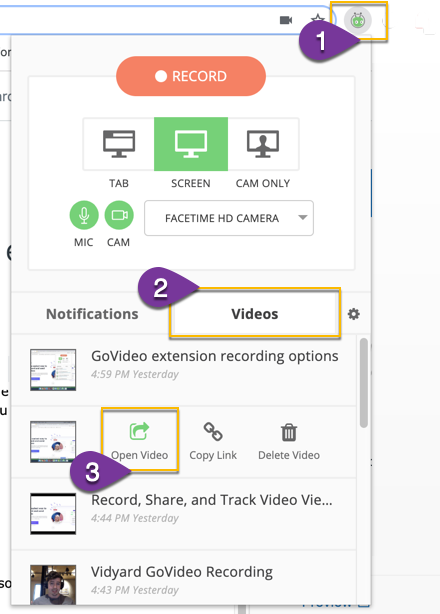 Connect GoVideo to a YouTube channel
Through the GoVideo Chrome extension, you can connect 1 YouTube channel to your account.
Open a video on the edit page, then click on the Share button in the top right-hand corner of the page
Click on the YouTube icon, then select Connect Account
Google will ask you to sign in to an account and authorize vidyard.com to share videos to your channel.

Select a Google or YouTube brand account
Click Allow to authorize Vidyard to share videos to your channel
Push a video to your YouTube channel
Open a video on the edit page, then click the Share button in the top right-hand corner of the page
Click on the YouTube icon
Select a Video Privacy setting from the dropdown menu

Click Push to share to your YouTube channel
Note
You will not receive GoVideo view notifications for videos viewed on YouTube
Disconnect your YouTube channel from GoVideo
Click on the GoVideo icon to open the extension
Select the Settings icon
Scroll down the integrations tab, then click Disconnect