When you first set up a Vidyard account, you will notice that your sharing page and video hubs are hosted on the vidyard.com domain.

Adding a CNAME record allows you to use your own domain on these pages. Visitors may then seamlessly transition between your website and both sets of pages without recognizing that the content exists on two separate domains.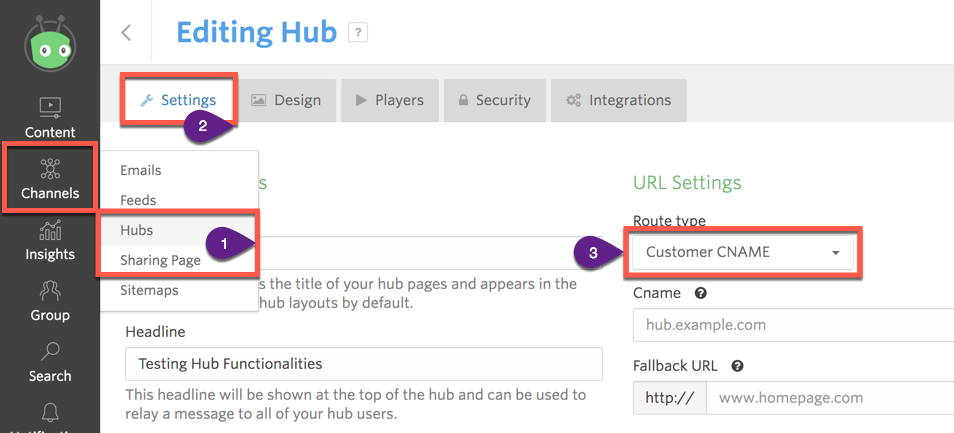 It is equally important to ensure that your domain utilizes HTTPS.
HTTPS indicates that your webpage and a server maintain a secure connection. To visitors, HTTPS is a visual cue that presents your webpage as trusted and secure. To do this, you will have to establish an SSL connection with Vidyard.
What is SSL/TLS?
SSL (Secure Sockets Layer) is the standard security technology for establishing an encrypted link between a web server and a browser. This link ensures that all data passed between the web server and browsers remain private and integral. SSL is an industry standard used by millions of websites in the protection of their online transactions with users.
How does SSL/TLS work?
A browser attempts to connect to a website secured with SSL. The browser requests that the server identify itself.
The server sends the browser a copy of its SSL certificate
The browser checks to see whether it trusts the SSL certificate. It so, it sends a message to the web server.
The web server returns a digitally signed acknowledgement to start an SSL encrypted sessions
Encrypted data is shared between the browser and the web server.

What Vidyard needs to set up SSL
Vidyard requires the following in order to establish an SSL connection:
A valid RSA certificate
The private key of the RSA certificate
A valid certificate chain

A certificate chain is created by your signing authority. When your own certificate is combined with a root certificate and any intermediary certificates, this creates a certificate chain.
Instructions on how to obtain these certificates is included below.
Commonly used Certificate Authorites are: GoDaddy, Comodo, DigiCert, GlobalSign and Cloudflare.
Wildcard certificates (certificates that are used for multiple sub-domains) are accepted. Before sending them to Vidyard, please confirm with your internal IT/Security team that it is okay to distribute this certificate outside of your company.
Note: Always ensure that you use a secure method of delivery for these types of files, especially if they contain private keys.

Email is not a secure method.



When in doubt, work with your internal IT or Security team to complete the process.
Process to establish an SSL connection
Contact Vidyard support

Indicate whether you're attempting to set up SSL for a video hub or sharing page
Provide the following information:


Country Name (2 letter code) [AU]:
State or Province Name (full name) [Some-State]:
Locality Name (eg, city) []:
Organization Name (eg, company) [Internet Widgits Pty Ltd]:
Organizational Unit Name (eg, section) []:
Common Name (FQDN or CNAME, e.g. videos.yourcompany.com) []:
Email Address []:

Please enter the following 'extra' attributes
to be sent with your certificate request
A challenge password []:  <NO PASSWORD>
An optional company name []:

Vidyard Support will generate and return a Certificate Signing Request (CSR)

The request will be delivered as an .csr file via a secure cloud-based drop box

Provide the CSR to your Certificate Authority (CA)

The CA will verify the request and create a certificate
Also request from your CA the necessary intermediate certificates and root certificate. When combined with your own, this creates a certificate chain.

Return the signed certificate chain obtained from the CA to Vidyard Support

Please ensure that both the certificate and certificate chain are delivered in .PEM format
The certificate file(s) will then be installed on our servers
When everything is in place you will be able to use HTTPS to access your video hub or sharing page