Note:

the following article describes features and workflows related to the Legacy Vidyard Experience. Refer to our

new articles for up-to-date information

.
A domain whitelist allows you to control on what domains an embedded player can be watched. If someone embeds a player outside your list of authorized domain locations, playback will be restricted.
Domain whitelists are applied to individual players in your library.
Requirements
You must belong to a role with the Edit Player Style & Restrictions permission enabled
Select a player from your library
From the Vidyard dashboard, select Content > Players
Hover over to the player to which you want to add a domain whitelist, then click on Security
Add a domain whitelist
You can add as many domains to your list of authorized embedded locations as you want.
References to http:// and https:// will be matched. References to domains with and without www. will also be matched.
To include all subdomains on a website, use a wildcard asterisk: *.example.com
Under the Restrictions tab enter a domain name
Click Add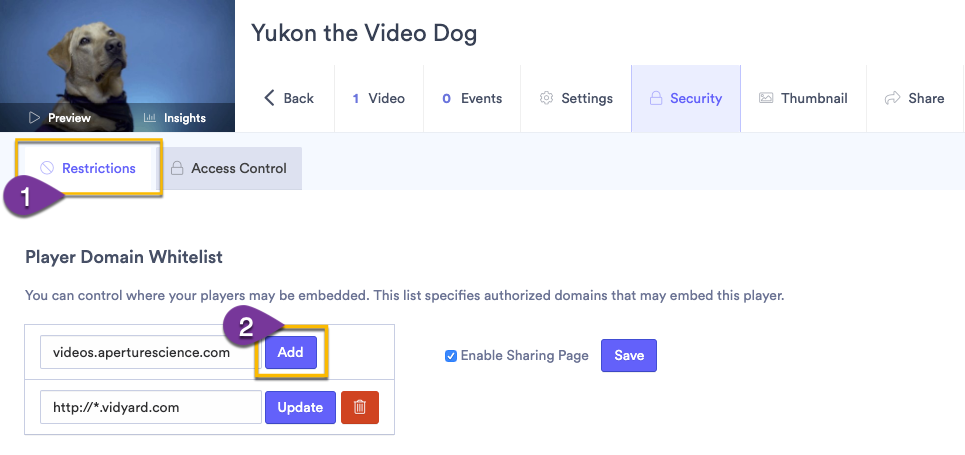 Optional: disable the player sharing page
By default, the domain for your player sharing page is automatically whitelisted (whether it uses a Vidyard subdomain or your own CNAME).
Un-check the Enable Sharing Page box to disable the player's sharing page.

As a result, the sharing page cannot be accessed or shared to potentially unauthorized viewers.

Click Save

when complete.
You can also turn off the Social Sharing options on the player. This prevents viewers from re-sharing your videos on a restricted domain where playback will fail.