A player can hold as many videos as you want, so use the Modify Videos feature to quickly add new videos to an existing player when publishing videos regularly.
You can easily change the videos in your players – even after it's been distributed. Using the Modify Videos button you can add, remove, re-order, or swap videos in your players (anything you need) and poof! The player will be up-to-date in all the embed locations.
Remember – the player is like a container for your videos, meaning the videos sit within the player. That's why any changes made to videos are automatically applied across all embed locations. This means you don't need to re-embed players to update content!
Note: By removing a video from a player, the analytics associated with that video will no longer be available. You can access the analytics for a removed video by putting it back in the player.
Note: See this article for a list of video formats that Vidyard supports.
To modify videos:
From the Content menu click Players. Hover your cursor over the player and click Video.


In the Video tab click Modify Videos.


At the top of the Select Videos area you will the Selected Videos section. This is a list of the videos in this player--essentially your playlist.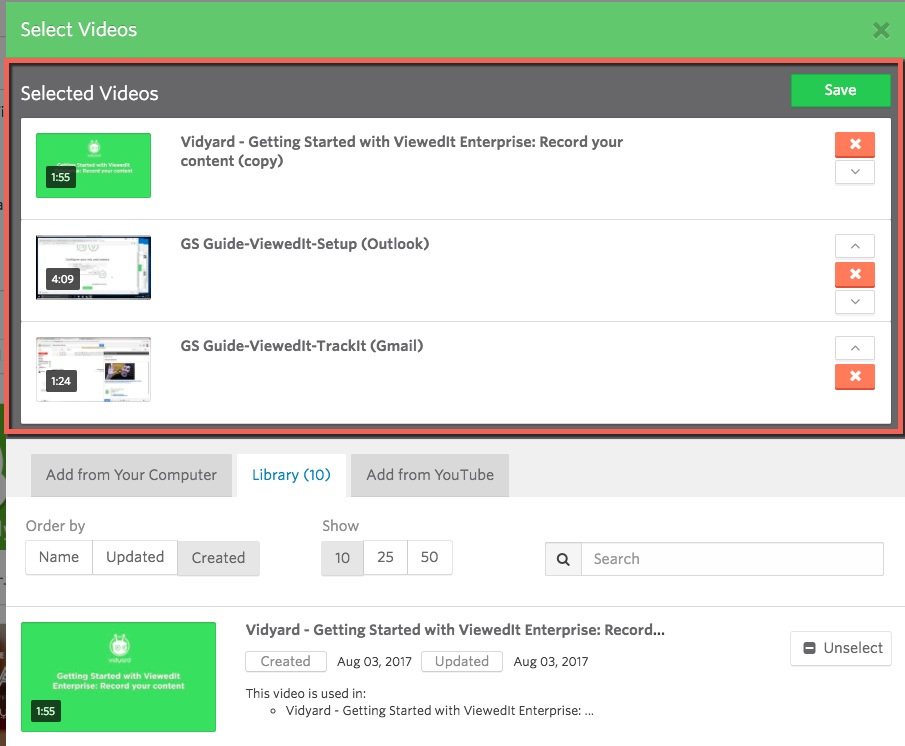 Within the Selected Videos section, use the arrow icons to re-order the videos in your playlist. Click the X icon to remove videos from the player.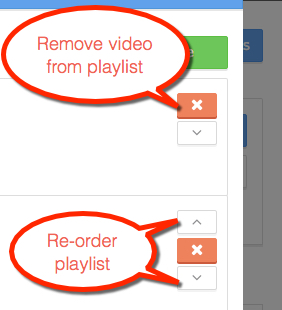 Note: Removing a video here will remove it from your player; however, the video will still remain in your video library.
You can also use the Select Videos window to add videos from your library, add new videos from your computer, or find YouTube videos to add to the player.


Click Save. These changes will immediately take effect at all your player's embed locations.