Many online video providers recommend settings that you should configure prior to uploading a video to their service—the file format, codec, an optimal frame rate and bitrate, etc. Typically these changes are made whenever you export the file from your video editing or creation tool.
Vidyard handles the optimization of these video settings for you.
Whenever you upload a video to Vidyard, we begin a process called encoding that ensures your video can be watched at the highest allowable quality that also maintains a continuous playback experience.
This article provides details about supported video formats, adaptive streaming (HLS), as well as the expected output for videos uploaded through Vidyard's encoding service.
Supported video formats
Vidyard allows you to upload a broad range of video formats. Below is a list of some common containers/codecs that work nicely with Vidyard, but it is by no means an exhaustive list:
| | |
| --- | --- |
| Containers | WEBM, MP4, MKV, MOV, WMV |
| Codecs | H.264, H.265, ProRes 422, VP8, VP9, WMV |
Note: Videos with multiple audio tracks must be uploaded as an .mp4 with H.264/AAC
File sizes
Output settings for videos uploaded to Vidyard
Whenever you upload a video to Vidyard, we'll begin to encode the video and optimize it for playback on the web. The optimized version of your video will have the following settings once the encoding process is complete:
Video

H.264 codec
Progressive video (de-interlaced)

Audio

AAC codec
2-channel stereo (mono is supported if part of the original uploaded file)
Sample rate 48khz
64kbps per channel

Resolutions

Up to 4K video (360p, 480p, 720p, 1080p, 1440p, 2160p)
Vidyard will always encode at least a 360p version of the video; however, we do not encode a version of the video that exceeds the resolution of the original upload file.
Adaptive streaming
Vidyard uses HTTP Live Streaming (HLS) to deliver the highest quality version of your video at any given time.
Whenever you upload a video file to Vidyard, the encoding process makes available several different versions of the same video at different resolution qualities. This allows Vidyard to dynamically adjust the quality of the stream based on the available internet speed of the viewer. As the available bandwidth fluctuates, the quality of stream will adapt to ensure continuous playback without buffering.
Unless the viewer selects a particular resolution from the settings menu on the player, Vidyard will automatically choose the highest quality version of the video that the internet connection can support.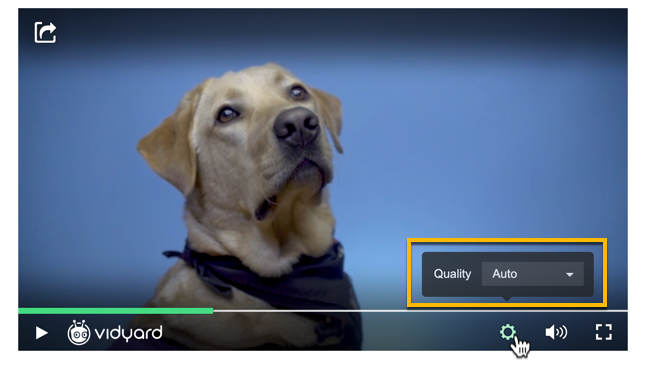 The quality of playback is also impacted by the embed size of the video. For example, if the size of your embedded video is 384x216, it is not an efficient use of bandwidth to serve a high resolution 2160p video in a container of that size. However, if the viewer enters fullscreen we will adjust to the highest available quality that the internet connection can support.
Output settings for videos recorded with Vidyard
You can record your own videos with Vidyard, either through the Vidyard Chrome extension or a number of integrated applications and products that support the Vidyard app—Gmail, Outlook, SalesLoft, Outreach, Zendesk + many more.
Videos created through these tools are immediately encoded and uploaded to your library. Recorded videos have the following output settings:
Container
WEBM
Codecs
VP9/OPUS
Frame rate
Minimum of 25fps
Bitrate
Determined by your computer's available system and browser resources
Resolution
For camera recording, Vidyard will create a 360, 480p, and 720p version of the video.

For screen and tab recordings, we'll only create a 720p version