The Vidyard Chrome extension has three main recording modes: TAB, SCREEN, and CAM ONLY. Each of these can be enhanced by enabling the CAM or MIC buttons to either add your voice or webcam while recording.
The camera and microphone buttons may fail to work (or appear "greyed out") if:
Google Chrome has blocked Vidyard from accessing your camera or microphone
Your system settings are preventing Chrome from utilizing the camera or microphone
Your camera or microphone requires a driver update
An internal firewall or network configuration is preventing use of your camera or microphone

Use Vidyard's microphone and camera test tool to ensure that you have granted your browser permission to access the desired camera and microphone inputs.
Solution #1: Unblock camera and microphone inputs
Google Chrome may be blocking your camera and microphone inputs or even the Vidyard extension itself.
Open the Vidyard extension

If a "broken camera" symbol appears at the end of the browser's address bar, click on it to manage permissions.

Select Always allow chrome-extension..., then click Done
If the "broken camera" menu does not permit you to allow camera and microphone inputs, navigate to the Camera and Microphone options in the Chrome settings menu to manage access there.
Open the Chrome menu (three vertical dots) in the upper, right-hand corner of the browser, then select Settings
Scroll to the bottom of the page and click Advanced > Content Settings
Select either Camera or Microphone

Select the correct input device from the dropdown menu
Ensure that the Ask before accessing switch is toggled ON
Ensure that Vidyard is removed from the blocked exceptions list on both input devices (microphone and camera)

Restart your browser to apply the changes

On Mac: press "Command" + "Q" on the keyboard to perform a hard quit
On Windows: close down all browser windows
After performing these actions, open the Vidyard Chrome extension setup page and follow the indicated steps. Select Allow on the prompt that asks for access to your input device.


Solution #2: Grant your browser permission to access camera and microphone
Some operating systems (for example, the Mojave version of MacOS), require you to grant a browser access to your camera and microphone. These changes are made in your computer's system settings.
On MacOS
Open System Preferences
Select Security & Privacy
Check both the Camera and Microphone
Click on Google Chrome to ensure it can use both these devices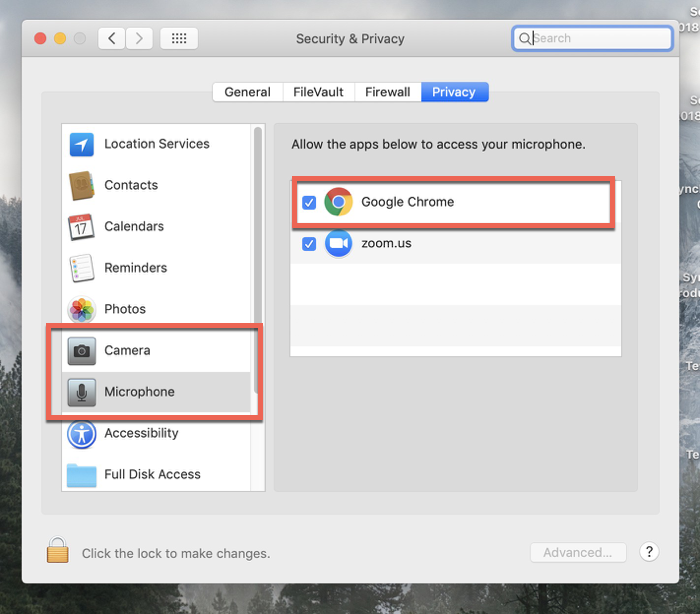 Solution #3: Check your external microphone or camera device (if applicable)
It's important to understand whether your camera and microphone works across different applications. If a program like FaceTime & Photobooth (MacOS), Skype (Windows) or Zoom is available, use one of these programs to test that your camera and microphone are functioning properly.
If you are using an external microphone or camera device, ensure that the device is installed correctly and that the driver is up-to-date.
On MacOS
For built-in camera and microphone, ensure that your system software is up-to-date
Click on the Apple Icon in the upper, left-hand corner of your computer
Click About This Mac > Software update...
For an external camera or microphone, reach out to the manufacturer of your device or visit their website. A device driver or software update may be available to download.
On Windows
Update driver software in Windows Device Manager.
Open the Control Panel (you can search for this application from the start menu)
Click on Hardware and Sound
Next to Devices and Printers, select Device Manager
Right click on the camera or microphone that you are using, then select Update driver
Solution #4: Firewalls and corporate networks
If you work for a company that uses a firewall or other network configurations across corporate machines and devices, access to the camera or microphone access may be blocked internally.
Check with your company's IT or security team to understand if a firewall or internal network setting is preventing use of your camera or microphone, or even the Vidyard extension itself.
---
Solution #5: Re-install the Vidyard extension and reset Chrome
Either Chrome or the Vidyard extension may be in a bad state. It is sometimes useful to start from the beginning with a clean browser instance.
Uninstall Vidyard


Open the Chrome settings menu (3 vertical dots in the top right) and select More Tools > Extensions
Click Remove on the Vidyard extension

Close all instances of Google Chrome then re-open the browser again
Clear Chrome's browser cache

Open the Chrome settings menu and select More Tools
Select Clear Browsing Data...
At the top, choose a time range (to delete everything, select All time).
Ensure both Cookies and other site data and Cached images and files are selected.
Click Clear data



Reset Google Chrome's settings to its defaults

Open the Chrome settings menu and select Settings
Scroll down to the bottom and select Advanced
Scroll down and select Restore settings to their original defaults > Reset Settings

Re-install the Vidyard extension from the Google Chrome Store
---
Solution #6: Re-install Chrome completely
Completely uninstall Chrome and then reinstall, using the Google official link.
This ensures that the browser is clean and that settings are refreshed. It should make Chrome recognize that the webcam is available if there were driver connection problems.
If your camera or microphone are still disabled and your exception list for the input device continues to not to show the Vidyard extension, please contact Vidyard support. We'd be happy to help!