After you have set up an integration between your Vidyard and Facebook account, you can then analyze view data in the Vidyard Analytics Center for videos that have been pushed to a Facebook page.
Further resources:
What data is included in Facebook analytics?
Vidyard will collect view counts for any video that:
Has been pushed to a Facebook page that has at least 30 likes; AND
Has been watched for a duration of 95% or greater
Note: due to a limitation of the Facebook API, view counts must be gathered based on the above parameters.
View Facebook data in Vidyard
To view analytics for videos pushed to Facebook:
From the Vidyard dashboard, select Insights > Players


If your Vidyard account is already integrated with Facebook, you should already see data from both Vidyard and Facebook sources in the Visitors Graph (labeled by green and blue, respectively).

To filter by Vidyard or Facebook sources only:

In the top, right-hand corner of the Player Insights page, select Filters
Choose Sources, then select either Vidyard or Facebook from the search bar.
Click Apply Filter
You should now see view counts specific to Facebook in the visitors graph.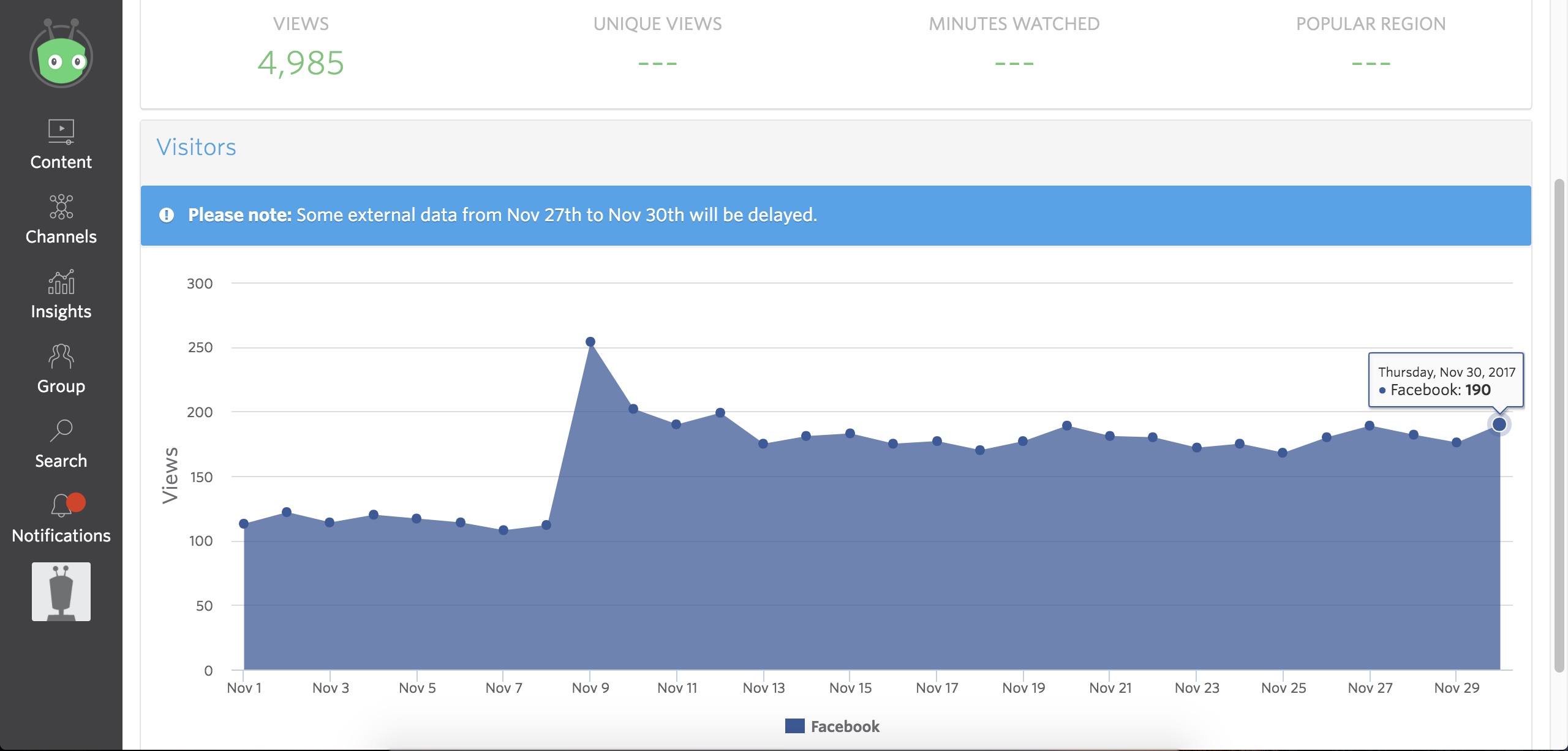 Note: analytics from Facebook are collected daily. View counts may not be visible the same day that a video is watched.
Frequently asked questions
I have an existing Vidyard integration with my Facebook account. How do I ensure that I'm now receiving analytics from Facebook?
If you have integrated Vidyard with your Facebook account prior to November 29, 2017, you will need to refresh your integration to begin receiving view counts from Facebook.
From the Vidyard dashboard, select Group > Integration
Select the Facebook integration, then click Refresh Token next to the account that needs to be refreshed

You will be asked to update permissions that allow Vidyard to access video data from Facebook