This document refers to managing GoVideo seats under the Teams user management system. If you are not yet using Teams, refer to our previous documentation on managing users with GoVideo.
Vidyard allows you to quickly and easily assign a GoVideo seat to users within your account.
Users with a GoVideo seat will be able to record and share videos with customers, prospects and colleagues across an ecosystem of GoVideo-enabled apps (Gmail, Outlook, Salesloft, Outreach + many more).
The number of seats that you can allocate depends on the package you have purchased with Vidyard. 
You can always revoke a seat from an existing user and re-assign as needed.
Requirements
You must be a member of the Admin team
You must have active subscription for GoVideo
Assign a GoVideo seat
So long as you have an available seat, you can assign GoVideo to a user at any time. You can also assign a GoVideo seat whenever you add a new user to Vidyard.
From the Vidyard dashboard, select Admin > Users
Select one or more users, then click Send GoVideo Invitation


You can also use the dropdown menu next to a specific user to send an invitation
The user will then receive an invitation to GoVideo in their email inbox. From the email, the user will be prompted to sign in to Vidyard and accept the GoVideo seat.
If the user already has an existing free GoVideo account with the same email address, their personal folder will connected with your account.
Resend a GoVideo seat invitation
You can review the status of an invitation on the Users screen (Admin > Users). Under the GoVideo column, Active indicates a user that has accepted the GoVideo seat. Invitation Sent means that the user has not yet accepted.
If needed, select the dropdown menu and click on Resend Invitation to deliver the email invitation to the user again.
Revoke a GoVideo seat
You can always revoke a GoVideo seat from an existing user. The user will remain a member of their assigned team, but their personal folder (along with their videos) will appear as "revoked" under your list of folders (Admin > Folders), keeping the video assets in your account.
[Revoked] Personal Account - first.lastname@companyemail.com
You can choose to move the videos to another folder, rename the folder, or remove the folder altogether.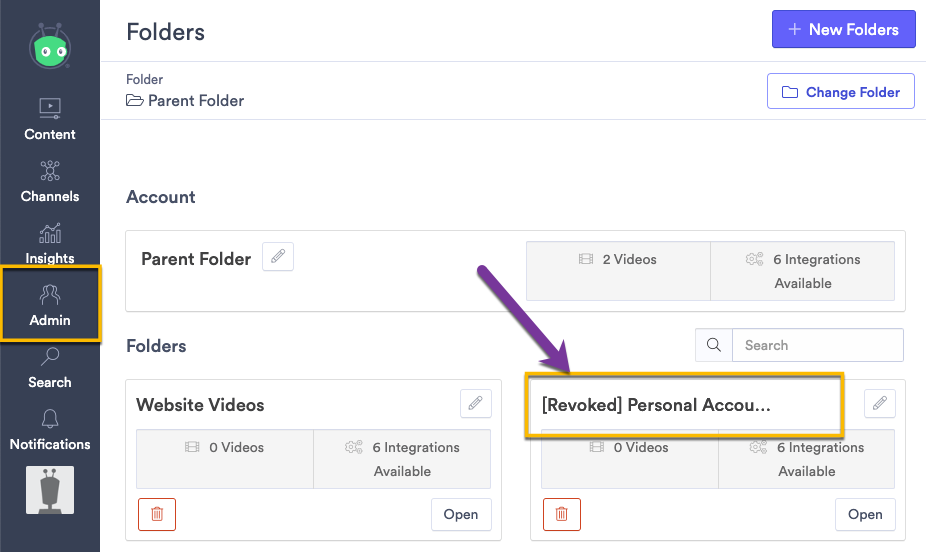 Note
If you delete a user with a GoVideo seat, you can then re-assign the license to another user. Their personal folder will also appear as "revoked" and remain in the account.