The GoVideo Chrome extension allows you to share videos with your audience through several different channels:
Share a link to your video
Send a video through a Gmail message
Post a video to your social channels (LinkedIn, Twitter, Facebook, YouTube)
You can share a video from the edit page of the GoVideo extension at any time. The edit page will open whenever you finish a new recording.
Requirements
Choose a video to share from your library
The GoVideo share options are located on the video edit page.
Whenever you finished recording a new video, the edit page will open. You can also open the edit page for a video at any time.
Click on the GoVideo extension in the top, right-corner of your browser
Click on Videos to open your GoVideo library
Hover over the video you want to edit, then click Open Video
Click on the Share button to choose a sharing option
Share a link to your video
A link is the simplest way to share your videos. When your recipient clicks on a link, the video will open on a sharing page for them to view.
Choose Copy link to provide someone with a simple hyperlink to your video.
Choose Copy link and thumbnail to paste a hyperlinked thumbnail image of your video onto almost any HTML editor (Google docs, Outlook, Gmail, WordPress, Zendesk, Outreach, Salesloft, + more).
Share a video to social
Sharing a video to your social channels is an effective way to get your content in front of a larger audience.
Click on a social platform's icon to share your video.
Facebook: post a video to your News Feed or your Story
LinkedIn: share a video in a post or as a private message to 1st degree connections
Twitter: share a video to your Twitter feed
YouTube: push a video to your YouTube channel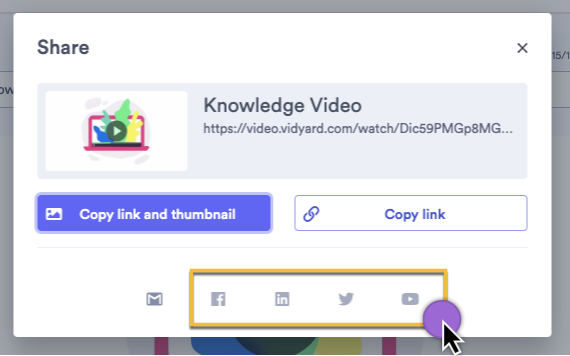 Learn more about how to videos shared to social behave
Share a video in a Gmail message
Click on the Gmail icon to add a hyperlinked thumbnail of your video to an email message. The thumbnail will open the video on a sharing page for your recipient to watch.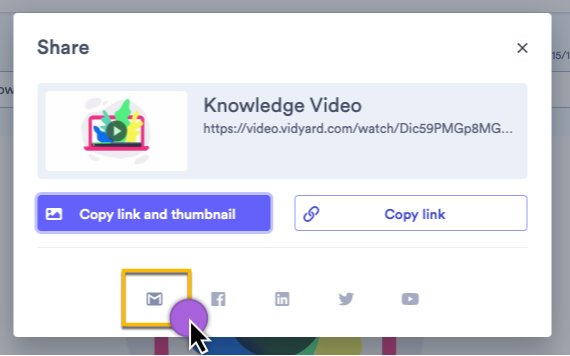 A GoVideo tracking token is added to the sharing link when an email recipient is indicated. The tracking token allows you to receive a notification when the recipient watches your video.
Learn more about how GoVideo identifies viewers.