Vidyard Actions (calls-to-action, or CTAs) allow your viewers to engage with and respond to your videos.
You'll be able to access detailed analytics on the performance of any Actions added to your videos, giving you the insight you need to fully optimize your content.
What can I learn from my Action analytics
Vidyard collects and provides data on which of your Actions were loaded or interacted with. We use this to determine the clickthrough percentage for any CTAs on your video.
This information will enable you to:
Choose the most effective Action placement in your video
See which types of Action lead to the highest conversion rate for your use case
Decide whether to change your approach to video (ie. shorter length, different topic) to make a viewer more likely to reach your Action
How are my Action clicks tracked?
Vidyard tracks Action clicks using HTML elements within their code. Basic Actions (Vidyard Pro), Quick Actions, and most Custom Actions will automatically have trackable elements.
Please note that external forms that have been iframed into an Action do not currently have support for click tracking.
Manual tracking for Custom Actions
By default, Vidyard will track all button clicks in Custom Actions with the following HTML tags:
<a href>
<button>
<input type=button>
Form submits
<div> tags with click handlers
If there is a different type of tag that you would like specifically tracked, you can give it the attribute data-clicktarget within the Action's HTML editor. When a viewer clicks on any tag with this attribute, it will count as an "Action Click".
For example, you could add the attribute like so:
<a data-clicktarget class="button-item" target="_blank" 
href="https://google.com" style ="width: 204px;"> Go to social </a>

To access your Action's HTML editor, follow these steps:
Select the Actions icon from the Vidyard menu
Choose the Action you would like to change
Click on the HTML tab, then edit your Action's code as needed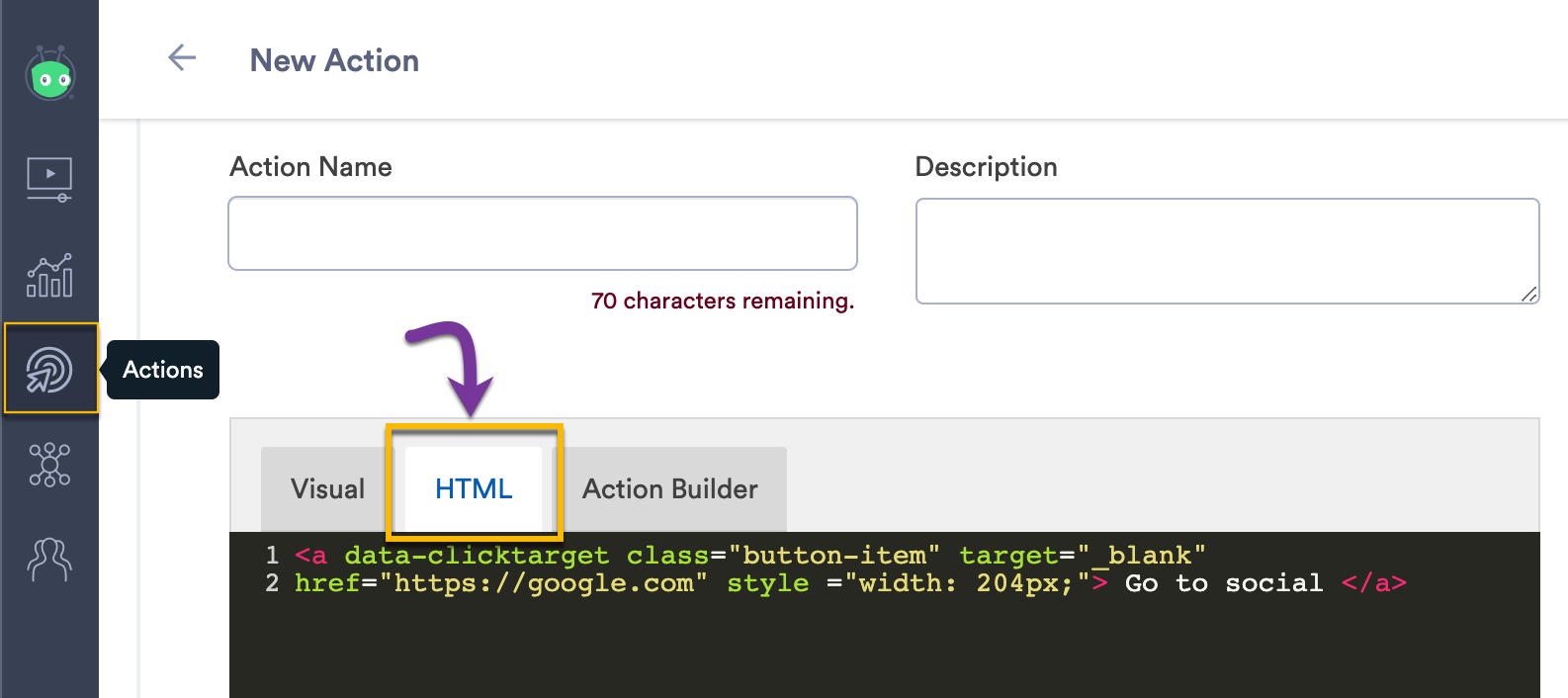 Note: If you use data-clicktarget to track manually, it will restrict click tracking to only elements with that attribute. All other tags tracked previously by default will not be tracked without adding data-clicktarget.
Where can I access my Action analytics?
Action analytics are surfaced in two places on our platform, providing either a high-level overview, or a more detailed breakdown.
If you're looking to quickly review the interest viewers are showing for your Actions on a specific video, check out your Video Insights.
When you need more granular information such as clickthrough rates, or if you're looking for analytics on more than one video, take a look at the Action Engagement section of the Insights Dashboard.
Video Insights
Available to: Vidyard Pro, Teams, Business, and Enterprise
Within Video Insights, you can see how many Actions in your video were clicked at a glance. By selecting the Action Clicks icon, you will be able to view which Actions were engaged with, and which were skipped.
Select the menu (3 dots) next to the video you'd like to view Action Clicks for

You can also select the view count card to access Insights

Click on Video Insights
Select a date range, then select the number icon under the Action Clicks column to see which Actions the viewer interacted with
Insights Dashboard
Available to: Vidyard for Teams, Business, and Enterprise
The Actions Engagement section of your Insights dashboard will show you how many times your Action has appeared for a customer, and whether they've interacted with it. Vidyard will then use those values to determine the clickthrough rate.
You can access these analytics for all Actions on a specific video, folder, or your entire account. This will enable you not only to track how your Actions are faring, but also optimize conversion.
Note: If accessing analytics for an entire folder, the data you see on the dashboard will include any folders nested below the one you're inside. If you check your dashboard at the parent folder level, your entire account's data will be available. Find out more about folder organization and analytics.
Check Action Engagement for a video
Select Insights > Dashboard from the Vidyard menu
Choose your preferred date range
Enter a video's title into the Filter by video search bar
Take a look at the Action Engagement section to see your Actions' clicks, loads, clickthrough rate, and position in the video

Click Expand to receive a full list of all Actions applied to the video (if over 3)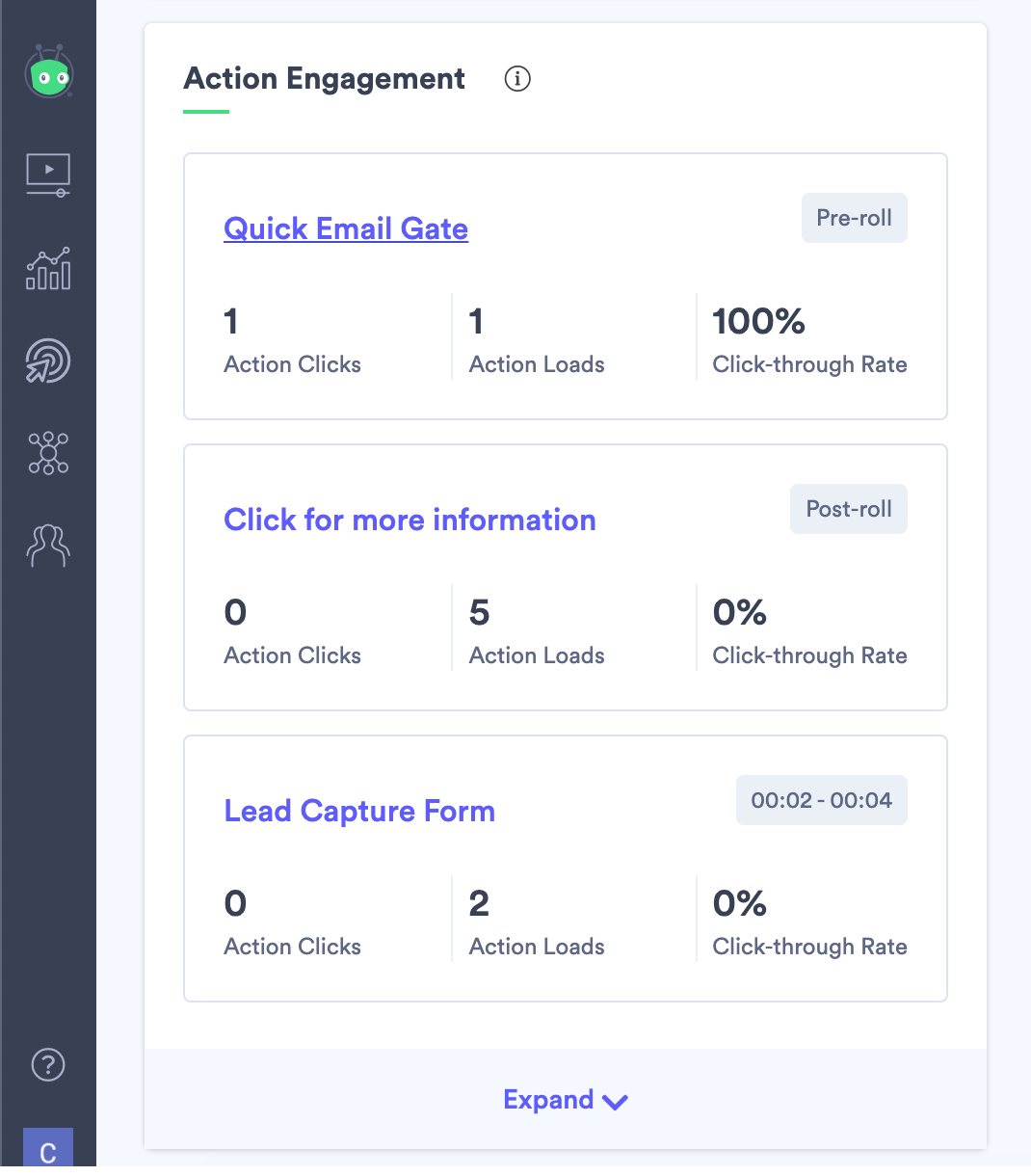 Check Action Engagement for your folder or account
Select Insights > Dashboard from the Vidyard menu
Choose your preferred date range
Take a look at the Action Engagement section to see your Actions' clicks, loads, and clickthrough rate

Click See More to receive a full list of data for all Actions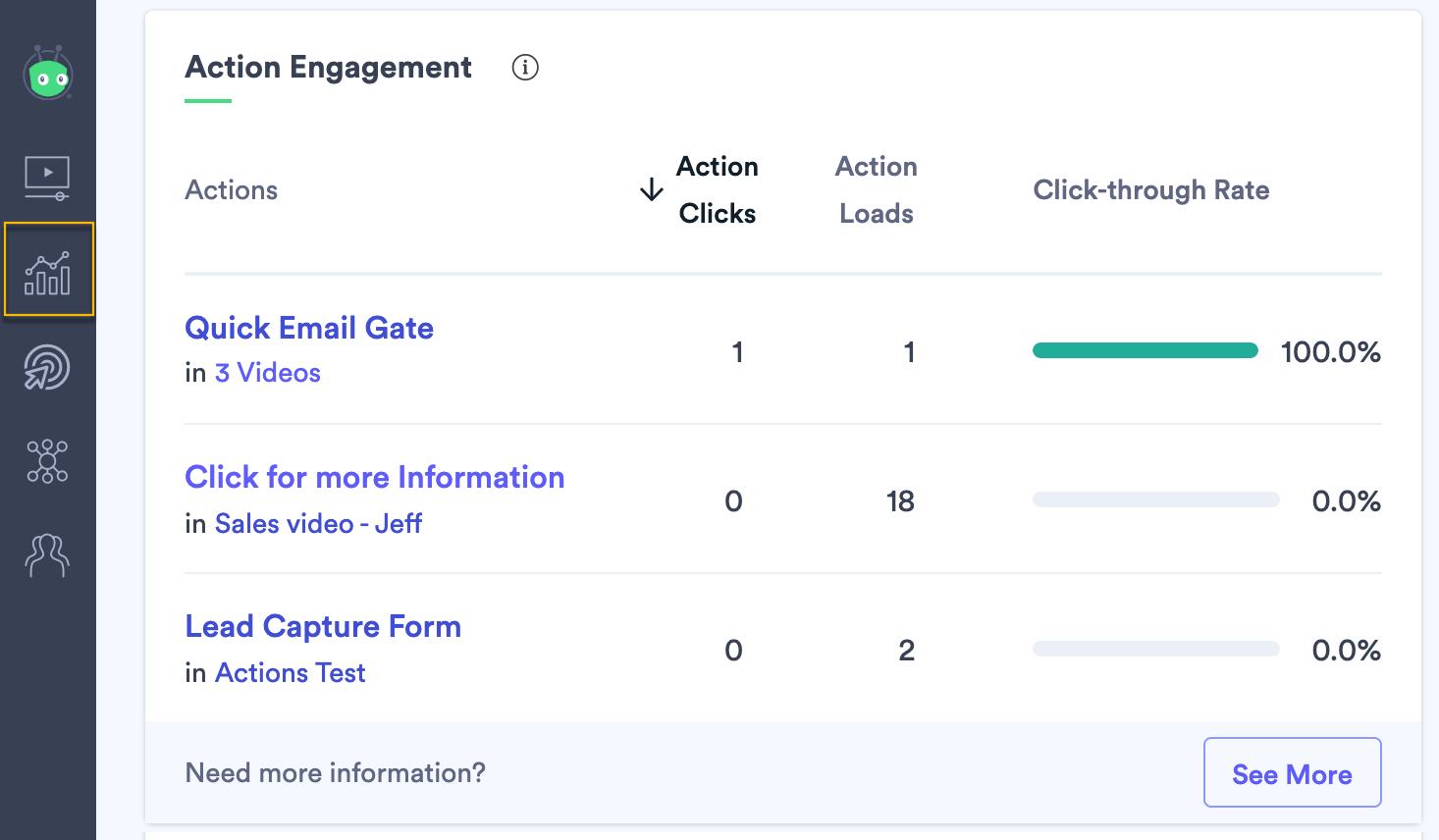 When viewing the Action analytics for your full account, or a specific folder, we will also show you what video(s) the Action is applied to. You can click on the video's title or the Action's name, to navigate to that item's edit page.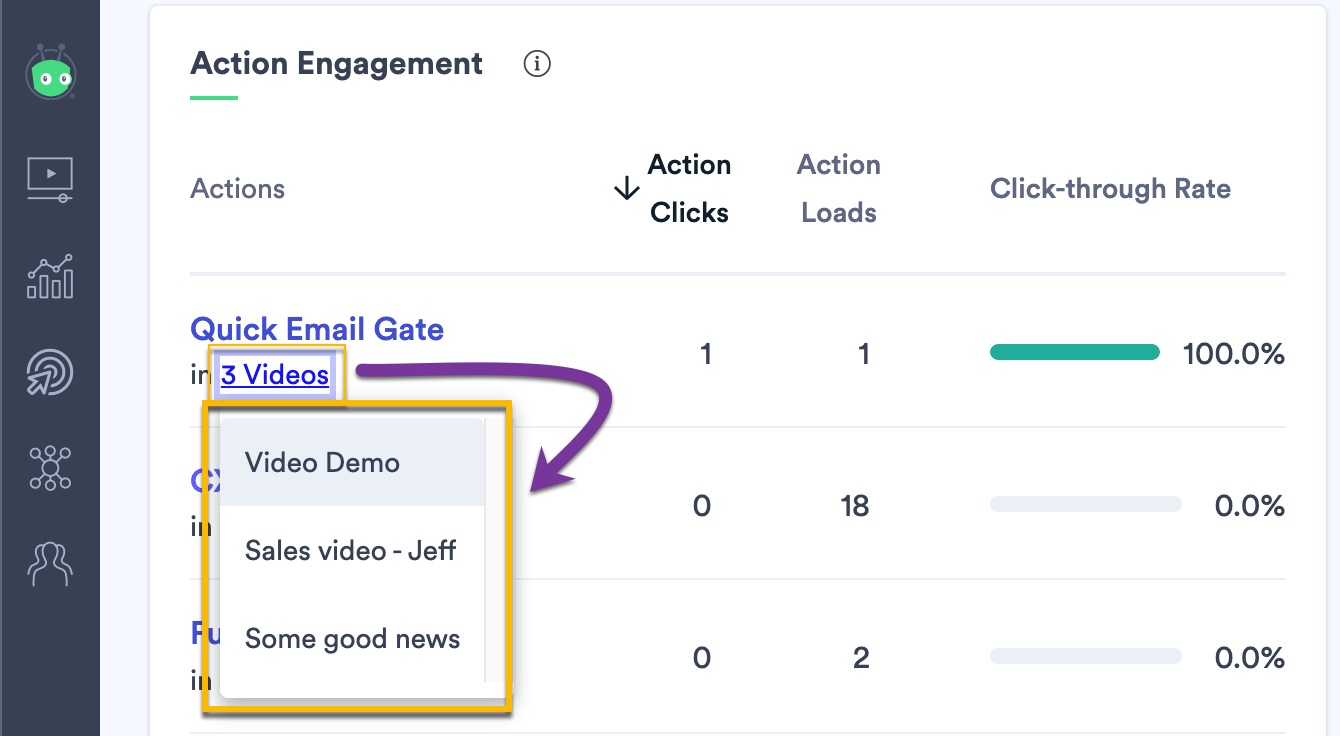 How can I boost my Action engagement?
If you're not getting as much engagement with your Actions as you'd like, you can find suggestions below on how to improve viewer interest.
If...
Try...
Your Action load ("impression") count is low

Setting your Action earlier in the video
Shortening your video, or using a different topic to drive engagement until the Action appears

Your load count is OK, but clickthrough rate is low

Changing the position of the Action in the video (earlier, later, longer)
Experimenting with different copy text, or a different ask on the Action

Eg. "Book a meeting" vs. "Request more info"

Your Action load count is zero

Waiting for new engagement, as you may not have data - your views likely occurred prior to the beginning of Action Click tracking