Who Can Use This Feature?
Business Plans
Essentials GrowthEnterprise
Make video creation quick and easy with Vidyard's templates 🗒️
Looking for inspiration to record your next video? Templates are a great way to learn how to create low-effort, high-impact videos throughout the sales cycle — whether you're introducing yourself to a new contact, sending a follow-up message, or closing out a deal.
Use the Templates library to explore suggested types of videos to create, along with a sample script, example video, and tips for success. Select a Template to add the script directly to your video notes in the Vidyard browser extension, and then start recording.
Requirements
Explore video templates
The Templates library allows you to explore examples of effective videos commonly used at different stages of the sales cycle as well as different use cases. You'll find helpful templates for different categories, including:
Cold Prospecting & Introductions
Prospecting Follow-ups
Deal Progression
To open the templates library:
Sign in to your Vidyard account
Select the Templates icon ▶️ from the main menu
To find a template, use the categories in the left-hand menu to filter by different use cases. Hover over a template and select Preview to learn more.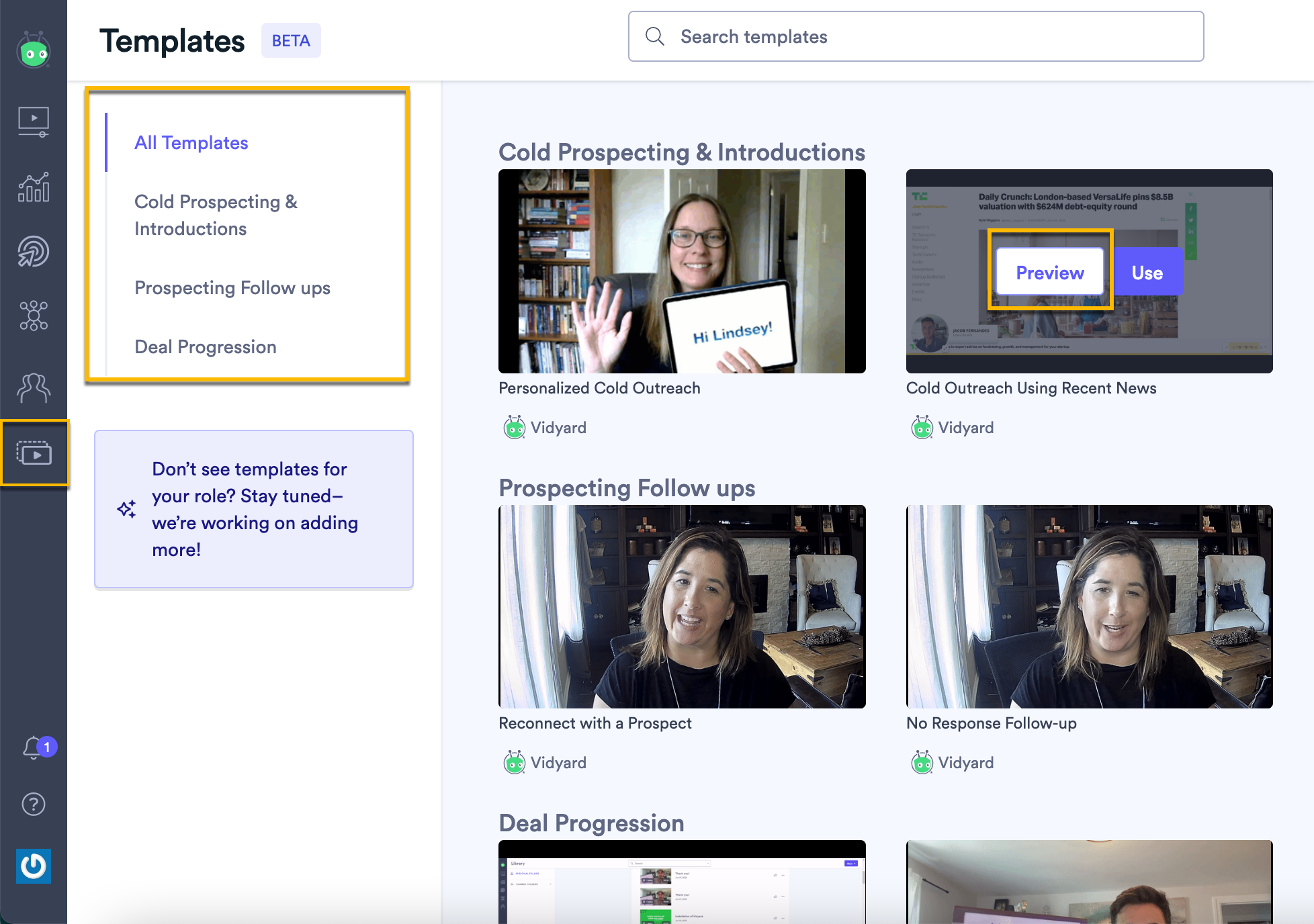 Each template contains:
An overview of the type of video the template helps you create
An example video that follows the template
A sample script to help you record your own video
Tips to help you successfully record the video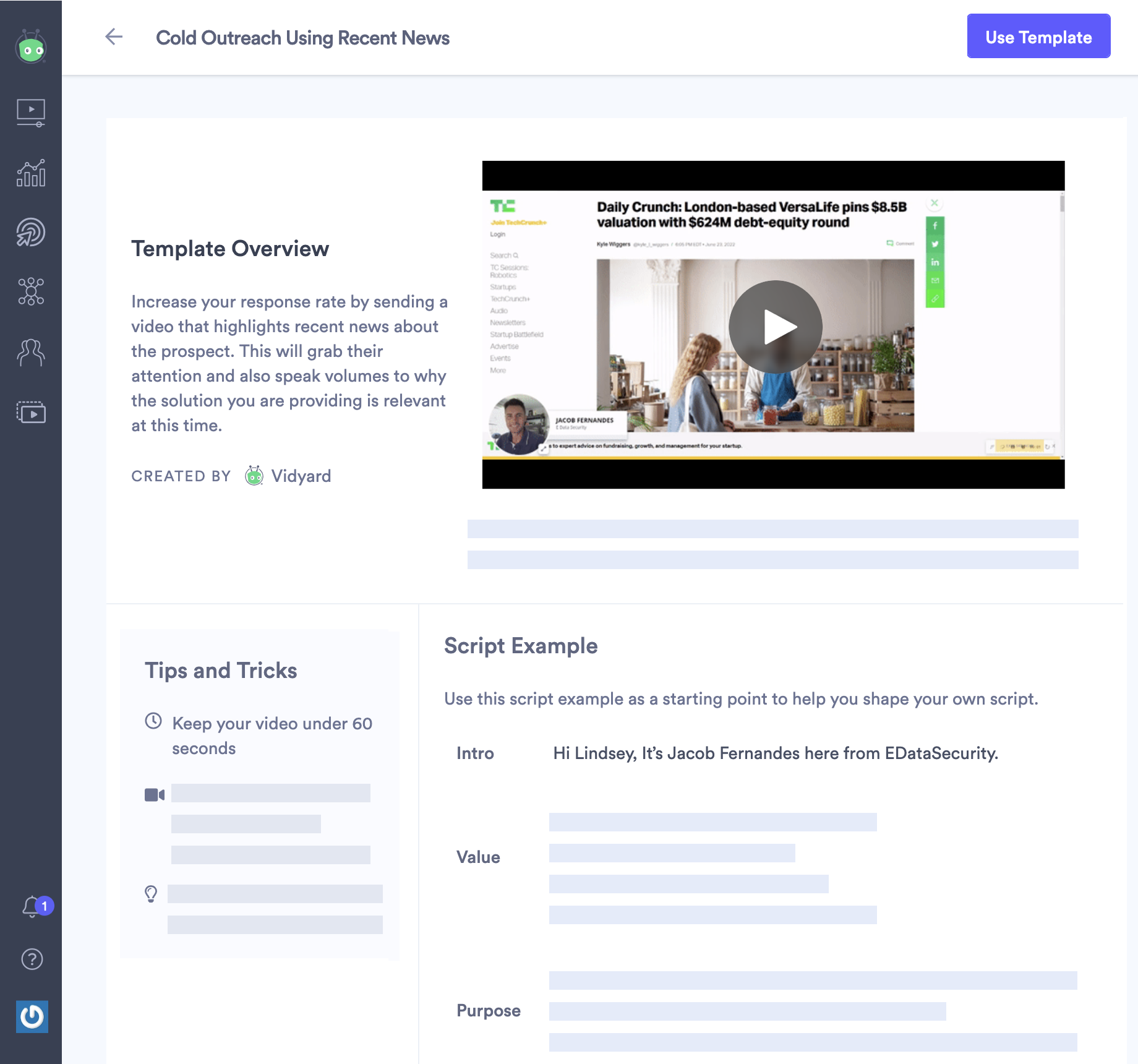 Select a template to use
Once you've found a Template, you can use it to help record your next video.
Select the Templates icon ▶️ from the main menu to open the Template library
Hover over a template that you want, then select Use

If you choose to preview a template first, you can then select Use Template from the preview page
Selecting a template to use automatically launches the Vidyard browser extension and adds the sample script to your Video Notes. If recording your screen, use the expand/collapse button to make your video notes bigger or smaller.
Before you start recording your video, we recommend that you review the script and edit the placeholder text with your own details.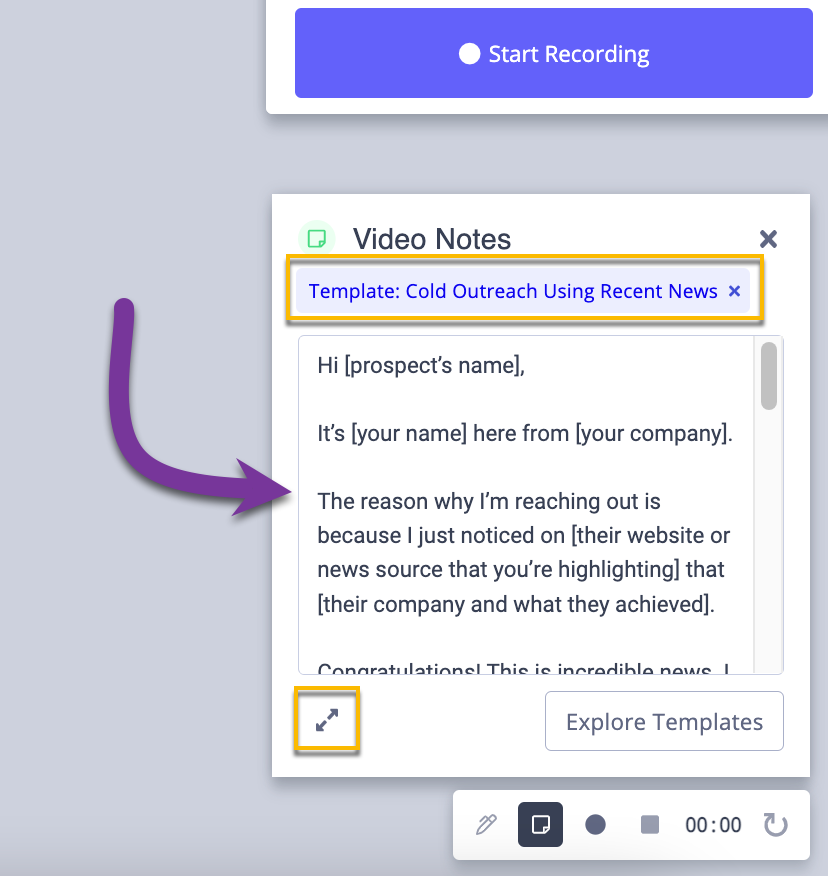 Change or remove a template
You can change the template that you use while recording at any time by selecting a new template from the library in Vidyard. When you select Use on a new template, it replaces the current script in the Video Notes of your browser extension.
You can also remove an existing template from your Video Notes:
Open the Vidyard browser extension
Find your Video Notes

In Camera mode, Video Notes are automatically open
In Screen mode, select Video Notes from your recording controls if they are not already open

Click on the X button next to the template tag to remove the script
You can then select Explore Templates to find a different template, or write your own notes before recording.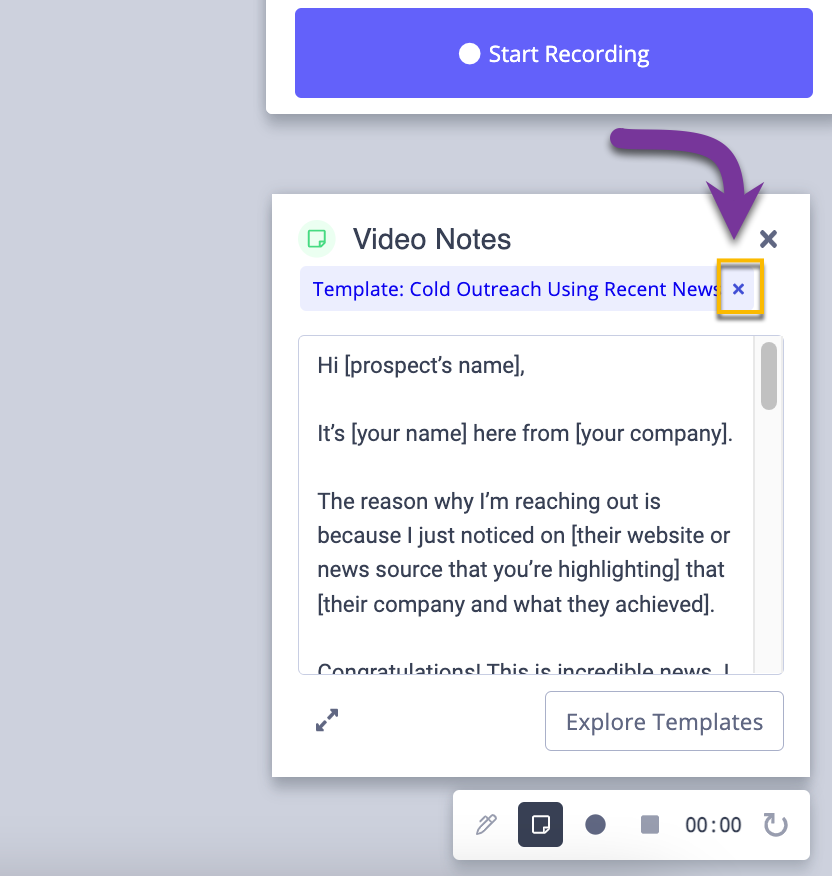 Frequently asked questions
Can I edit a template?
Templates themselves cannot be edited. However, you can edit the sample script from the template once it has been added to the Video Notes in your browser extension.
Changes made to your Video Notes are saved until you sign out of the browser extension or your user session expires.
Can I share helpful templates with my colleagues?
If you'd like to share a specific Vidyard template with your colleagues, you can copy and paste a link to the template's page. Your colleagues will need to sign in to Vidyard to view the template.
Select the Templates icon from the main menu
Click on Preview to open a template page
Copy and share the page's URL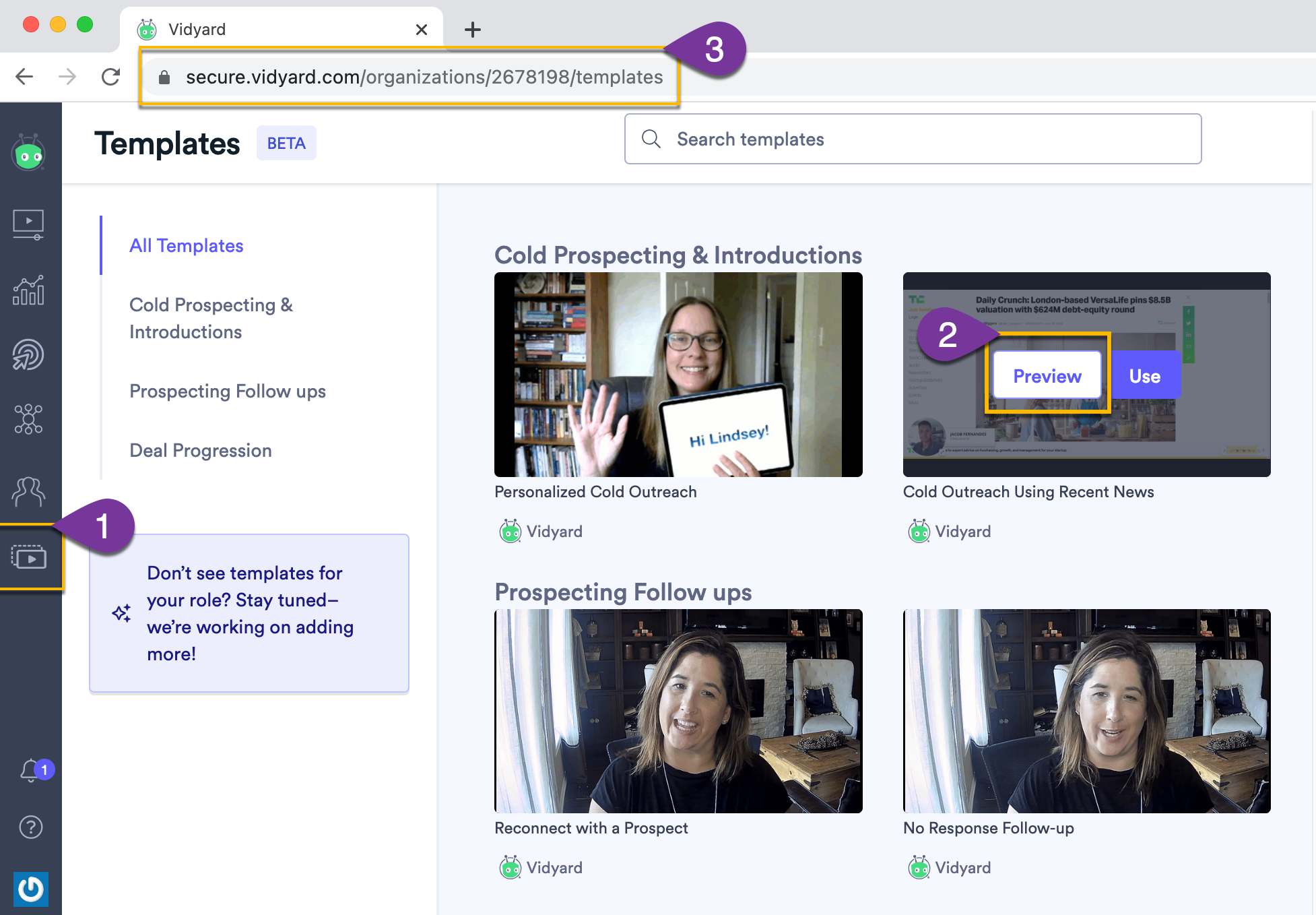 Can I track my team's template usage?

Templates do not have their own dedicated analytics (for example, "how many times was this template used?"). However, you can report on videos that were recorded with a template to analyze their effectiveness.
When a user records a video with a template, a tag is added to the video with the template's name. You can then use tags to:

Can I use templates if I'm not recording with the browser extension?
Currently only the Vidyard browser extension supports Video Notes and the use of Templates.
If you prefer to record with the desktop app for example, you can copy the sample script from a template into another note-taking app (such as Notepad or Evernote) to reference while recording.