Who Can Use This Feature?
Business Plans
Essentials Growth Enterprise
You must be part of the Admin team to add or edit IP Exclusions.
An IP Exclusion allows you to filter out data collected from one or more public IP addresses. A common practice may be to exclude data associated with internal IP addresses so that it does not appear in your reports or other Vidyard Insights.
An IP filter affects the video analytics you will see in the Insights Dashboard, Team Performance dashboard, contact records, and generated reports. IP filters do not affect data passed to Vidyard MAP or CRM integrations (Salesforce, Marketo, HubSpot, etc).
Moreover, an IP filter does not retroactively apply to data collected prior to when the exclusion was added. For example, if you apply an IP filter on the 15th of December, graphs in the Insights Dashboard for that month will include data from the IP address up to the 15th, but not for the remainder of the month.
Exclude an IP address
Switch into the parent folder in your account (if not already there)

To return to the parent, go back to your video library then click on the name of your parent folder under the Shared Folders tab

From the main menu, select Admin > IP Exclusions

Enter a name and valid public IP address (or range of IP addresses) using CIDR Notation, then select Add Filter

You can exclude up to a maximum of 50 IP addresses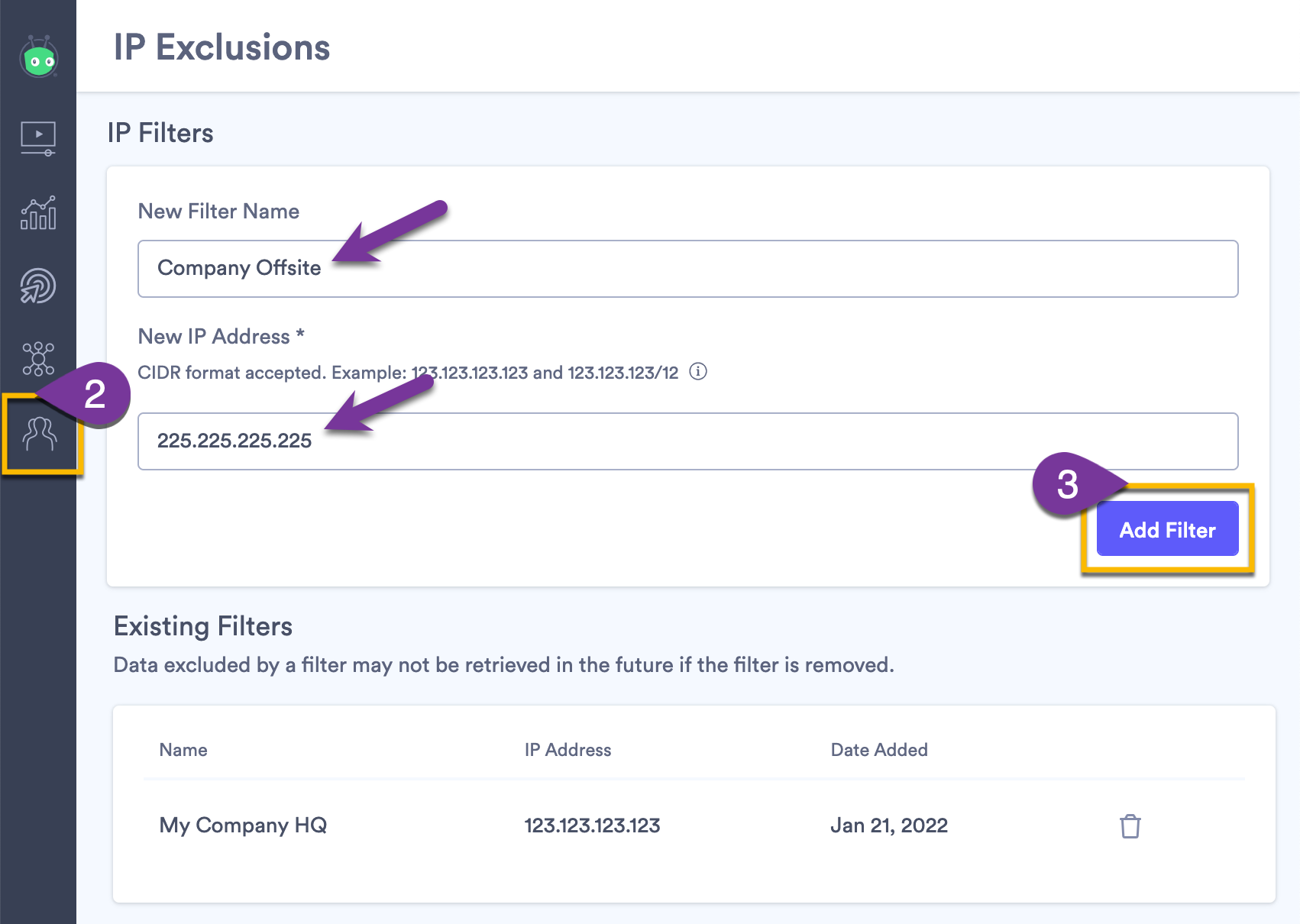 Delete an IP filter
Under the Existing Filters section, click on the trash can icon to remove a filter.
Data excluded by an IP filter cannot be recovered or backfilled once the filter is removed
After a filter is removed, new data from the IP source will begin to appear in Vidyard. This may take up to 24 hours to take effect.