Who Can Use This Feature?
Business Plans
(with add-on)
Essentials
(with add-on)
Growth
Enterprise
Users must be Administrators in Vidyard to access the necessary API token
Theta Lake's integration with Vidyard (Personal Folders) makes it easy to ensure that videos created by your sales teams comply with the regulations that govern your industry.
Once you've set up the connection between your Vidyard and Theta Lake accounts, you can:
👉 Use the integration to analyze videos from your users' personal folders for compliance risks
👉 Work with your compliance teams to set risk thresholds that determine which videos are automatically approved and which get flagged for review
👉Ensure your sales teams can share their videos with confidence, knowing that what they've said or shown is approved and compliant

Requirements
To set up this integration, you'll need:
A user that belongs to the Admin team in Vidyard (to access API tokens)
An active Theta Lake account that includes a license for Video Content Management Systems
How to set up the Theta Lake integration
There are 3 simple steps to set up Theta Lake's integration:
Step #1: Obtain the API token for your Vidyard account
Theta Lake connects to Vidyard through the API token for your account. Make sure you use the Admin API token from the parent folder in Vidyard (this token provides the necessary access to your Vidyard users' personal folders).
From the main menu, select Admin > API Tokens

If needed, select Change Folder to switch into the parent folder of your Vidyard account

Copy the Admin token to your clipboard. You will need this as part of the integration set up in your Theta Lake account.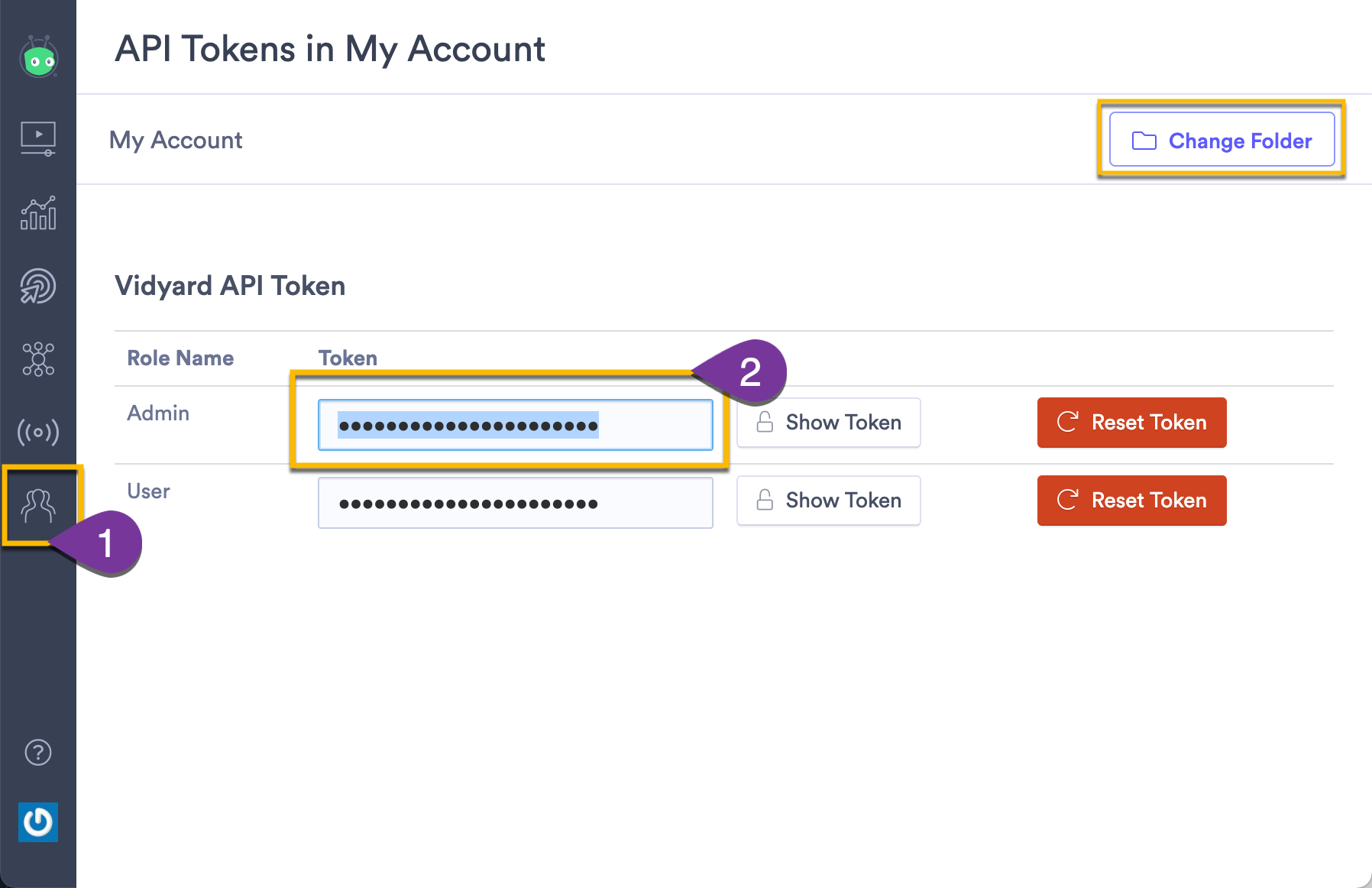 Step #2: Complete the integration setup in Theta Lake
With your API token in hand, sign in to your Theta Lake account to complete the setup process.
Use Theta Lake's detailed set of instructions to configure a new integration with Vidyard Personal Folders as the content source.
Step #3: Ensure the Theta Lake feature has been enabled on your Vidyard account
Step #6 in Theta Lake's instructions requires that you notify Theta Lake Support when the setup is complete. Theta Lake will then contact Vidyard to enable the connection between our two platforms.
You can also connect with your Customer Success Manager at Vidyard to confirm this step has been completed.