Who Can Use This Feature?
Business Plans
Essentials GrowthEnterprise
Each Vidyard account is made up of a collection of folders that allow you to strategically organize videos according to your various teams' needs.
You can use folders to categorize videos in any number of ways, for example:
Sort videos by internal teams: Marketing, Product Management, Sales, or Customer Success
Sort videos by purpose: product demos, marketing collateral, employee onboarding, or recorded team meetings
Beyond your organizational needs, folders also influence other important considerations in your account:
Navigating between folders
When you sign in to your account, you can interact with any of the folders that your Team in Vidyard has been given access to.
Select any folder from the menu to open it.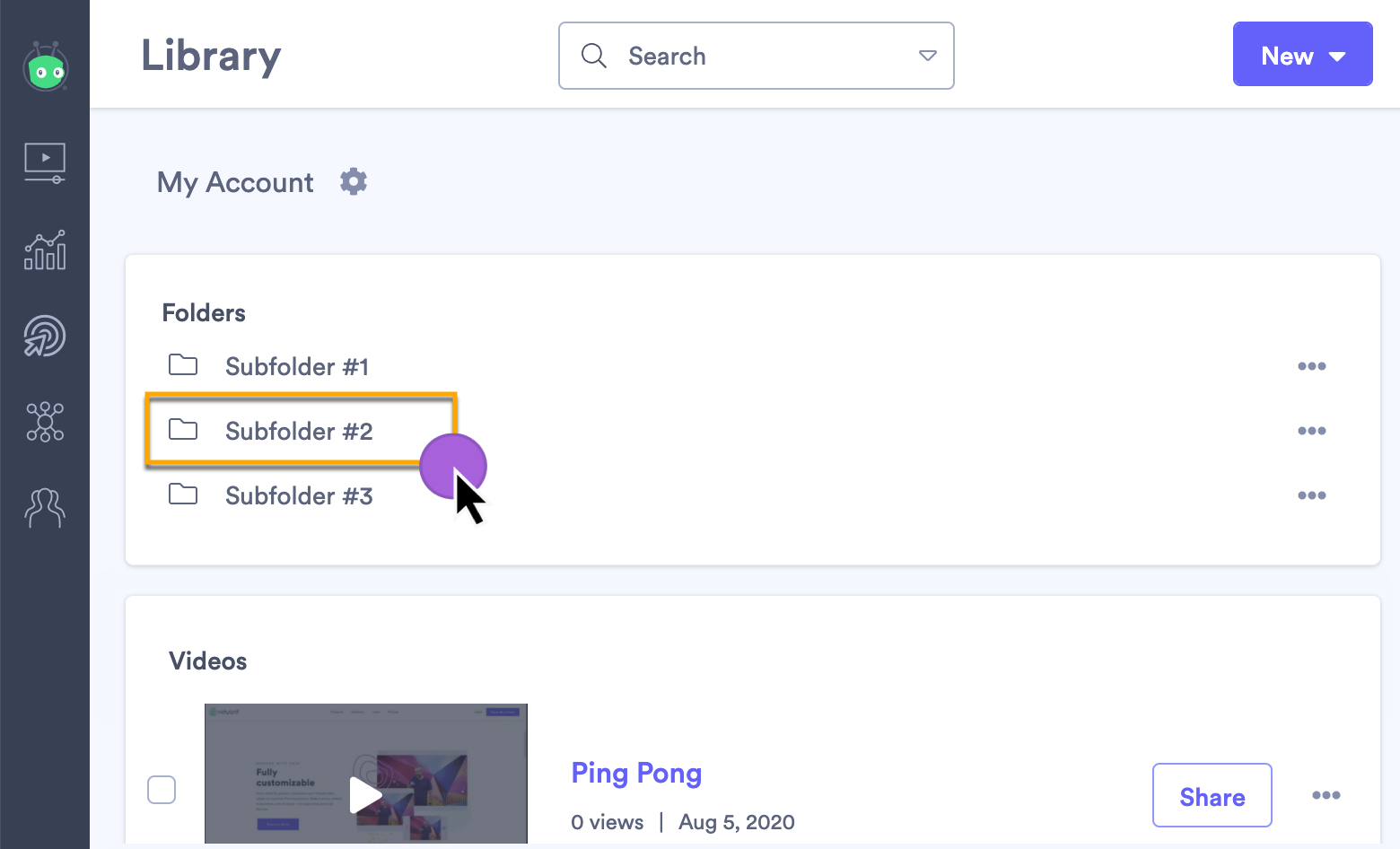 You can always tell what folder you're currently in by referencing the path at the top of the video library. In the screenshot below, "My Account" is the parent folder to "Subfolder #2".
Click on the name of the folder in the path to navigate to back to the previous folder.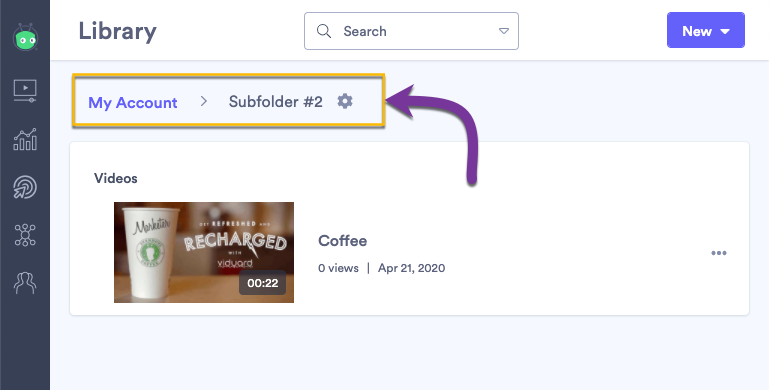 Shared vs. personal folders
There are 2 types of folders in every account: shared folders and personal folders, each with their own purpose and visibility to other users in the account.
Shared folders
Collaborative folders for Teams
What is it?: Shared folders provide a space to collaborate and organize videos from across your organization. These folders are a great place to store videos that users in one or more Teams may need access to (for example, demos & FAQs, website videos, recorded team meetings).
Who can access it?: Access to shared folders is determined by the Team that you belong to in Vidyard. Your Team also dictates what permissions you have within each folder, like whether you can edit, download or move videos.
You'll find any shared folders that you have access to at the top of the video library.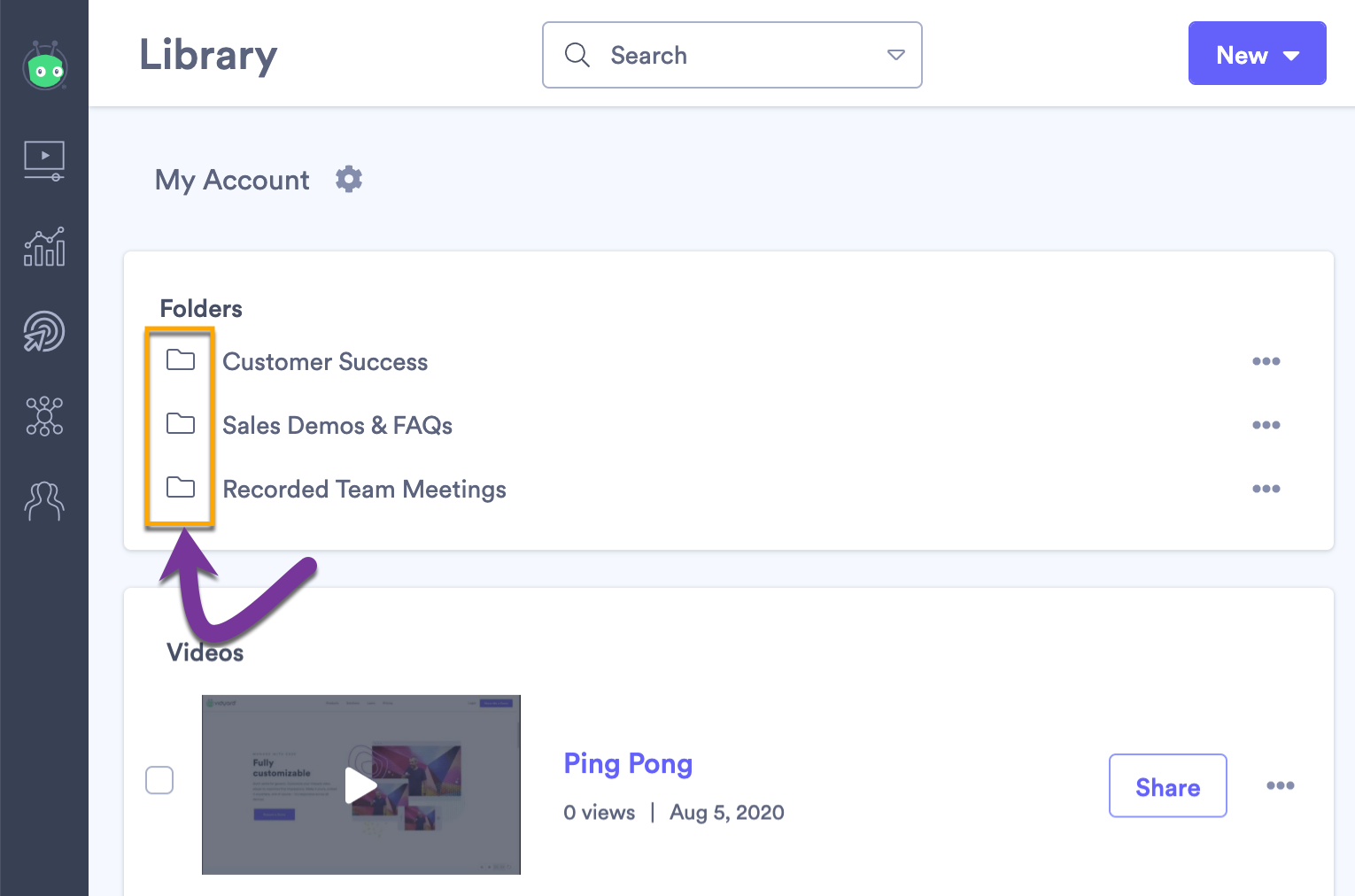 Personal folders
A folder dedicated to your personal videos
What is it?: Personal folders contain your dedicated video library. Whenever you record a new video (via the browser extension, mobile or web app), the video will automatically upload to your personal folder's library
Who can access it?: Personal folders are viewable only to you and members of the Admin Team. Otherwise, your videos are only accessible to others if you intentionally share the video or move it to a shared folder.
Each user is given a personal folder when they accept the invitation to join a Business (Essentials, Growth, Enterprise) account.
Personal folders are always named with the following convention: Personal Account - emailaddress@domain.com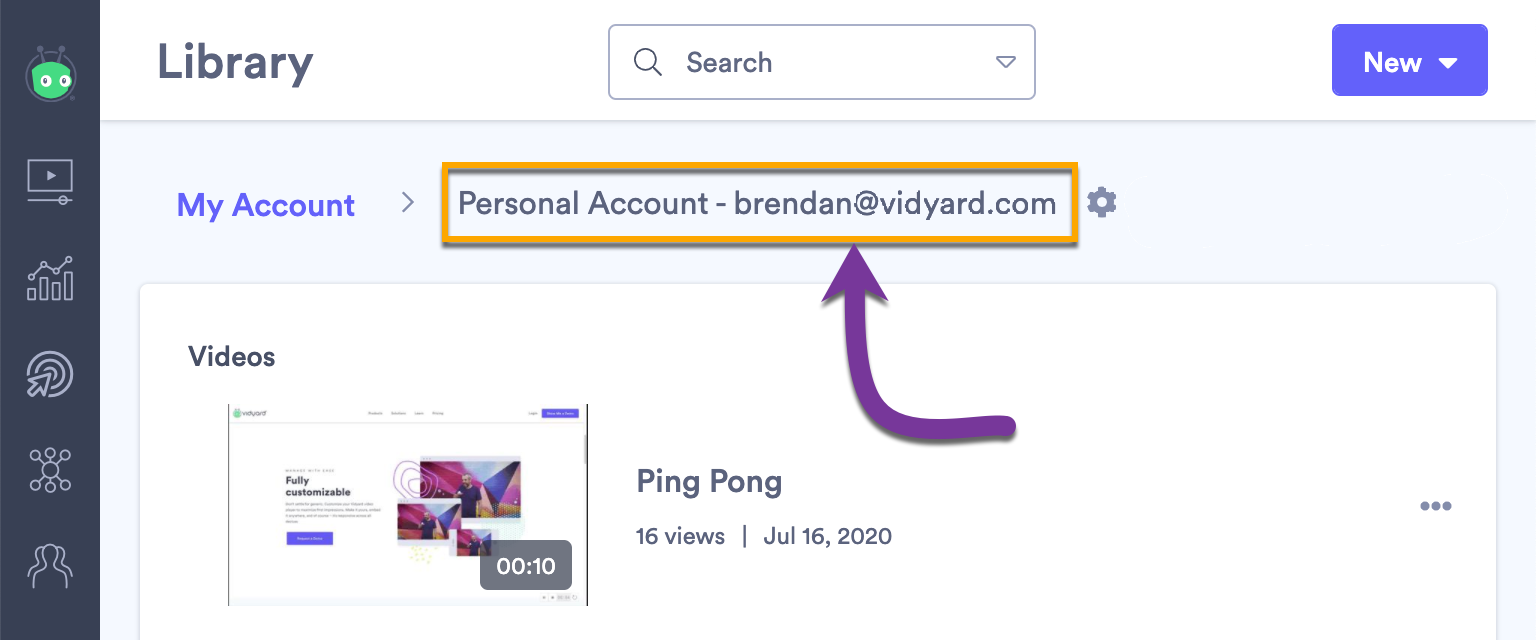 Folders and default settings


Additional Requirements: you must belong to a Team with the Edit video design defaults and/or Edit video security defaults permissions enabled for the selected folder

Defaults allow you to easily apply consistent settings to videos across the various folders in your account. For example, you might use defaults to ensure that every video in a folder has the same colors and that captions are automatically enabled for viewers.
You can access the default settings for a folder by clicking the settings button next to the folder name in your library.
Here you can change either:
Default design settings (the appearance and behavior of your videos)
Default access settings (who can access your videos)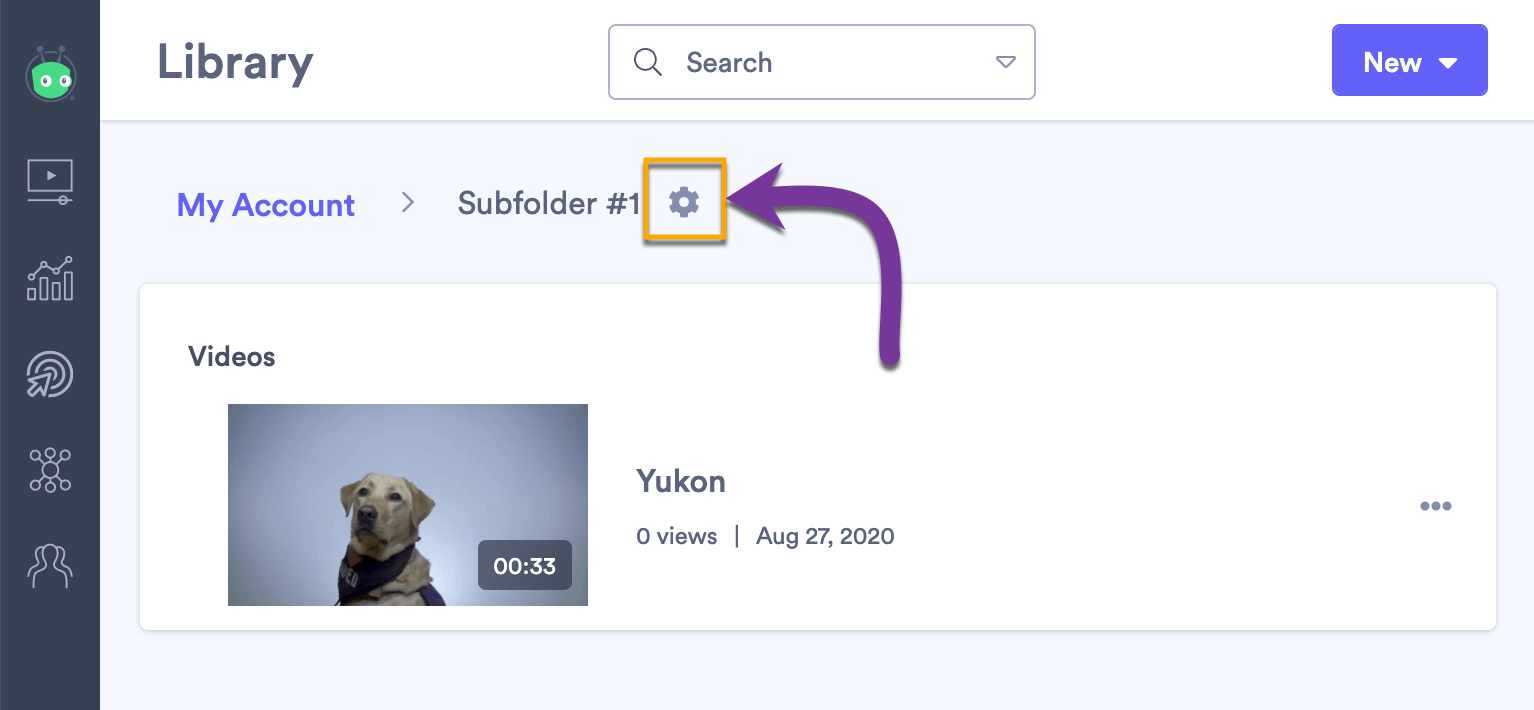 Folders and sharing pages


Additional Requirements: to edit a sharing page, you must belong to a Team with the Edit branded sharing pages permission enabled for the selected folder

Each folder in your account is able have its own sharing page. This allows you to design a unique, branded page experience that applies to the videos in each folder according to their purpose and intended audience.
You can also apply the same sharing page to videos across folders. If you set up the sharing page in the top-level parent folder of your account, the page design and settings will cascade and apply to the videos account-wide.
If needed, you can always set specific folders to "opt out" or override the sharing page that its videos inherit from the parent folder.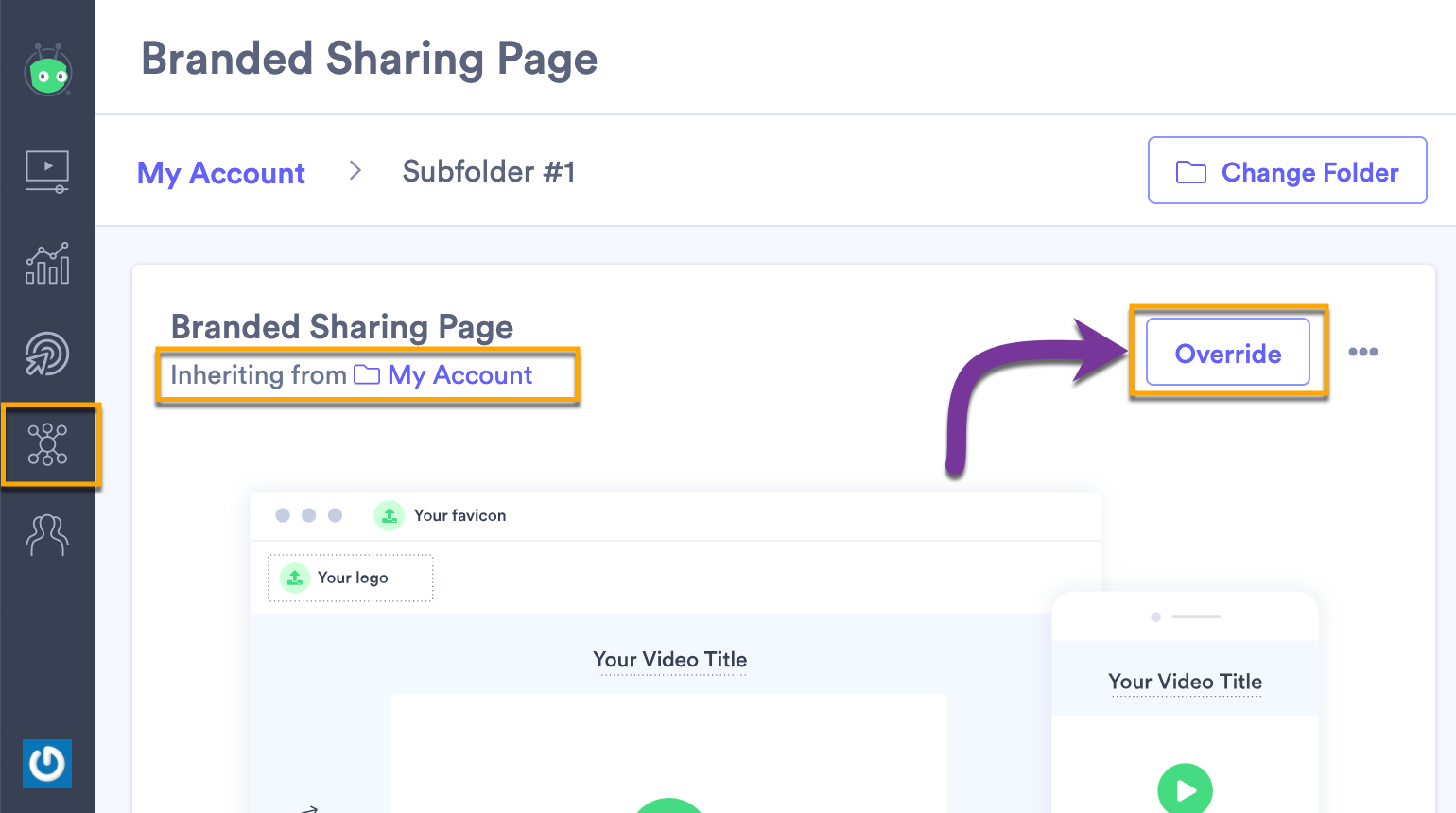 Folders and video analytics


Additional Requirements: to view video analytics, you must belong to a Team the View Insights permission enabled for the selected folder.

You can evaluate video analytics and insights within each folder in your account. This allows you to assess the performance of specific groups of videos based on the way they have been organized into different folders.
For example, if you have a folder dedicated to the videos on your website, you can review the Insights for these videos from your Website Videos folder.
For an account-wide view of video performance, you can access Insights from the top-level parent folder. Video analytics roll up through the folder structure of the account and provide a broader, aggregate view of the data you've collected.
Select a title of a folder to open it, then select Insights from the main menu to access:
the Insights Dashboard for video performance metrics
the Reports Center to compile and download video analytics in an .xsl file