This document outlines user permissions in Vidyard for the new Teams user management system. If you are not yet using Teams, refer to our documentation on role-based permissions.
Teams allow you to organize users in an easy and versatile way that makes sense for your business. A team determines both what content folders a group of users have access to, as well as what permissions they have within those folders.
It is important to understand that a team's folder access cascades downward. This means that if a team has access to the parent folder, they will also have access to all folders beneath it.
Team permissions will also cascade along with folder access. However, you do have the flexibility to overwrite and modify permissions at any level of the folder structure.
The image below outlines two examples for how your teams' access to the folder structure can be configured: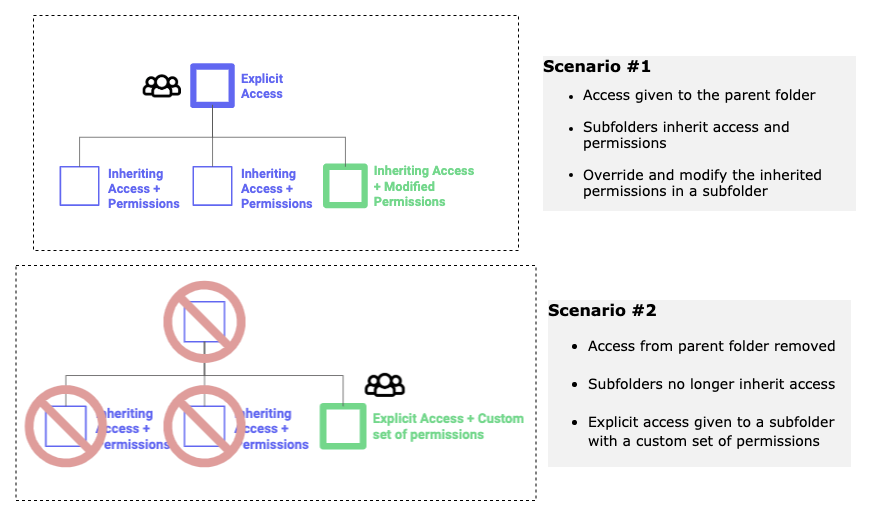 Requirements
You must be a member of the Admin team
You must have the Custom Permissions for Teams feature as part of your paid package with Vidyard
Select a team to modify
From the Vidyard dashboard, select Admin > Teams
Click on the name of the team that you want to edit
Next to Folder Access & Permission, click on Manage
Note: The Admin team's access and permissions cannot be changed
Select a folder to edit access and permissions
Use the folders menu to review your team's access to different folders. As you select folders, note how the permissions in each folder are set (i.e. are they being inherited from another folder?).
In the example below, the User Team has been granted access at the parent folder. The Marketing Videos folder therefore inherits permissions from the parent.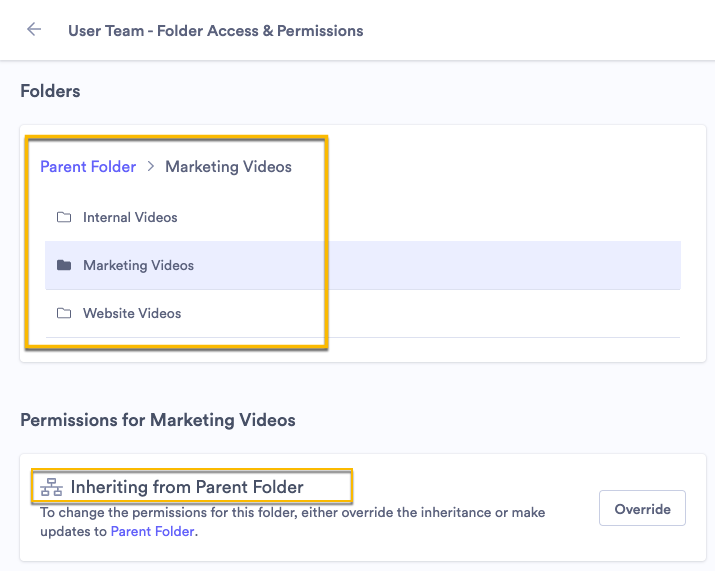 If necessary, click on the Override button to customize the permissions that the team has in the folder. Alternatively, you can update permissions in the parent folder itself.

In any folder that does not inherit permissions from another folder, you can define what permissions the team will have.
Scroll down and use the check boxes to customize folder permissions for the team. Alternatively, click on Inherit Permissions to re-apply the permission set from the parent folder.