Additional Requirements: you must belong to a Team with the Edit advanced video settings permission enabled
---
Need to update a video embedded on your website? You can use the Replace feature in Vidyard to update your video without needing to change the embed code.
This is especially useful if you have a newer or edited version of the same video and want to update the original with minimal disruption to your webpages.
Simply select the video in your library that you want to update, select Replace, then upload the new video file. We'll update the video everywhere it has been embedded. No need to contact your web developer or swap out embed codes.
Replace a video
Important: before you replace a video, you may want to download the original video file as well as any published caption files. Once you use Replace, Vidyard will overwrite the original video file and it will no longer be available in your library. All analytics associated with the video will also reset.
Open the menu next to a video in your library (

…

),

then select Edit
From the left side panel, click on Settings > About This Video
Select Replace
Click Continue to confirm, then select the new video file from your computer
It may take a minute to replace your video with the new file.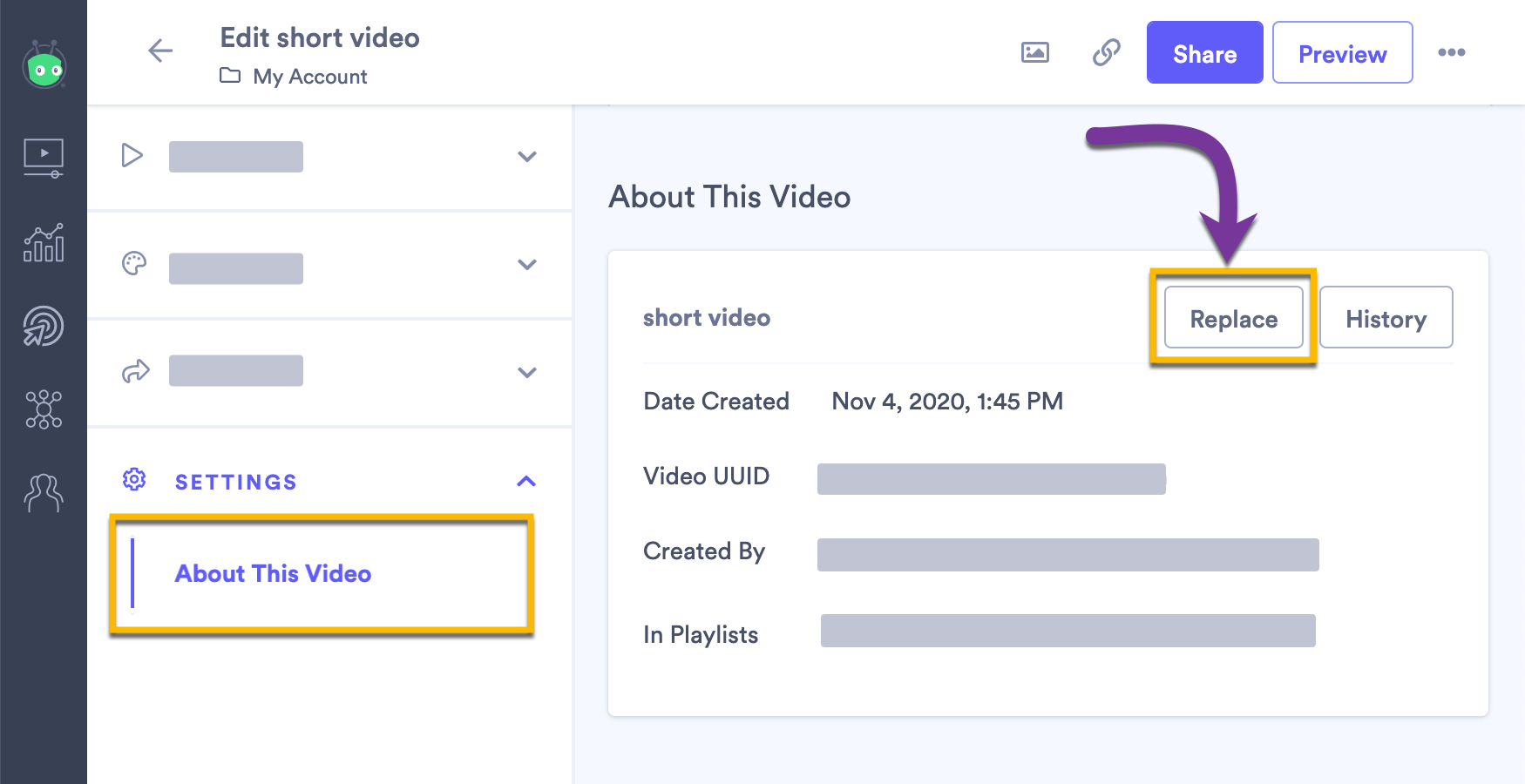 Update your video thumbnail, Actions (CTAs) and captions
When your updated video has finished re-encoding, you'll want to review the following:
Your video thumbnail: because the content of your video may differ from the original, review and change your video thumbnail as needed


Your video actions (CTAs): Because your updated video may have a different length than the original, you'll also want to make sure that any Actions you've assigned are positioned correctly on the video timeline.


Your video captions: if you had any published captions, you'll want to re-upload those files and adjust to your updated video as needed.
What happens when I replace a video?
When you use the Replace feature, we'll update your video with the new file wherever it has been embedded.
Things like your video title, description and tags will carry over, as well as your design and access settings. The embed code and sharing page URL will also remain the same.
Here's a detailed breakdown of what you can expect:
What stays the same when I replace a video?

Video title, description, tags and internal notes


video design and access settings


the video UUID, embed code and sharing page URL


Any Actions you assigned to the original video will stay the same (although you may want to adjust them once you replace the video with a new file)


Your updated video will replace the original in any playlists or Hubs where it has been included

What changes when I replace a video?

The original video file will be overwritten. It will no longer be available in your library.


the video thumbnail (you'll want to adjust the thumbnail to suit your updated video)


Any captions that you had published on the video will need to be re-added or uploaded (consider downloading your captions first)