Who Can Use This Feature?
Business Plans
Essentials Growth Enterprise
Users must have the Edit Videos permission enabled.

Use captions to share your videos with a larger audience 📖
Captions make your videos easier for viewers to watch and follow along. Having captions helps to retain your viewers' attention, especially for longer form content, plus they have great SEO benefits on pages where videos are embedded.
Captions are also a critical part of digital accessibility and help your videos reach a larger audience, including deaf or hard-of-hearing viewers and viewers who speak another language.
Add a new caption
There are several ways to add captions to your video. You can create or upload your own captions, request free (computer-generated) captions, or pay for captions from a human transcriber.
Sign in to your Vidyard account, then select Library from the main menu
Select a video from your library, then select Captions
Open the dropdown menu to Add New Caption, then select one of the following options:

Request a caption - request free computer-generated captions, or paid human-transcribed captions for your video
Create your own caption - write your own video captions from scratch
Upload a caption file - use a caption file you already have (.srt or .vtt format)

Choose the language for your caption from the dropdown menu, then select Request/Create/Upload to continue
Request a caption (automated or paid)
You can request captions for your video from 1 of 2 different sources: automated (computer-generated) captions, or paid captions.
Automated captions: Request computer-generated captions for videos with English-language audio, free of charge.

Select English (en) (Automated) from the language dropdown menu to choose this option
We recommend that you review automated captions before they are published to ensure spoken words and the position of cues are correct



Paid captions: Request human-transcribed captions from our third-party captions provider, Rev. Captions can be transcribed into multiple languages, so long as the video has English-language audio.
If you would like to publish captions that you've requested as soon as they become available, select the Publish captions when complete checkbox before submitting your request.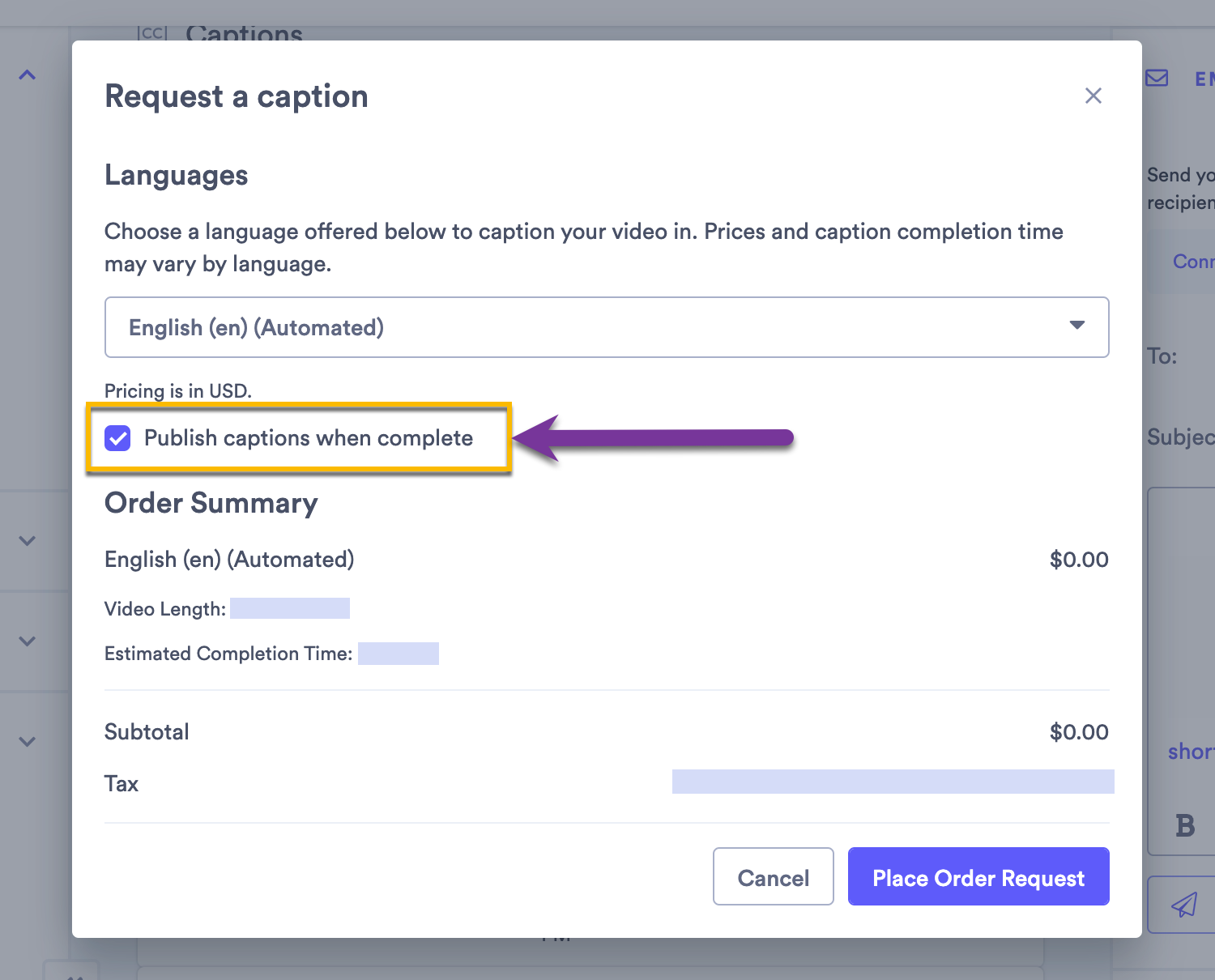 Create your own caption
Choosing to Create your own caption allows you to use Vidyard's built-in editor to write caption text for your video. Add cues to break up your caption text and adjust when words appear during the video.
Select +Add Cue to enter new lines of caption text at specific moments throughout the video
Change the start and end timestamps for each cue to adjust when caption text appears during the video

The timestamps for each cue cannot overlap

Select Save when finished
Upload a caption file
Already have a caption file on hand? Choosing Upload a caption file allows you to select either an .srt or .vtt file from your computer.
Uploaded files should be UTF-8 encoded for an optimal experience (this is especially important for languages with special characters).
Publish your captions
Once you're satisfied with the captions that you've created/uploaded/requested, click on the toggle next to the caption to change its status from Draft to Published.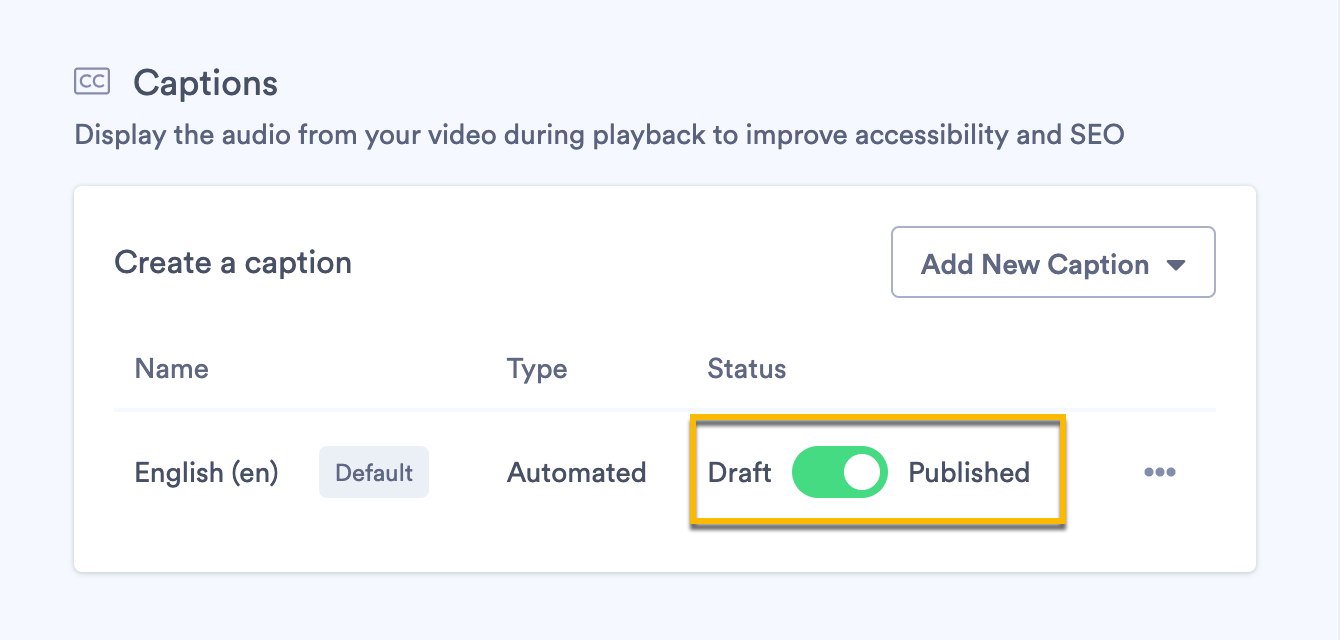 Viewers who watch your video can then turn published captions ON/OFF from the video's player controls and select other published languages from the settings menu. Just make sure that Captions are turned on in your video's design settings.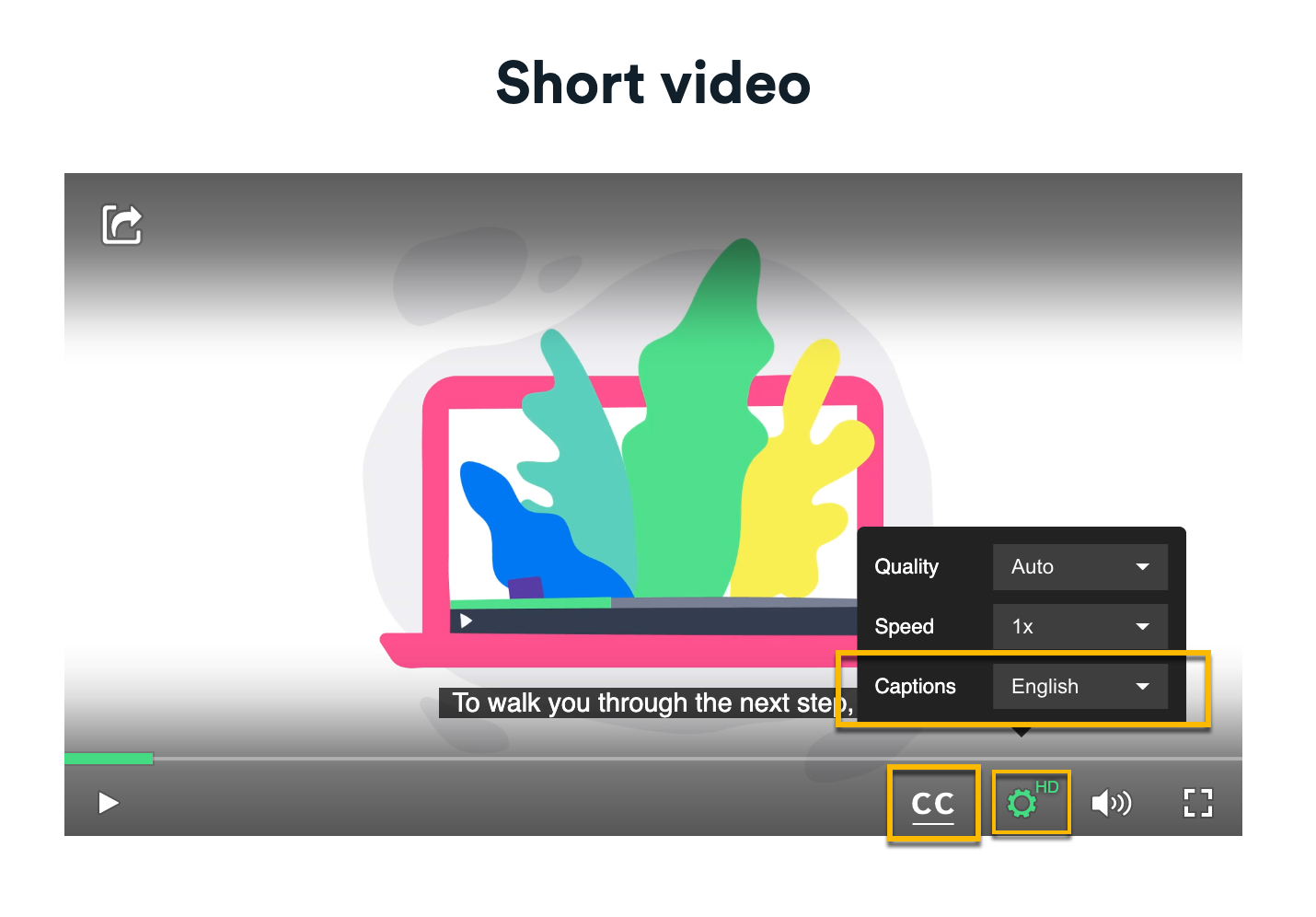 Published captions are also injected into the metadata of your video when using the Inline or Lightbox embed codes. Learn more about how video captions contribute to page SEO.
Enable captions by default
Optionally, you can set one of your published captions on a video as the default caption. 
The default caption is enabled automatically for your viewers when the video begins to play. Just make sure that Captions on by Default is turned on in your video's design settings.
Open the menu (3 dots) next to a caption
Select Set Default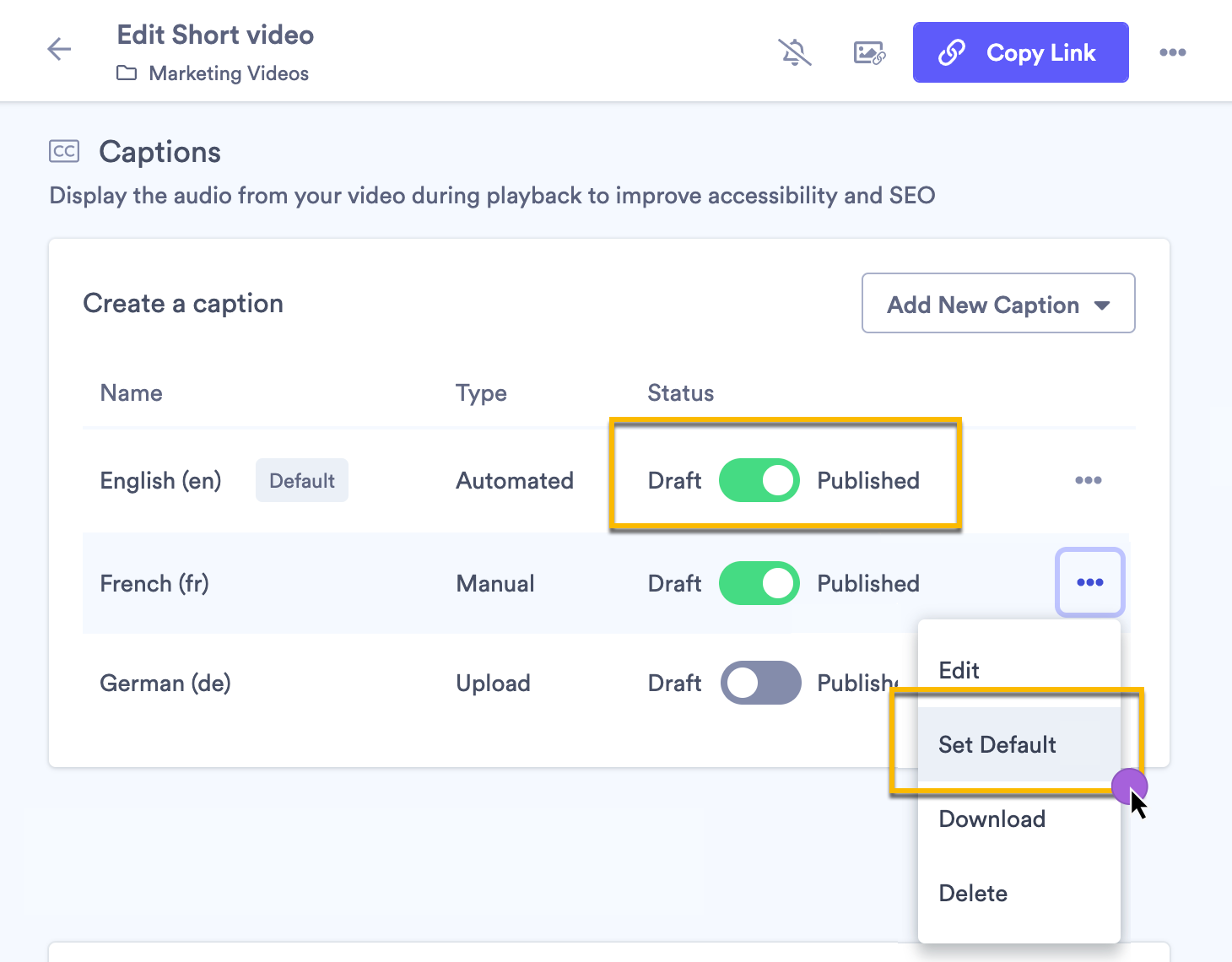 If your video has captions in multiple languages, Vidyard may enable a caption other than your selected default if there's a published caption that matches the viewer's language preference. This happens when:
A published caption matches the language of the viewer's browser
There is a published caption that the viewer has previously selected when watching a video (Vidyard remembers viewers' language preferences)
Edit your captions in Vidyard
If you need to fix a typo or change the position of cues, you can always edit your caption file directly in Vidyard. This is especially helpful if you need to clean up any automated (computer-generated) captions that you've requested.
Select a video from your library, then select Captions
Click on the menu (3 dots) next to the caption you'd like to edit, then select Edit
Make any changes to your caption including:

adjust the start and end timestamps for each cue (they cannot overlap)
select X to delete any unnecessary lines
use +Add cue to insert new lines of caption text

Select Save when finished

Editing a caption puts the file into a draft state. Make sure to publish your captions again when finished.
Download a caption file
Sometimes you need to download a caption file to save or make changes outside of Vidyard. Choose from several common file formats, such as .srt, .vtt, and .txt (with or without timestamps).
Open the menu (3 dots) next to a caption, then select Download
Click on the download icon next to the file format you want to export
Delete a caption
If you no longer require a set of captions, open the menu (3 dots) next to the caption you want to remove, then select Delete.
The deleted caption will no longer be available to viewers who watch the video. This action cannot be reversed.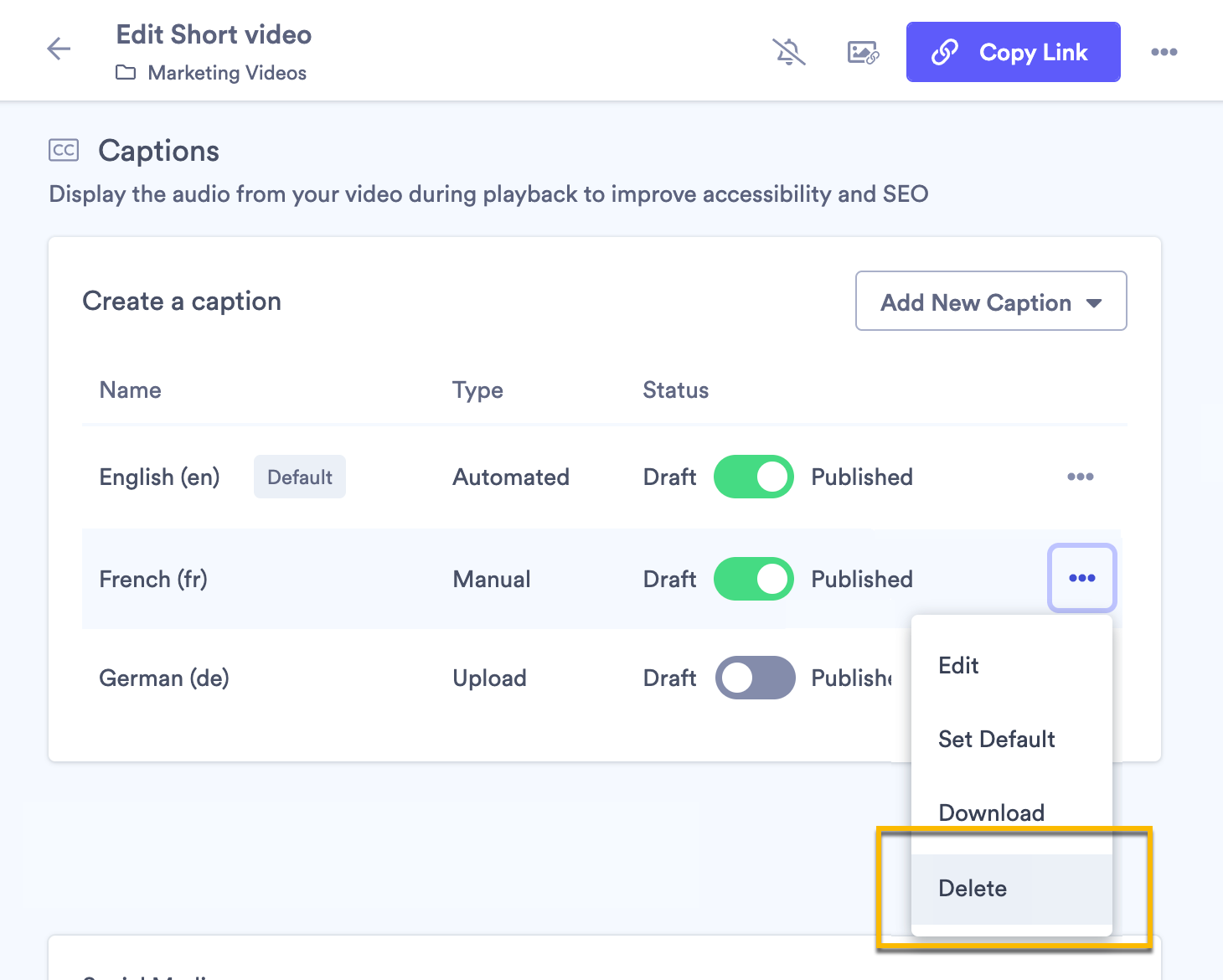 Frequently asked questions
Why are my captions not appearing on my video?
If you do not see captions on your video, review our step-by-step troubleshooting guide to check the following:
Can I change how my captions look (color, font, background, position)?
No, captions will appear on your video as white text on a black background. This cannot be changed.
Can I add emojis to my captions?
No, emojis are not supported. Video captions must use the standard formatting for either .vtt or .srt file types.
How do I format an .srt or .vtt caption file?
You may want to make changes directly to an .srt or .vtt caption file, either before you upload captions, or if you want to download captions and make changes outside of Vidyard.
You can edit most caption files with your computer's default text editor. Just make sure to follow the formatting guidelines for these file types to avoid errors.
Is there a video length limit on caption requests?
No, you can request captions for any length of video. But keep in mind -- the time to complete the request and the cost (if a paid caption) increases proportionately.
How am I charged for paid caption requests?
When you order a paid caption, the request is sent to our third-party caption partner, Rev, to transcribe. 
Paid caption requests are priced per minute (rounded up to the next whole minute) in US Dollars, plus applicable taxes based on your location (see table below for price list). For each request, you can see and review the total cost in Vidyard prior to confirming your order.
Paid captions are non-refundable once the purchase order has been submitted.
Example:
Caption Language: English
Video length: 2:25 minutes
Cost: 3 mins x $1.88 = $5.64
At the end of each month, Vidyard emails a dedicated invoice for all paid caption requests to the billing contact we have on file for your account. The invoice can be paid by credit card, cheque, or wire payment. At this time, we cannot create separate invoices for different business units.
Caption Language
Based on standard ISO-639 nomenclature
Price Per Minute (under/=$20)

Price Per Minute (over $20)

*$10 flat fee added per caption request

English (en)
$1.88
$1.25

Spanish - Spain (es-es) or Latin America (es-la)
Arabic (ar)
Czech (cs)
Hindi (hi)
Polish (pl)
Portugese - Brazil (pt-br)
Turkish (tr)

$4.50
$3.00

Mandarin - simplified (zh-si) or traditional (zh-tr)
French (fr)
German (de)
Dutch (nl)
Italian (it)
Korean (ko)
Russian (ru)

$7.50
$5.00
Japanese (ja)
$10.50
$7.00
Does deleting a processing caption cancel my purchase?
If you request paid captions for your video and then delete the caption file while it is still being processed, this does not cancel the purchase. Once you submit a purchase order, paid caption requests cannot be canceled and are non-refundable.
What is the turnaround time for my caption request?
When you request a caption, the turnaround time varies based on the length of your video and whether the request is for an automated or paid caption transcript.
For automated captions, the process should take approximately as long as the length of your video (e.g. 10 minute video = roughly 10 minutes for captions to be ready).
For paid caption requests through our partner Rev, estimated turnaround times are as follows:

0-5 minute video = 2 hours
5-10 minutes = 5 hours
10-30 minutes = 9 hours
30-60 minutes = 22 hours
60+ minutes = 2 business days