Who Can Use This Feature?
Self-Service Plans
Free Pro Plus
Business Plans
Essentials Growth Enterprise
On Business plans, users must have the Create Videos & Playlists permission enabled.
The easiest way to get started with Vidyard is to upload a file from your computer.
If you're a member of a Vidyard account with multiple users (Business plans), uploading allows you to easily contribute to your team's growing library of content.
Upload your files
Sign in to your Vidyard account, then select Library
Select New > Upload from the top-right corner of your library
When prompted, choose a file to upload from your computer

Tip: hold down Command (⌘) or Shift (⇧) to select and upload multiple files from your computer at once
Using drag and drop
Tired of clicking through folders and menus on your computer? Easily upload multiple video or audio files with drag and drop.
Sign in to vidyard.com in a browser tab, then select Library
Click and drag a file from your computer onto the browser window where you're signed in
Done – let Vidyard handle the rest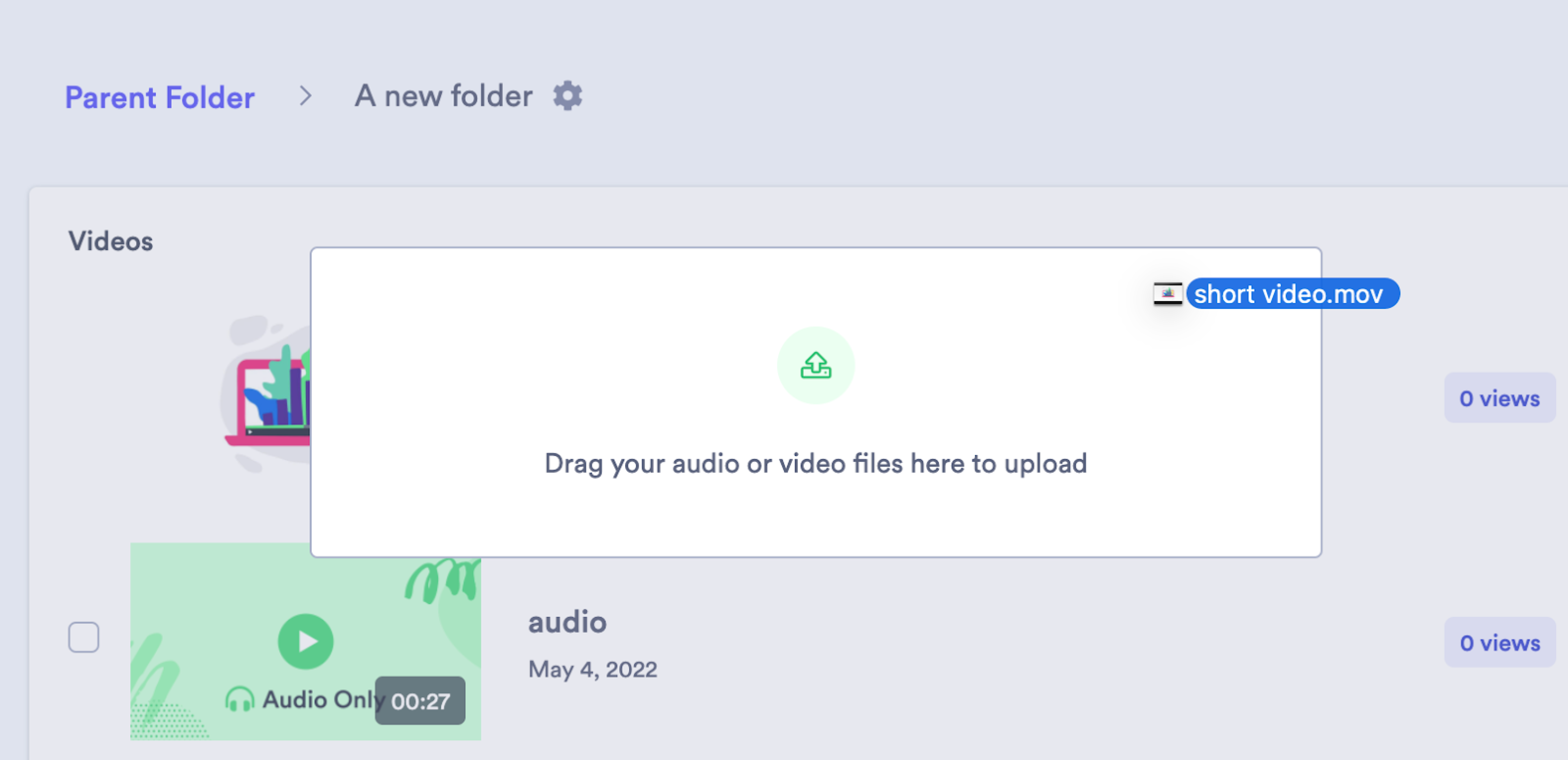 Upload to a specific folder

If you belong to an account on a Business plan, you can organize the video and audio files that you upload in folders. Folders in Vidyard work just like folders on your computer; they help you stay organized and manage your library with other members of your team. 
Navigate to the folder where you want to add a new file, then select New > Upload or drag and drop into your library.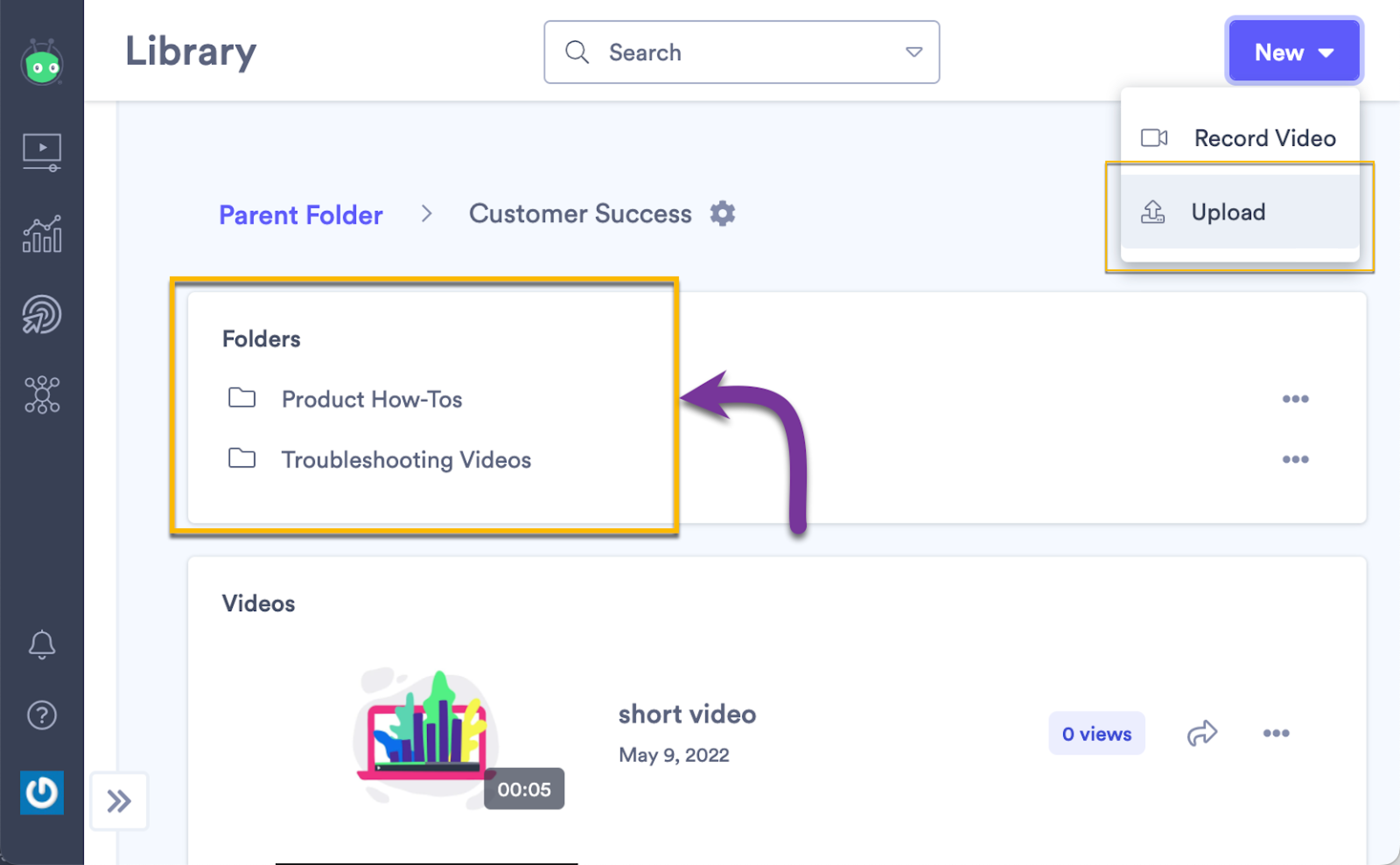 Uploading on mobile
Have videos on your mobile device? Download the Vidyard mobile app to upload video files from your phone.
Open the Vidyard app on your mobile device
Select the camera to create a new video, then select the Upload icon

You may be prompted to allow Vidyard to access media on your device

Choose a video file from your device to upload
Supported video file types
Vidyard supports a wide range of video files commonly used on the web. A file consists of a container (like an .mp4) and a codec. Below is a list of some of the common containers/codecs that work nicely with Vidyard, but it is by no means an exhaustive list:
| | |
| --- | --- |
| Containers | WEBM, MP4, MKV, MOV |
| Codecs | H264, H265, VP8, VP9 |

File size and video length
You can upload files with a maximum size of 20GB
The length of the video must not exceed 24 hours
Recommended encoding settings
Prior to uploading, you are not required to export your video with explicit settings from a third-party editing program like Adobe Premier, Camtasia, or others – settings like the video/audio codecs, frame rates, container, and bitrates.
Instead, when you upload to Vidyard, we encode your video for you and prepare it for the highest quality playback on the web and across devices. You can learn more about our specific encoding outputs here.
However, if you need some guidance, we recommend the following video settings for a smooth upload. These specifications closely align with our own encoding outputs.
Media
Setting
Container

MP4
If audio-only file (like a podcast), we recommend MP3

Video

H264
Progressive (de-interlaced)
Framerate 25fps

→ 60 fps

Bitrate 5mbps → 8mbps

Audio

AAC
2-channel stereo
Sample rate 48khz
Bitrate 128kbps → 384kbps
Trouble uploading a video?
Check your internet connection. Uploading relies on a steady connection to ensure the file can be passed to Vidyard.

Update your browser. Make sure you're using a browser that Vidyard supports and that you're using the latest version. We want to ensure you're not running into any compatibility issues.


Clear your cache and then restart your browser. Your browser cache stores data from the websites you have visited, which can affect site and app functionality. Learn how to clear your browser's cache:
Review our recommended encoding settings.

If your video doesn't fit within these guidelines, run the file through a third-party transcoder, like Handbrake, to update the video's codec, file type, and other specifications
Handbrake is free and allows you to convert video to most commonly supported formats and codecs.
You can also re-export the video with different settings from your own editing software, like Adobe Premier or Camtasia. 

Frequently asked questions
Can I upload podcasts and other audio to Vidyard?
Yes, you can upload audio-only files (like MP3s) to your library to easily host and share media like sound clips or podcasts. Like videos, you can add captions and calls-to-action (CTAs), change who can access your audio, plus many other features and settings.
However, there are a few exceptions with audio-only files:
Thumbnails are limited to a stylized static or animated image, unless you upload your own custom image.
The video player cannot be turned into a "compact version" for playing audio-only media. We also do not provide an "audio visualization" with the player.
You cannot use trim on audio-only files. Edit these files in another program before uploading the finalized version to Vidyard.
Vidyard does not support RSS feeds to distribute audio-only files like podcasts.