Who Can Use This Feature?
Self-Service Plans
Free Pro Plus
Business Plans
Essentials Growth Enterprise
On Business plans, users must have the Edit Videos permission enabled.
You can use Chapters to break up a video into smaller sections, each with an individual marker along the video timeline.
Chapters add helpful context to each section of the video and make it easy for viewers to find and (re)watch key moments. Chapters are especially useful for long-form content and help retain viewers' attention.
Add chapters to a video
Sign in to your Vidyard account, then select Library
Select a video from your library, then scroll down to Chapters > Manage Chapters
Select Add New Chapter, then enter a title and starting time (hh:mm:ss)

Each title appears in the chapters menu on the video player as well as on each marker along the video timeline

Select Publish, and confirm your choice
Edit a video's chapters
You can make changes to your published chapters at any time, including adding more chapters, changing their position on the video timeline, or deleting specific chapters altogether.
Select a video from your library, then click on Chapters
Click on Manage Chapters to edit your existing chapter list
Make any changes to your video's chapters, including:

changing the start time of a chapter
changing a chapter's title
deleting (🗑️) a chapter
adding new chapters

Select Publish  to confirm your changes. Your changes apply immediately and are visible to viewers wherever the video has been embedded or shared.
Share a link to a specific chapter
On the video edit page, you can also copy a link to a specific chapter in the video.
Select a video form your library, then click on Chapters
Click on the Copy link icon next to the chapter that you want to share
The chapter link adds a parameter to your video's sharing link to indicate the second in the video where the chapter begins — ?second=. For example:
https://share.vidyard.com/watch/tOKtvBFvpwnsJeL?second=90 
Frequently asked questions
How many chapters can I add to a video?
You must add a minimum of 3 chapters to a video. Each chapter must be at least 10 seconds in length.
The maximum number of chapters is unique to each video. It is determined by the number of 10-second segments that can fit into the total length of the video (up to a maximum of 100 chapters).
When you select Manage Chapters on a video, you'll find the maximum number near the top of the page.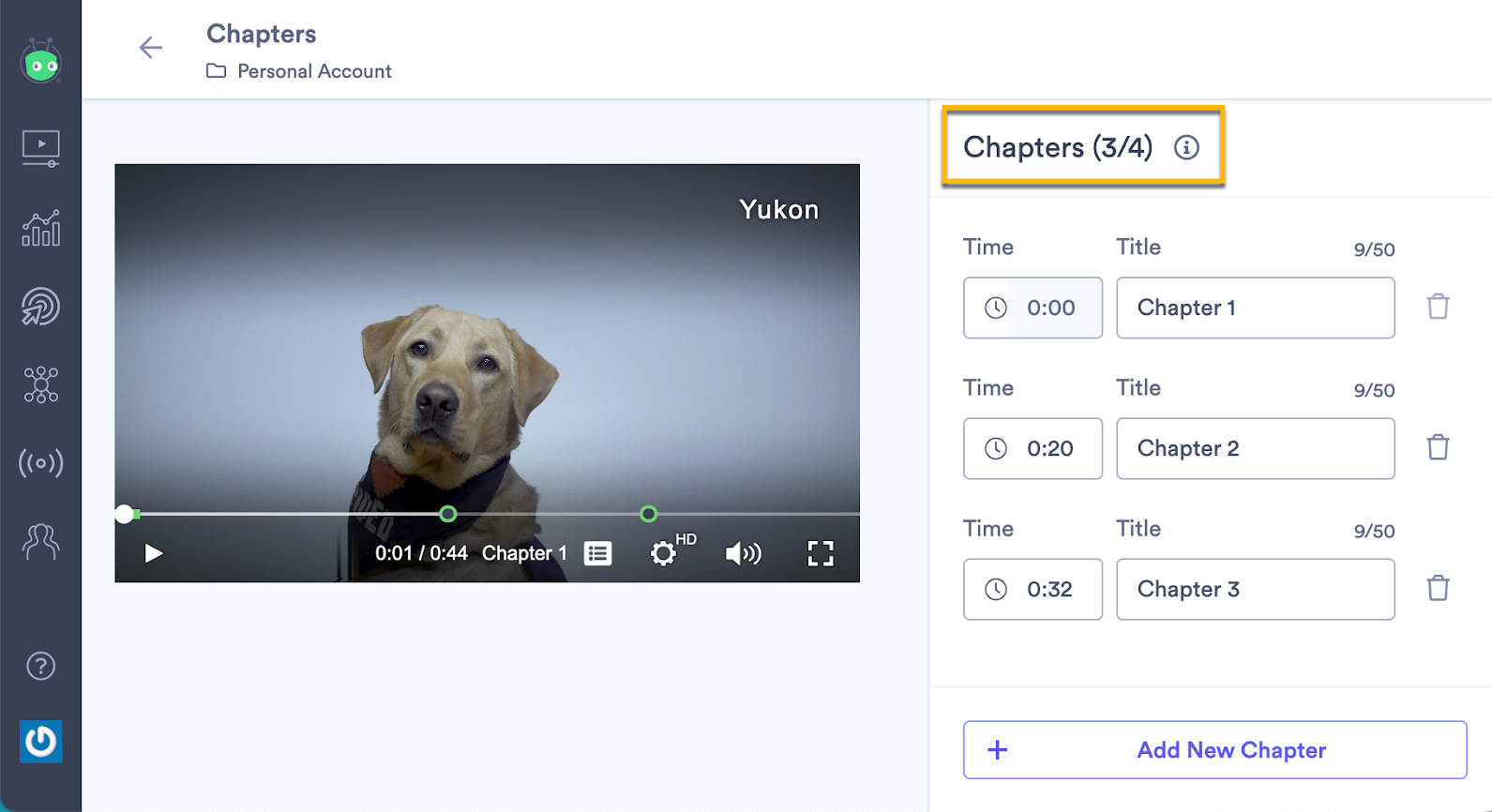 Why can't I change the timestamp for the first chapter of my video?
The first chapter of any video must begin at 0:00 (the very start of the video), so the timestamp field will not be editable.

Why can't I add chapters to my video?
Video chapters are ideal for breaking up longer-form content, but can serve as a distraction with shorter, more focused videos.
You cannot add chapters to a video that is less than 30 seconds. If your video is under 30 seconds, you will not be able to select the Manage Chapters button to add chapters.

Will my chapters publish to YouTube?
No, your chapters do not automatically carry over to YouTube if you cross-publish your video from Vidyard.
However, you can add YouTube-friendly timestamps and titles to the video's description field in Vidyard. That way, when you publish your video to YouTube, YouTube will automatically create chapters based on the description.
If you've already published your video to YouTube, add the chapter timestamps and titles to the description field in Vidyard, then sync your changes to update the video on YouTube (applies to users in Business accounts). 
Here's a template you can use to create video chapters on YouTube:
//Add this into the description field on your Vidyard videos:

  0:00 - Chapter 1
  0:30 - Chapter 2
  1:00 - Chapter 3
  1:30 - Chapter 4
  2:00 - Chapter 5

Are chapters viewable on mobile devices?
Yes, chapters are fully compatible with mobile. Viewers can see and select chapters from both the markers along the video timeline, as well as the chapters menu in the player controls.