Who Can Use This Feature?
Business Plans
Essentials GrowthEnterprise
Users must have the Manage Users setting enabled.
Before your team can get started and begin to collaborate with Vidyard, you need to add users to your account and assign them to a Team.
The number of users that you can add is determined by the amount of available User Seats. Each Vidyard plan includes a set number of User Seats with the option to add more as your team continues to grow.
In this article, you'll learn how to:
👉 invite new users to join the account

If you have many new users, you can add their accounts all at once from a spreadsheet.

👉 assign users to a Team (a Team determines your users' access to folders and permissions)
👉 manage requests to join your account from colleagues who use Vidyard for Free
👉 delete users from the account
Adding new users
From the main menu in Vidyard, select Admin > Users
Select Add Users
Enter 1 or more email addresses to invite users to join your account

You can also upload a CSV file or copy and paste a comma-separated list to add multiple users at once

Select a Team for the users to join
Click on Add to finish

Adding new users in bulk with a CSV file
If you have a large number of users to add to Vidyard, upload a .csv file to send invitations in bulk.
The CSV file should contain a single column with only email addresses. Download our CSV template as an example to get started.
Click Upload CSV to invite a list of users
Select the .csv file from your computer
Select a Team for users to join, then click on Add to finish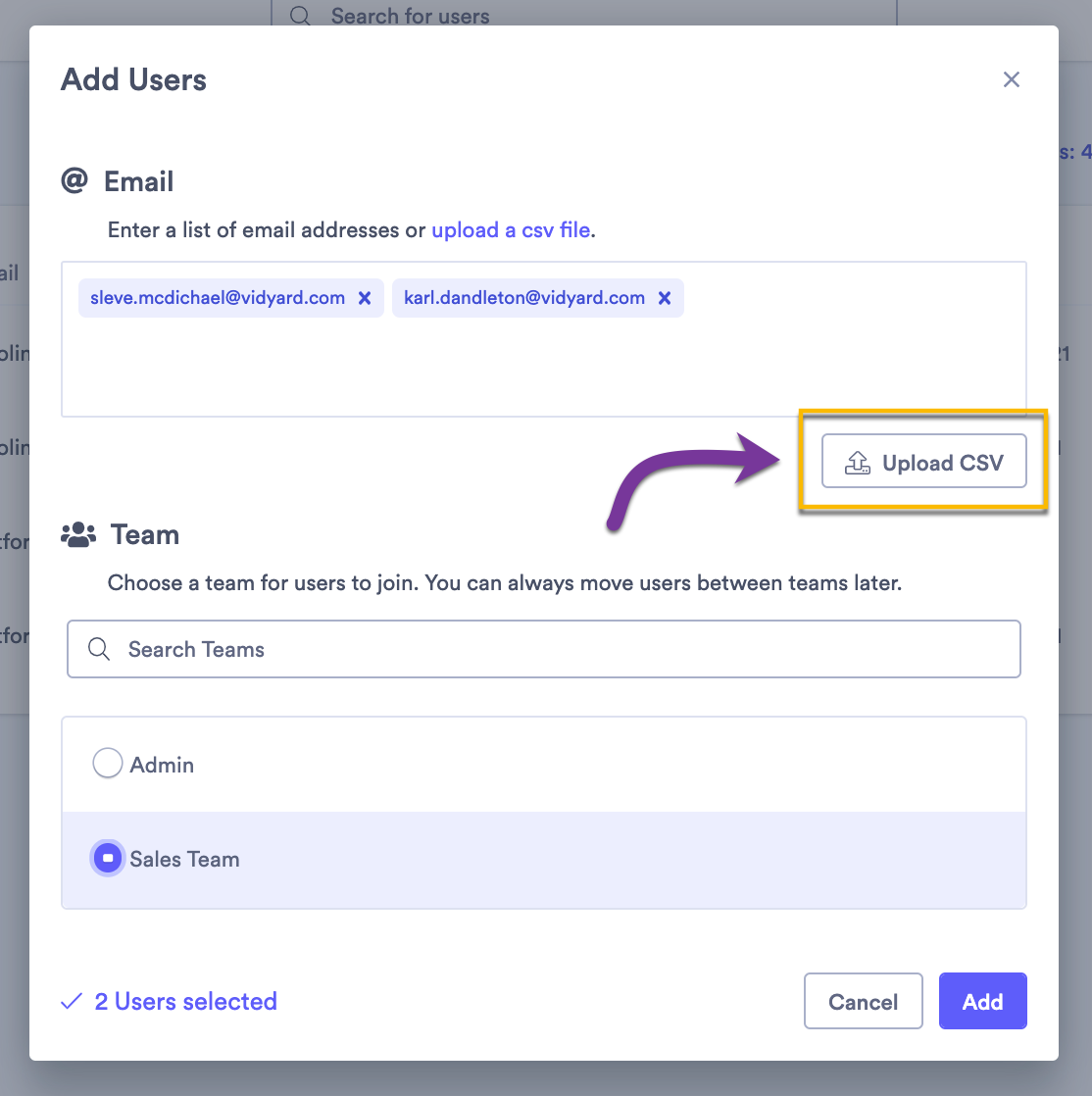 Resending user invitations
If a user is having trouble either receiving or accepting their invitation, you can resend the email invitation from the users page in Vidyard.
Anyone who has not yet accepted their invitation to join will have a status of Invitation Sent under the Last Active column.
From the main menu, select Admin > Users to open your list of users
Select 1 or more with a pending invitation
Open the menu in the top, right-hand corner, then click on Resend invitation
Select Send to confirm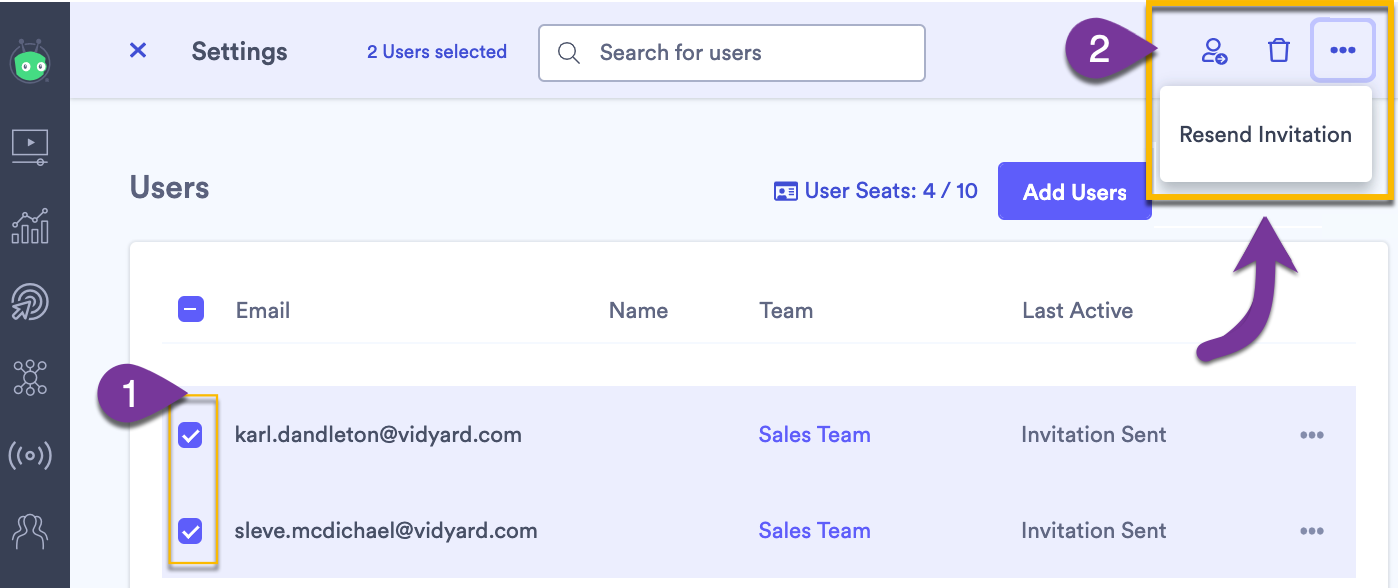 Managing requests to join your account
Any person at your company or organization with a Vidyard Free account is able to request to join your Business account. Members of the Admin Team have the option to choose whether to allow or reject their request.
When you accept a request to join, the new user is given one of your account's available User Seats.
If you need more User Seats, select Get More Seats at the top the page and we'll reach out to help increase your allotment.
Select Admin > Users from the main menu
Select Manage Requests
Choose to accept or reject each person's request:

To accept a request, select a Team from the dropdown menu for the user to join
To reject a request, select the trash icon 🗑️
Each requester will receive an email notification indicating whether their request to join your account was accepted or denied. If accepted, the email includes a link with steps join your account as a new user.
Deleting users
When a user is deleted, they will no longer be able to access your team's shared account. Any assets that they authored (videos, hubs, reports, etc.) will remain in Vidyard for you and your team to use.
Select Admin > Users from the main menu
Select 1 or more users from the list
Click on Delete 🗑️ and then confirm
Managing deleted users' personal folders
Whenever you delete a user, their personal folder stays with the company account so that you and your teams can retain, audit, and continue to use the videos as needed.
The label "revoked" is added to the name of the personal folder to indicate that it belonged to a former user. You can find these revoked folders at the bottom of the folder list in the account.
(e.g. [Revoked] Personal Account - first.lastname@companyemail.com)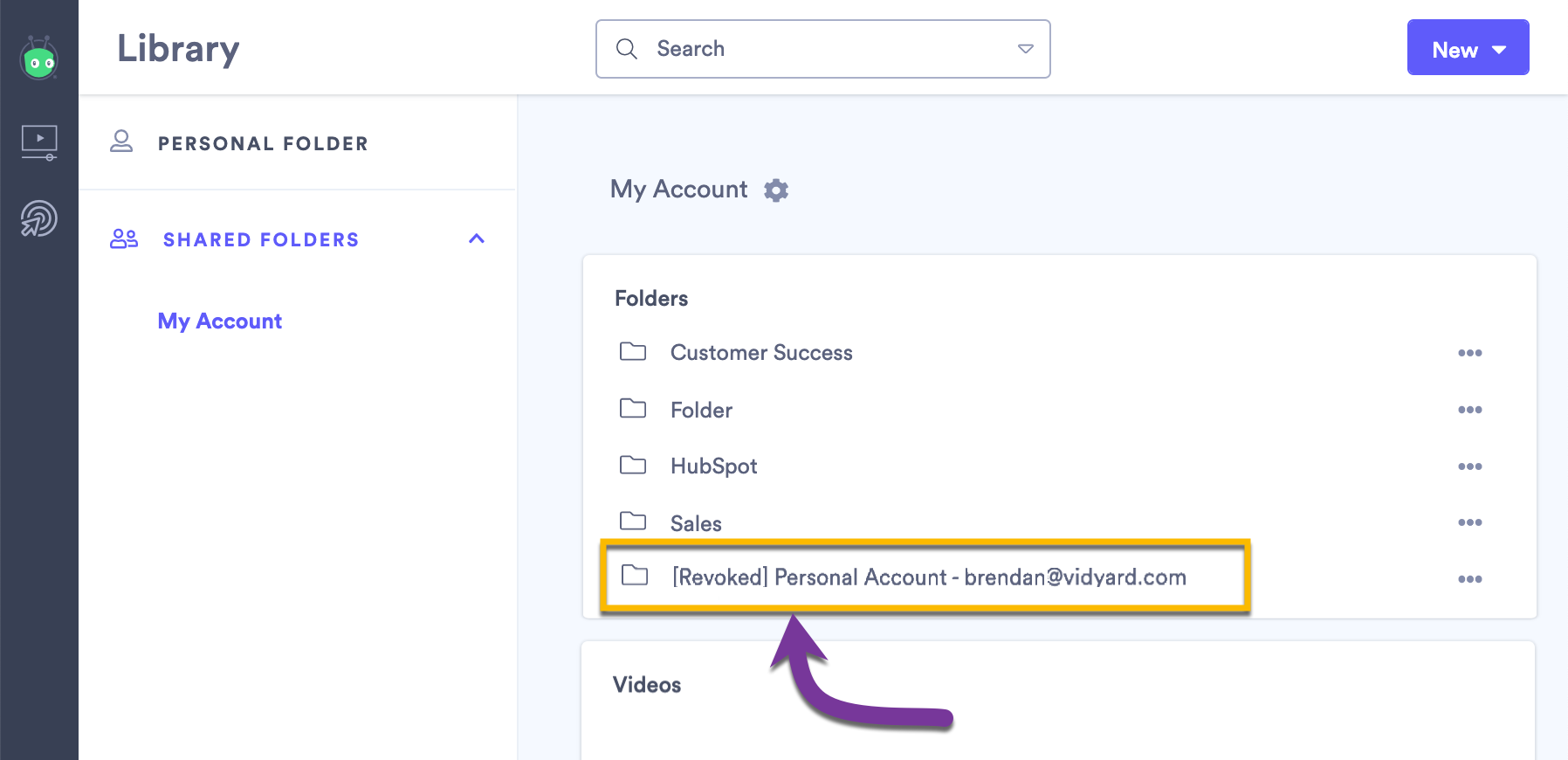 A few things to note about revoked folders:
👉 By default, only members of the Admin team have access to the revoked folder after a user has been deleted


👉 Revoked folders are treated like any other shared folder in the account. Admins can grant other teams access to the folder and manage what users are permitted to do with its videos.


You can also move or delete videos in the revoked folder, or delete the folder altogether
Frequently asked questions
How do I add more users if I've reached my seat limit?
You can purchase additional seats when you reach the current limit included in your Vidyard Business Plan.
You can purchase seats directly from your Vidyard account (dependent on your payment method) or by contacting a member of our team.
What does the "Last Active" column on the Users page mean?
On the Users page (Admin > Users) you'll find a Last Active column next to each user in your account.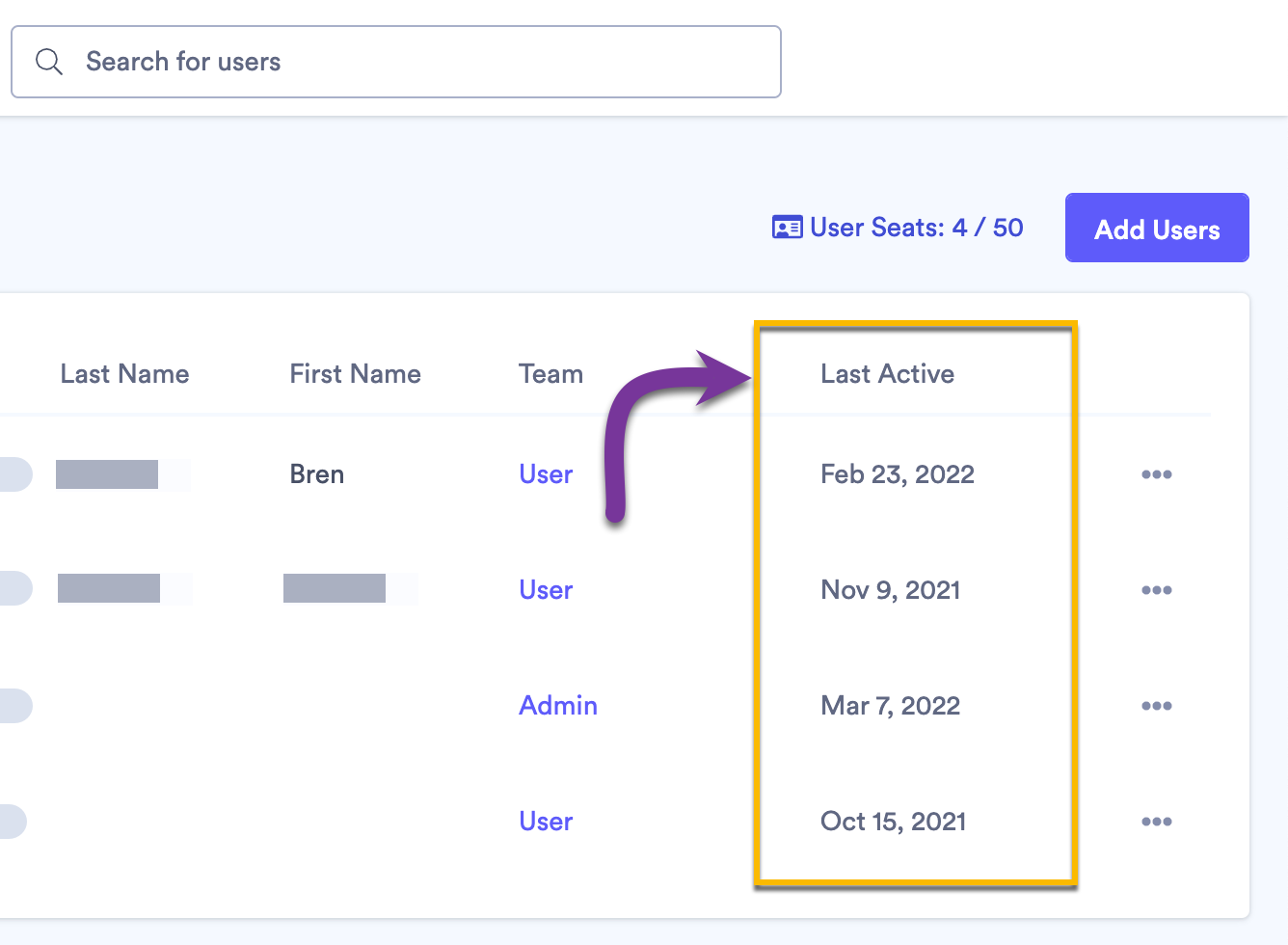 Last Active refers to the last date (mmm/dd/yyyy) a user performed an action using Vidyard. This includes actions taken when signed into Vidyard in a browser, the browser extension, desktop app, mobile app, or other channels like Vidyard in Gmail or Outlook.
An "action" might include signing into your account, as well as any signed-in interactions taken by the user (for example, opening the browser extension).