Vidyard makes tracking engagement simple. After sharing videos with your audience, you'll receive notifications about when and how your recipients have watched, helping you reach out to them at the ideal moment.
If you're on a paid Vidyard plan, you can view additional analytics by accessing the detailed viewing data available in your video's Insights.
Video view notifications
When you share or embed a video from your personal account, Vidyard will ensure that you are always kept aware of who is watching your videos, and when. To get the most out of these notifications, we recommend ensuring that you identify your viewers.
You'll be notified of any views through:
You can manage these notifications at your convenience through either the extension or desktop app settings.
Desktop & mobile notifications
Available to: All Vidyard plans
A notification will appear on your device (ie. computer, mobile) whenever someone watches your video. Identified viewers' email addresses will be shown, while unidentified viewers will appear as "someone".
If you click on your desktop's notification, it will take you to that video's edit page, where you can access further insights if available in your plan.

The notifications feed
Your notifications feed is a historical list of your videos' views that is available in the Vidyard browser extension, desktop, and mobile apps. Your Vidyard library will also include the notifications, if you are on a Free or Pro plan. This feed is ideal for checking up on your recent viewing numbers, and identified viewers.
You can access the feed almost anywhere you use Vidyard, by following the steps below.
Note: If multiple unidentified viewers ("someones") watch one of your videos, you will see a maximum of 15 on your notifications feed. Past this maximum, you will see "15+". Please check your Library or Video Insights (if on applicable plan) for more viewer information.
Select a tab to learn more:
Available to:
All Vidyard plans
You can find the notifications feed in the same place on both of the
browser extensions
, and the
desktop app
.
Open the desktop app/browser extension
Select the notifications (

🔔

) icon to see a list of your views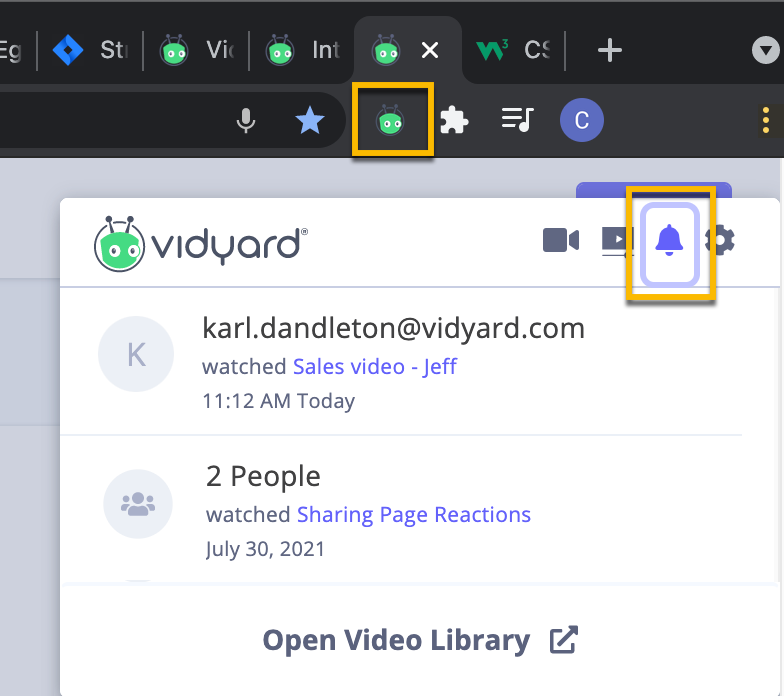 Available to:
All Vidyard plans
Open the Vidyard mobile app
Select the notifications (

🔔

) icon to see a list of your views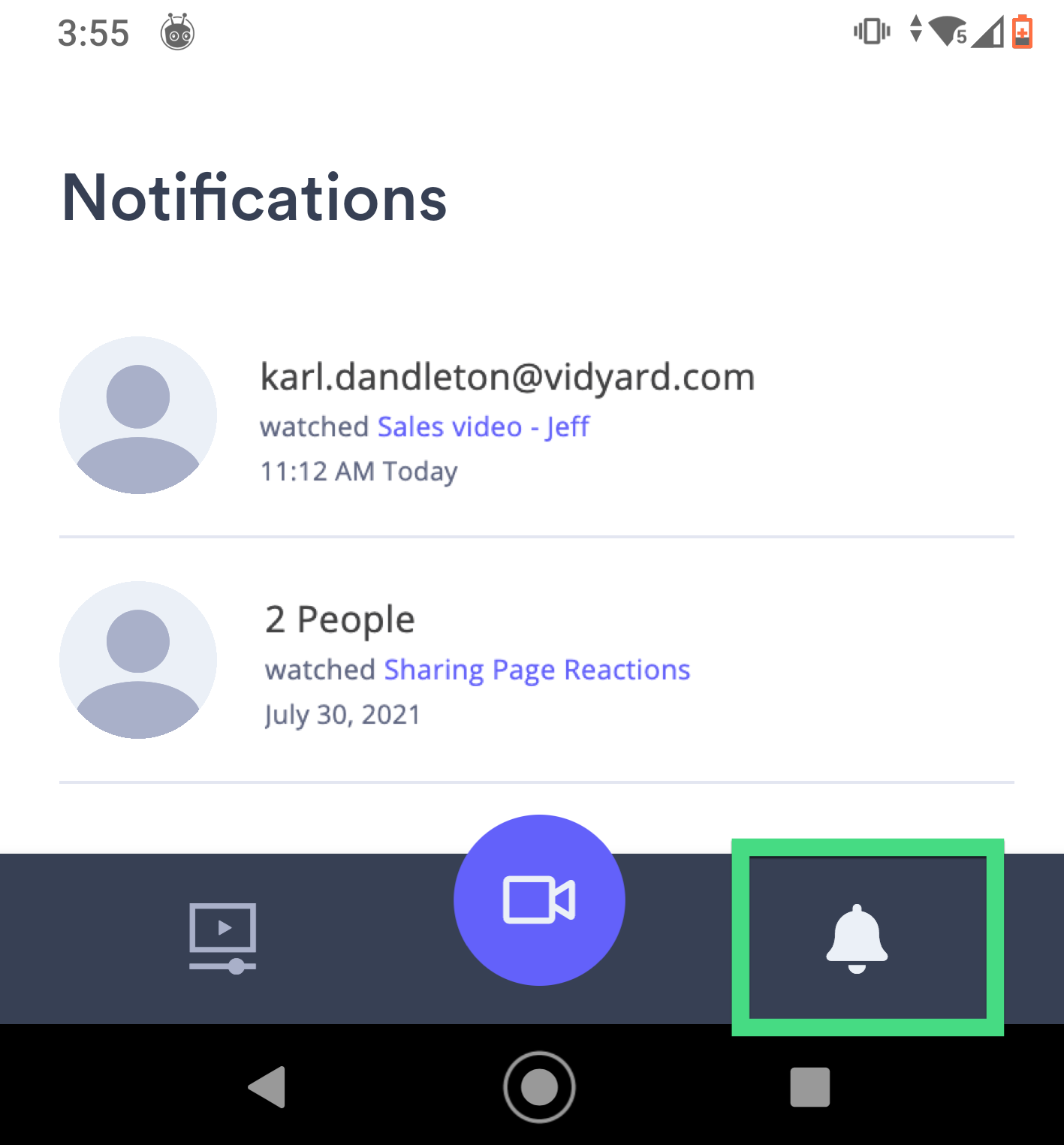 Available to: Vidyard Free, Vidyard Pro
The library notifications feed will appear for Free users, but if you have upgraded to a
Vidyard Pro
account, the feed will have additional functionality. Pro users can click on any notification in the feed to
access detailed insights for the video,
and will also be notified of any
comments
left on a video, if the
Allow Replies setting is enabled
on the Sharing Page.
Select the notifications (

🔔

) icon to see a list of your views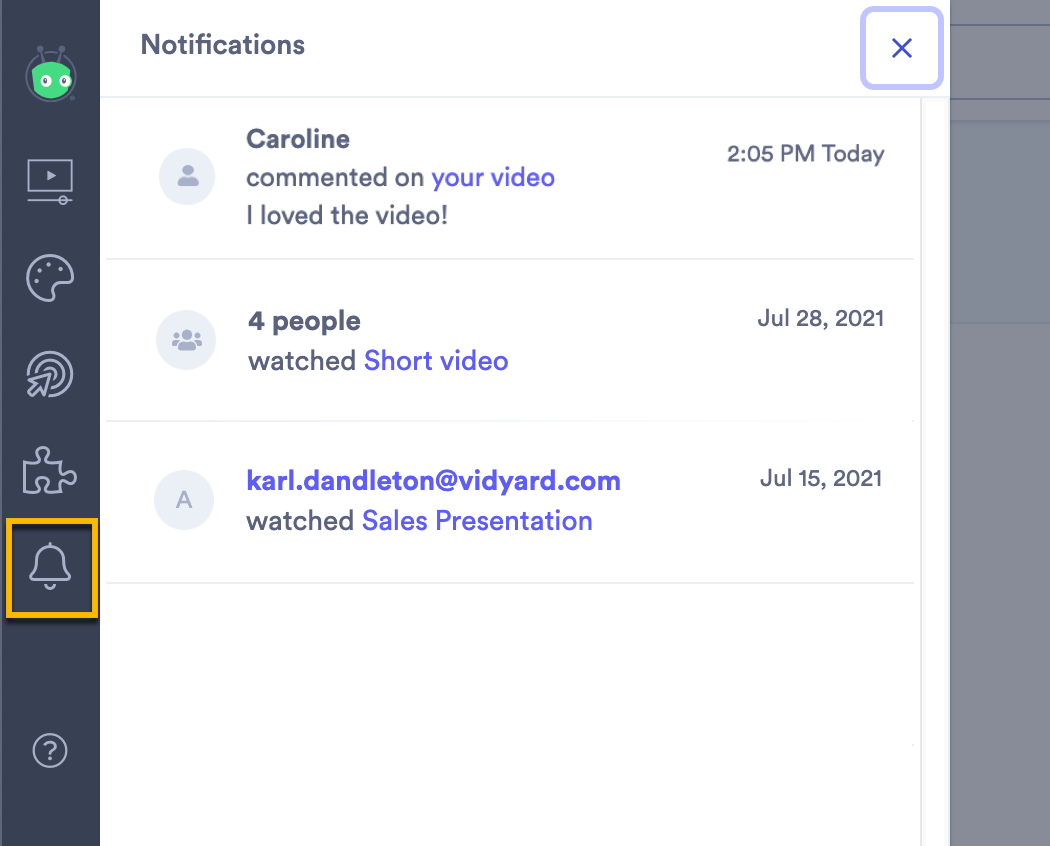 Email notifications
Available to: All Vidyard plans
When viewers you've identified watch your video, you will be sent an email notification from info@vidyard.com that provides more detail about how long that person stayed tuned in.
When you click on either the video title or thumbnail in the email, you'll be taken directly to that video's edit page. From there, you can make changes, or navigate to your Insights for further viewing information (if included in your plan).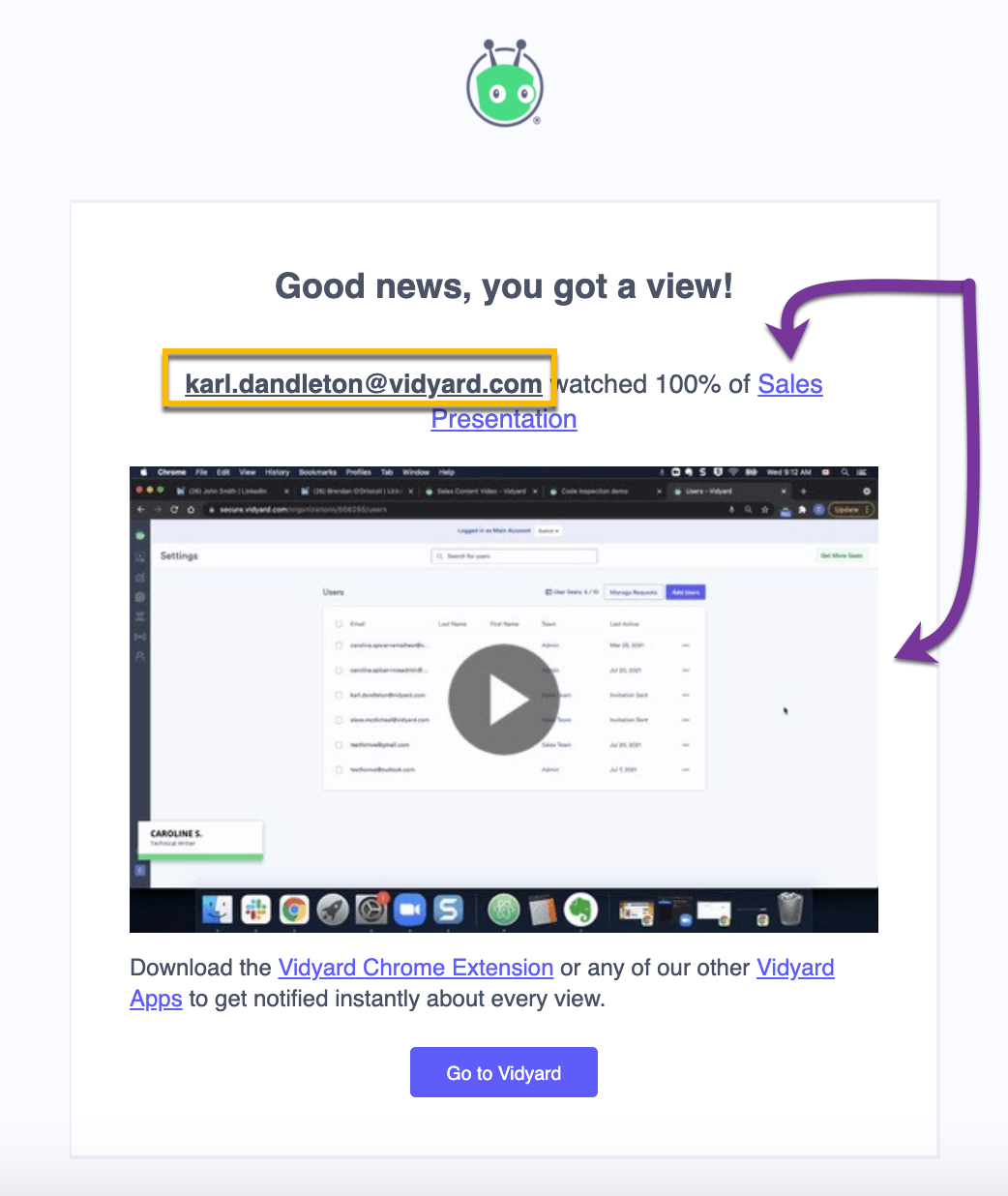 You will also receive a notification for the first view on a video, even if that viewer is anonymous. This notification will include a link on how to best identify your viewers, to get the most information out of future views.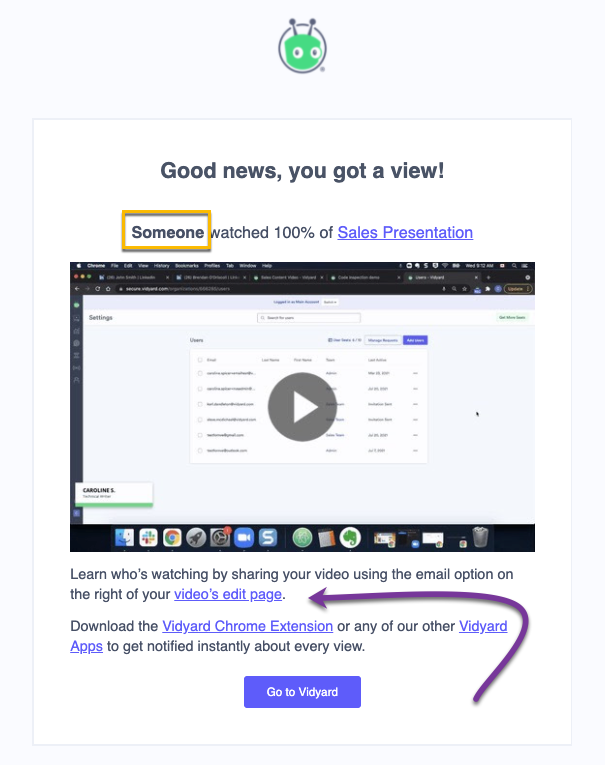 Video Insights
Available to: Vidyard Pro, Teams, Business, and Enterprise
To see more information on a viewer's engagement, take a look at your video's Insights.
You can access your Video Insights by:
Clicking on the view count card to the right of the video in your library, or,
Selecting the menu (3 dots) next to a video, then clicking Video Insights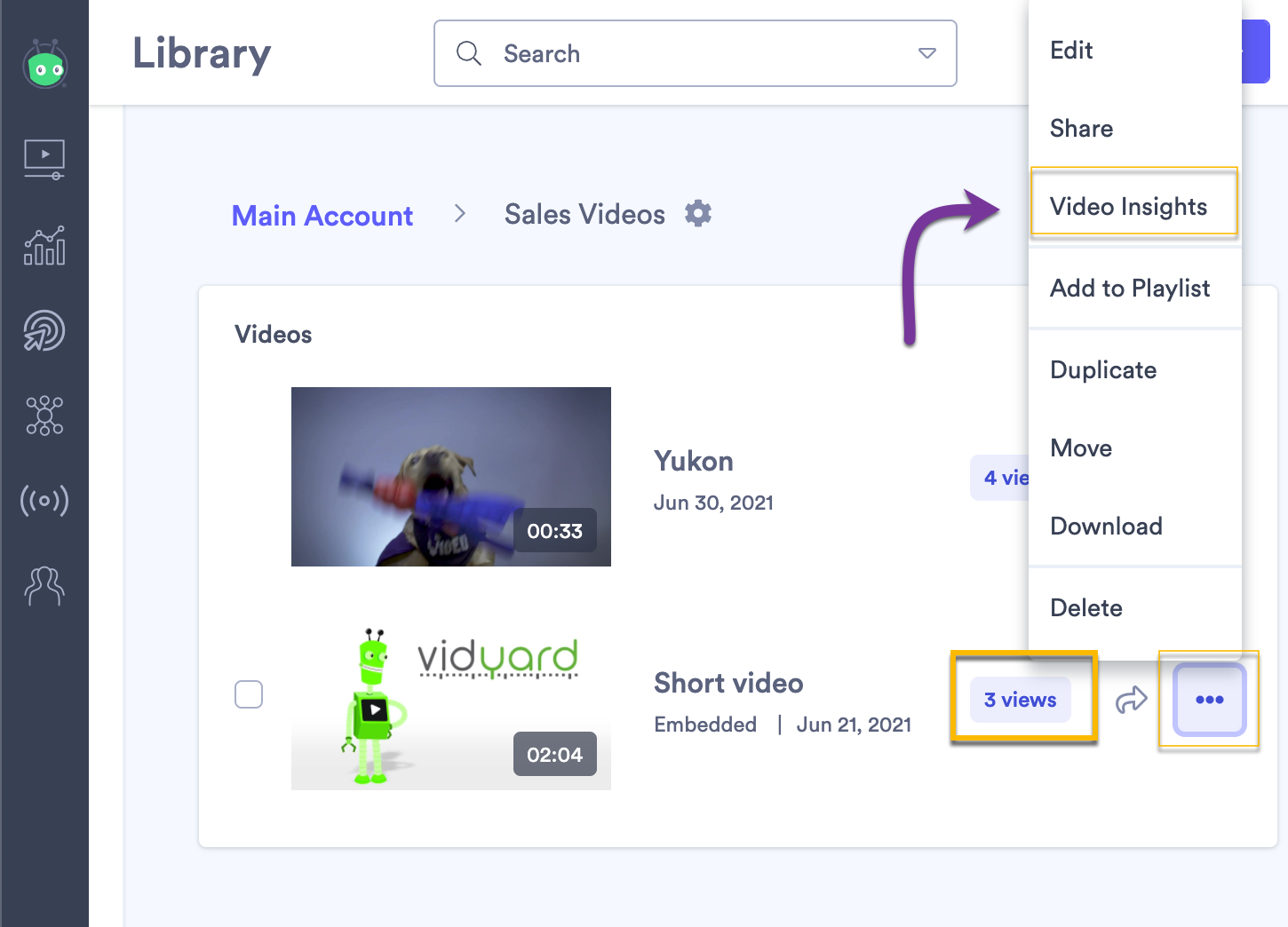 Note: If you are using the search bar to find a specific video, neither the view count card nor the menu will be available.
What can I learn from Video Insights?
Video Insights will allow you to check your viewing activity for a specific video, giving you details such as:
The viewer's email (if they are identified)
Time and date the video was watched
Viewer's location (city/country)
Heatmap with percentage and times watched

Hover over the heatmap bar to see specific timestamps watched - the darker the green, the more times it was viewed

What Actions (CTAs) were clicked in your video
Once you've opened your Video Insights page, you can change the date range filter to narrow down the views you'd like to see. You can also choose to see all view sessions, or only those of identified viewers.
If you are on a Vidyard Pro plan, you will be able to see your Video play rate (how many times it was loaded vs. viewed), average percentage watched, and total Action clicks for that date range.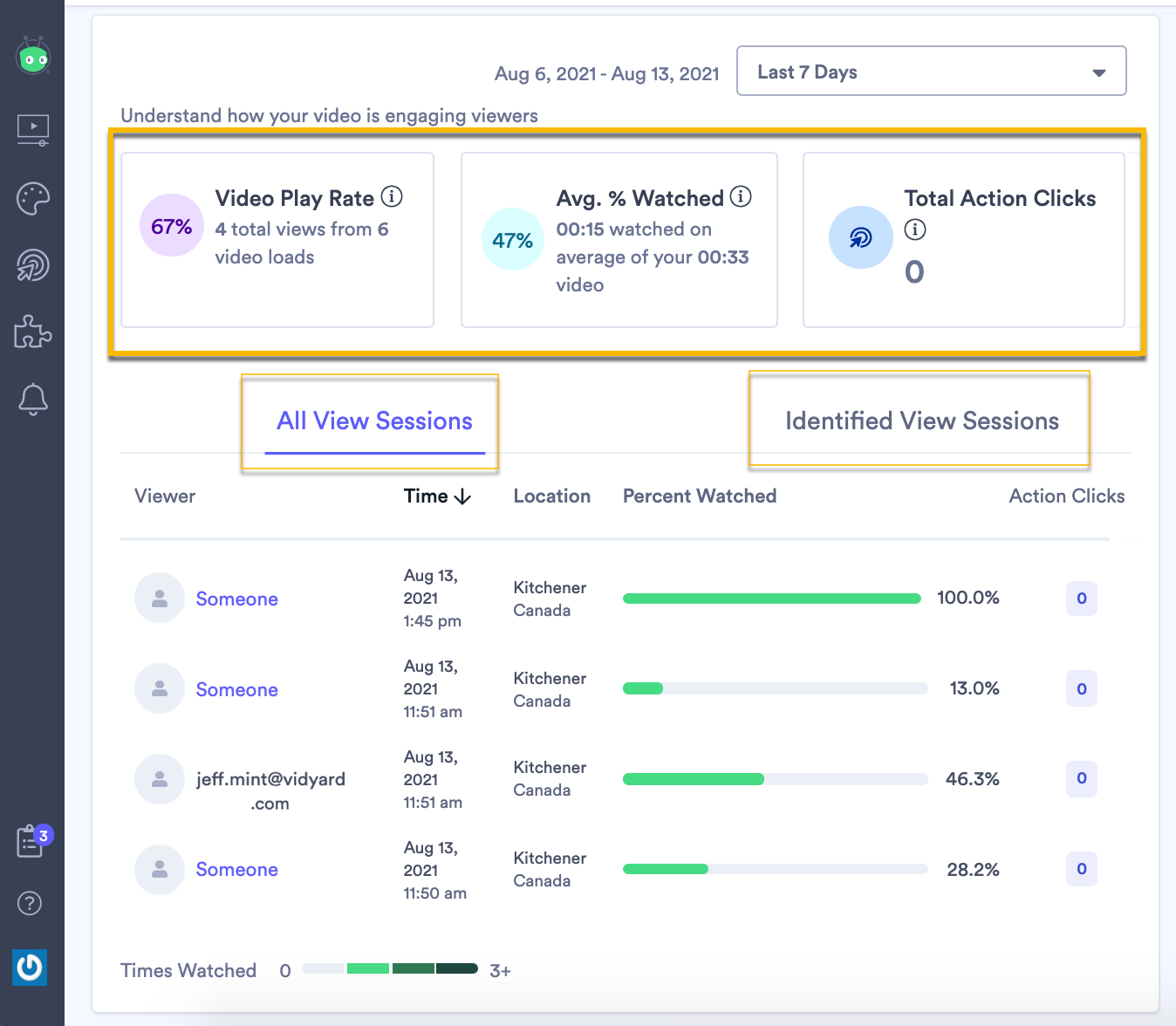 If you are on a Teams, Business, or Enterprise plan, click See More Insights at the bottom right to navigate to the Insights Dashboard for broader engagement trends.