See who's watching your video, and other viewer insights
👀
Vidyard keeps you up to date with just-in-time notifications whenever a viewer watches your video. You can receive in-app or email notifications about video views.
If you use Vidyard Pro or a higher account tier, you can also access detailed Video Insights to learn more about your viewer, including how much of the video they watched, and whether they clicked on any of your Actions (CTAs). 
Get view notifications

View notifications let you know when a viewer has watched your video.
The types of notifications you receive are based on where you use Vidyard (browser extension, desktop app, etc.), your personal notifications preferences and, in some cases, whether or not you were able to identify your viewer.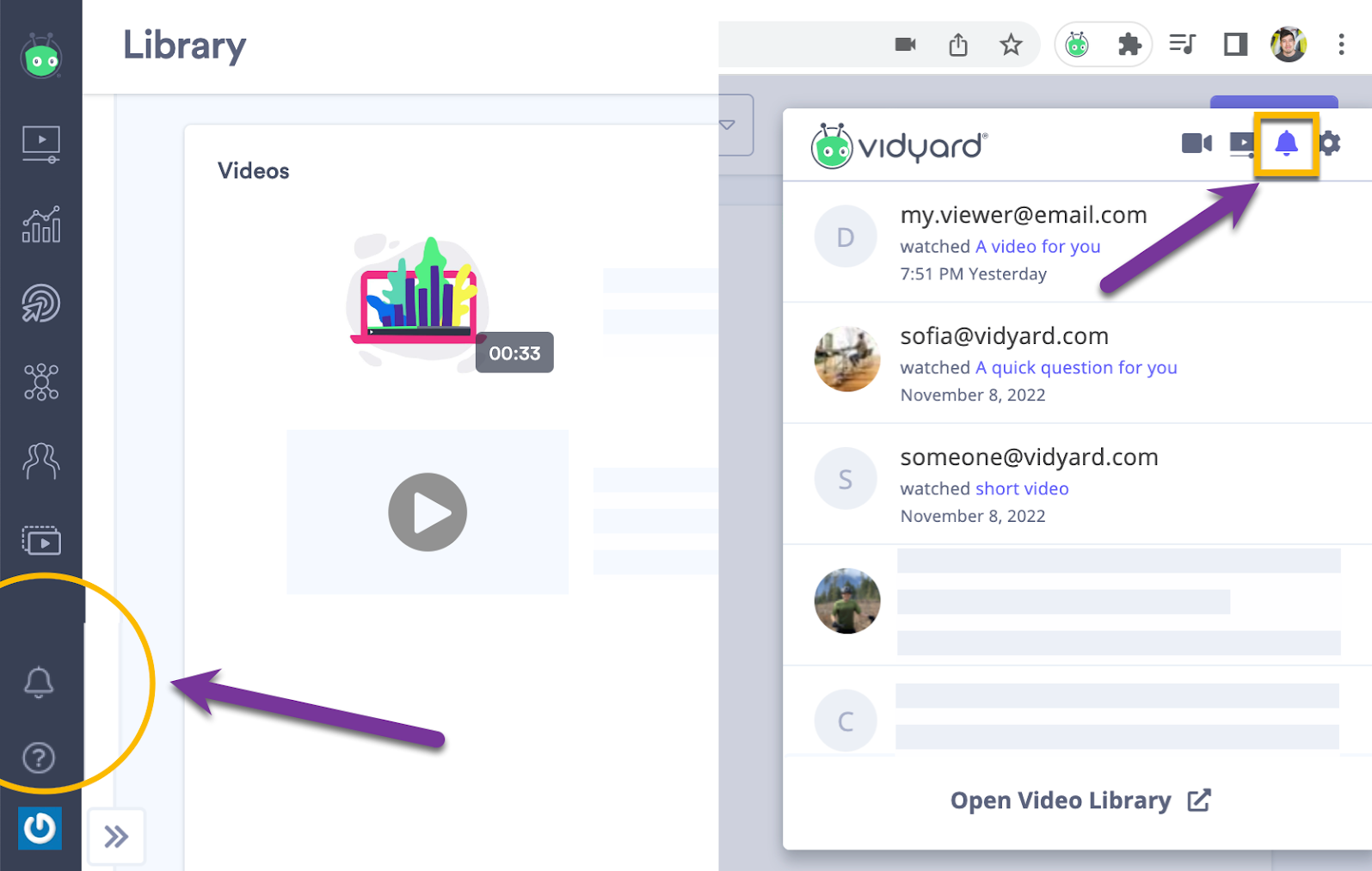 Desktop & mobile notifications 💬

Get pop-up notifications on your desktop computer or mobile device as soon as a video is watched
Make sure to enable in-app view notifications for videos in your user preferences
Make sure Display notifications is enabled in the browser extension or desktop app preferences
Make sure to enable notifications for Vidyard in your phone's app settings (device dependent)

Check your video's Insights

Video Insights help you learn more about the viewers who watch a particular video: who they are and where they're located, how much of the video they watched, and whether they clicked on any of your Actions (CTAs).
Sign in to your Vidyard account, then select Library from the main menu
Open the menu (3 dots) next to a video, then select Video Insights

 Note: if using search to find a video, you may need to change your search location to "Current Folder" to see Insights. Alternatively, select the video title, then click on the Insights tab from the video's edit page (applies to Vidyard Business accounts). 

Filter the insights for your video

Use the dropdown menu to change the date range (today, yesterday, 7/30/90 days, last year, or lifetime)
Select Identified View Sessions to see only viewers who you were able to identify
Here's a breakdown of the information in your Video Insights:
Viewer Details
Description
Viewer

Indicates who watched your video, if you were able to identify the viewer by their email address 

All unidentified viewers are listed as "someone" — Learn more about identified and unidentified viewers

Time
When the video was watched (mm/dd/yy, hh:mm, am/pm)
Location
Where the viewer is located (city/country, based on IP address)
Percent Watched

What percent of your video the viewer watched, plus the number of times the video was watched (once, twice, three or more times)

*On Business (Essentials, Growth, Enterprise) plans, you can see what specific segments of the video were watched more than once

Action Clicks
Indicates whether the viewer clicked on your video's Action (CTA) and which one (if multiple Actions)
Additional details in Video Insights
On Vidyard Pro plans, your Video Insights also include a high-level breakdown of your total play rate (video loads versus views), average % watched (across all viewers for the video), and total Action clicks.


For users on Business (Essentials, Growth, Enterprise) plans, you can also access additional analytics for your video in the Insights Dashboard by clicking on See More Detailed Insights.
Frequently asked questions
Why does it say "someone" watched my video?
When you receive a notification or look at your Video Insights, you may see that only "someone" watched your video instead of a person's name or email address.
This happens whenever you are unable to identify the viewer who watched your video. Common reasons include:
Why am I not receiving view notifications?
Check the following if you're having trouble receiving notifications from your video views:
Why can't I find my video's Insights?

If you're using search to find a video, make sure your search location is set to Current Folder. You won't be able to see your video's total views or the menu to access Insights if you search across all folders in the account (when location is set to Anywhere).
Alternatively, you can select the title of the video or playlist from your search results, then select the Insights tab from the edit page.