Who Can Use This Feature?
Business Plans
Essentials Growth Enterprise
Users must have the View Insights Dashboard permission enabled.

Review video performance across your account from a single dashboard 📈
After publishing and sharing videos with your audience(s), you can analyze their performance by looking at the Insights Dashboard in Vidyard.
The Insights Dashboard contains a series of graphs with digestible analytics to help you make actionable decisions around your use of video. Each graph offers a different view of video performance, viewer engagement, and demographic information (e.g. view locations, geography, and viewer devices). 
Open the Insights Dashboard
Sign in to your Vidyard account
From the main menu, select Insights > Insights Dashboard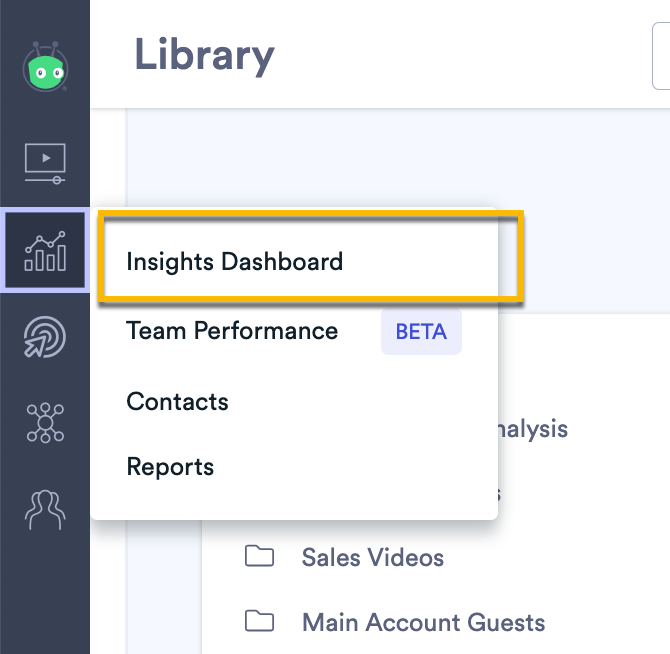 How to filter your video data
There are a number of ways to filter and change your "view" of the video data in the Insights Dashboard: you can change folders, your date range, and filter to a specific video.
Use the Change Folder button to switch into a different folder in your account. Your current folder dictates what group of videos' data you're looking at.

For example, the top-level parent folder allows you to see video analytics for the entire account. Changing into a different folder allows you to focus on analytics for a specific group(s) of videos.

Use the Date Range menu to select a time frame (7/30/90 days, last year, or lifetime).
Use the search bar at the top of the page to filter the dashboard to a specific video. Filtering to a specific video shows different graphs.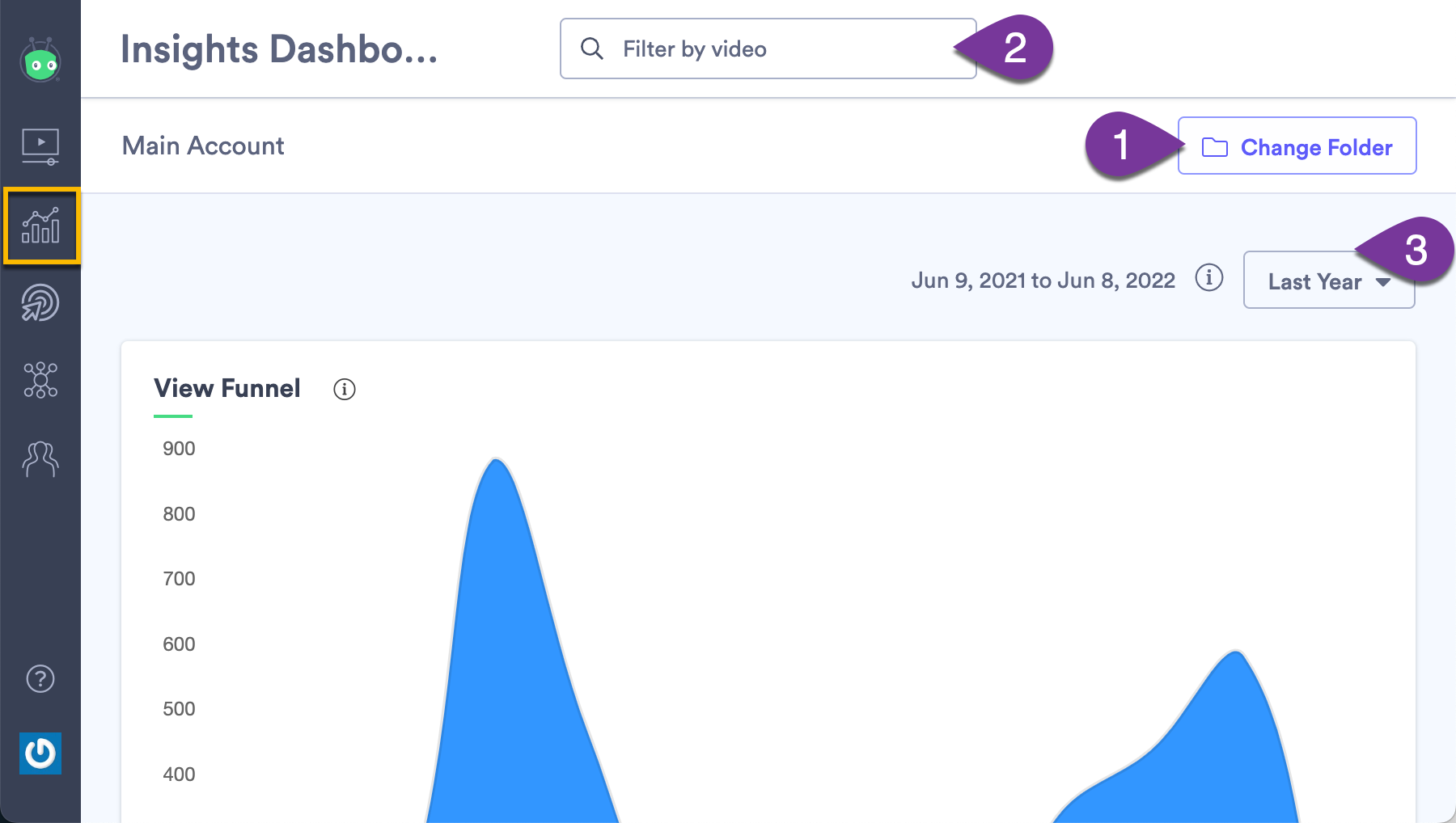 Types of video insights
Each widget on the Insights Dashboard offers a high-level overview of different video metrics, allowing you to analyze how your content is performing.
Some widgets, like the Viewer Retention graph, only appear when filtered to a specific video.
Use View Funnel to measure how well visitors convert across key video metrics (from video loads > views> to viewers becoming identified)
Use Average Percentage Watched to understand the average viewer attention span across your video(s)
Use the Top Videos widget to identify your highest value videos in terms of views, time watched, and attention span
Use Action Engagement  to understand the effectiveness of your CTAs
Use the Device/Browser Usage, View Location, and Geographic Location widgets to understand where and how your viewers are watching
Use Viewer Retention to understand what percentage of your viewers continue to watch at specific moments throughout a video
Use User Performance to review how team members are performing with video
To expand a widget and access the full data set, click on See More.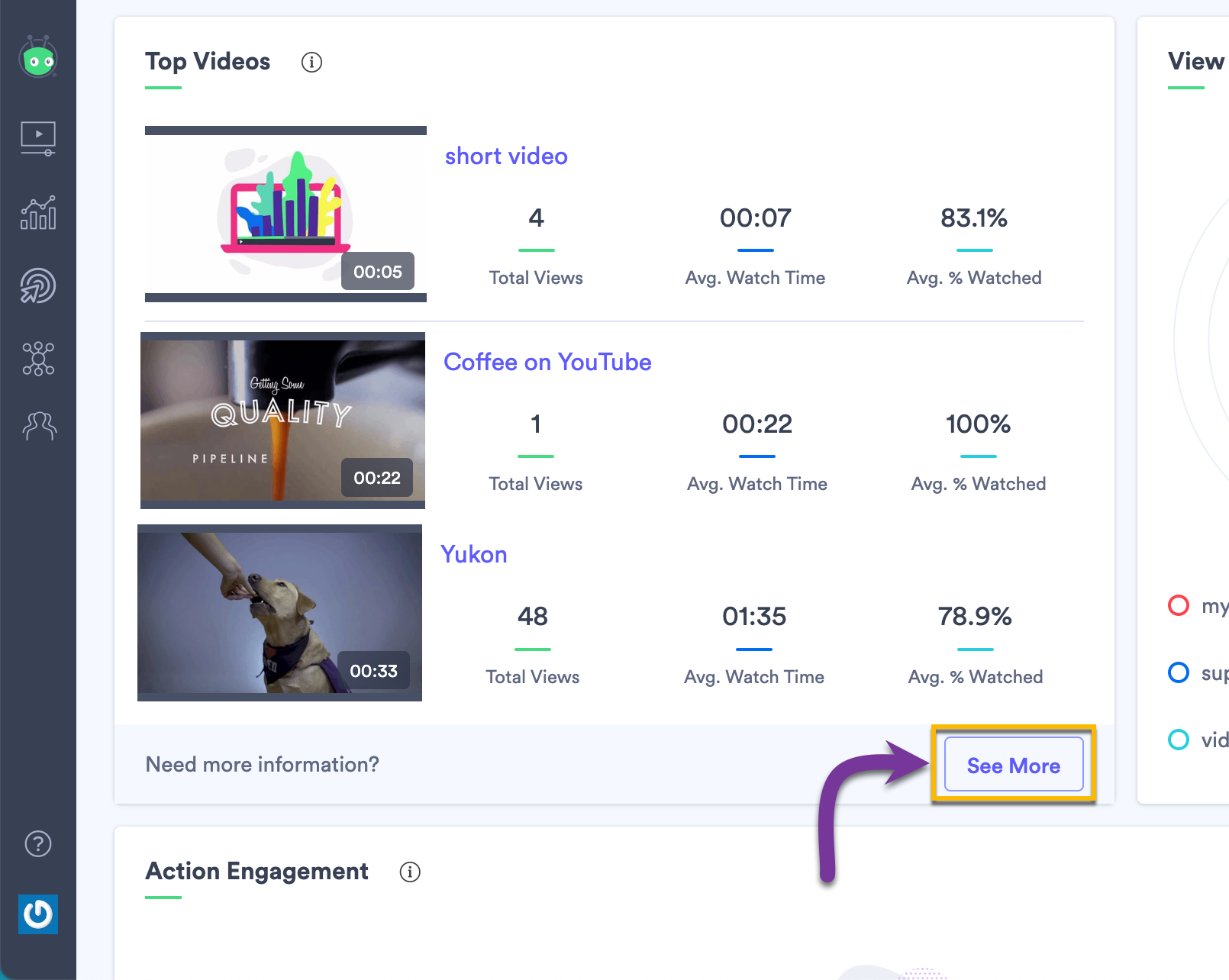 Terms & Definitions
See the table below for an expanded definition of key terms associated with each graph in the Insights Dashboard:
Widget Name
Terms
Definition
View Funnel
Video Loads
Amount of times the video was loaded onto a page
Total Views
Number of views (including repeats) by all viewers
Unique Viewers

Number of singular viewers that generated views 

*If someone watches a video twice, you would see 2 total views, and 1 unique viewer

Identified Viewers
Number of viewers you've identified in Vidyard (through email gates, MAP forms, etc.)

Top Videos
&

Average Percentage Watched

Avg. Watch Time
The average amount of time viewers have watched a video (hh:mm:ss)
Avg. % Watched
Average percentage watched by video viewers
Action Engagement
Action Loads
Number of times an Action was loaded on the video
Action Clicks
Number of times viewers converted on a call-to-action (CTA)
Clickthrough Rate
Percentage of viewers that clicked on an Action after it was loaded on the video
View Locations
Additional Locations
Indicates domains where views occurred that could not be identified (e.g. a local host)
User Performance
Videos Created
Number of videos a user has uploaded or recorded within the selected date range
Real-time data and custom filtering (BETA)
We've introduced a new Insights Dashboard with real-time data and new features like custom date ranges and filtering data by folders.
You can try the new Insights dashboard by selecting the real-time dashboard toggle at the top of the page. You can use the toggle to switch back to the existing dashboard at any time.
We are working on moving more of your existing insights data over to the new dashboard. In the meantime, we'd love to hear your feedback at feedback@vidyard.com.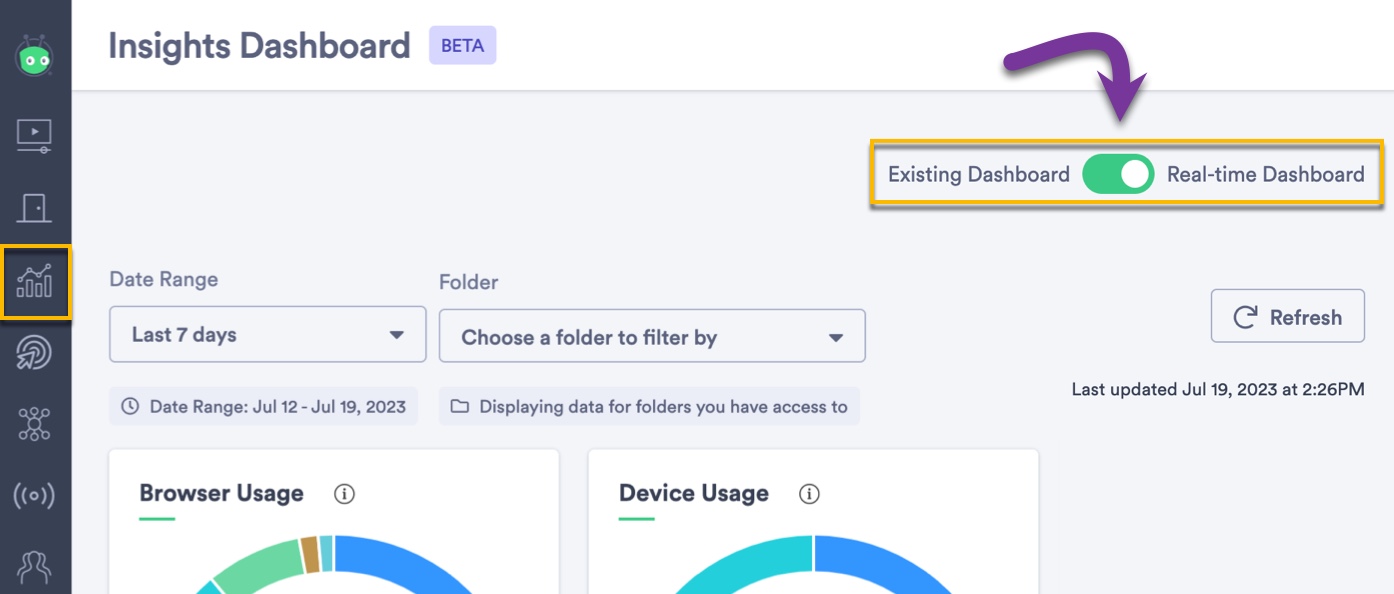 Frequently asked questions
How often does data update in the Insights Dashboard?
The Insights Dashboard processes up-to-date data about your videos each night (~24 hours). Keep this in mind if you notice a discrepancy with other reporting sources. 
Hover over the info icon to see when the dashboard was last updated.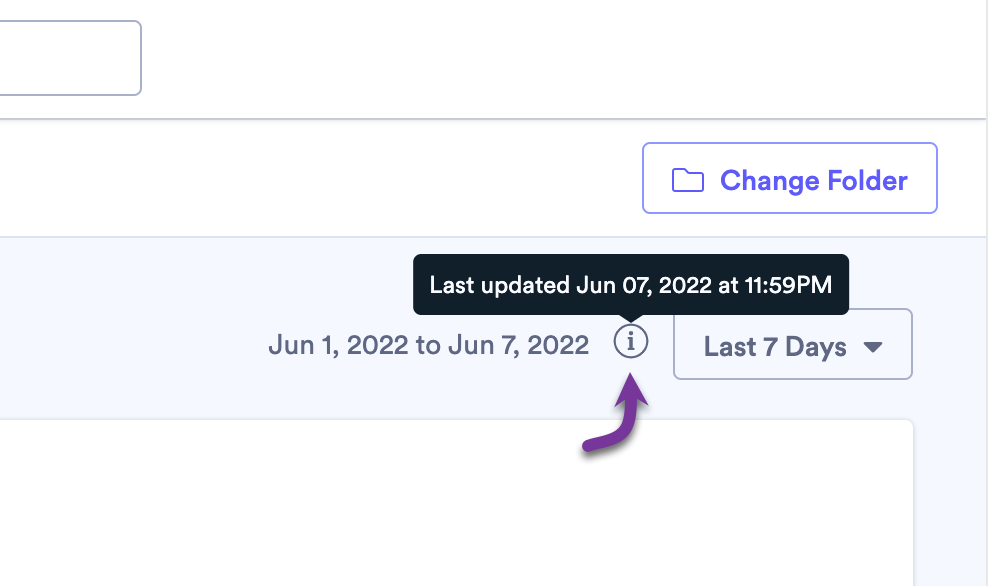 Why do I see an "unknown video" in my Top Videos?
If you delete a video in Vidyard, its data will no longer be available. When this occurs, the video appears as "unknown" in the Insights Dashboard. There is no method in the platform to identify a video with unknown status, unless the deletion is reverted.