Who Can Use This Feature?
Self-Service Plans
Free Pro Plus
Business Plans
Essentials Growth Enterprise
Tailor how you record videos to your unique preferences ❄️
Preferences allow you to adjust some aspects of how you record, share, and get notifications about the videos that you create with either the browser extension or desktop app.
Some preferences pertain only to the browser extension or the desktop app. Other preferences you'll find in both applications. 
Select a tab to learn more:
Open the browser extension
Select the Settings icon
Use the checkboxes to change your preferences

Changes to your preferences are saved immediately and will be ready for your next recording.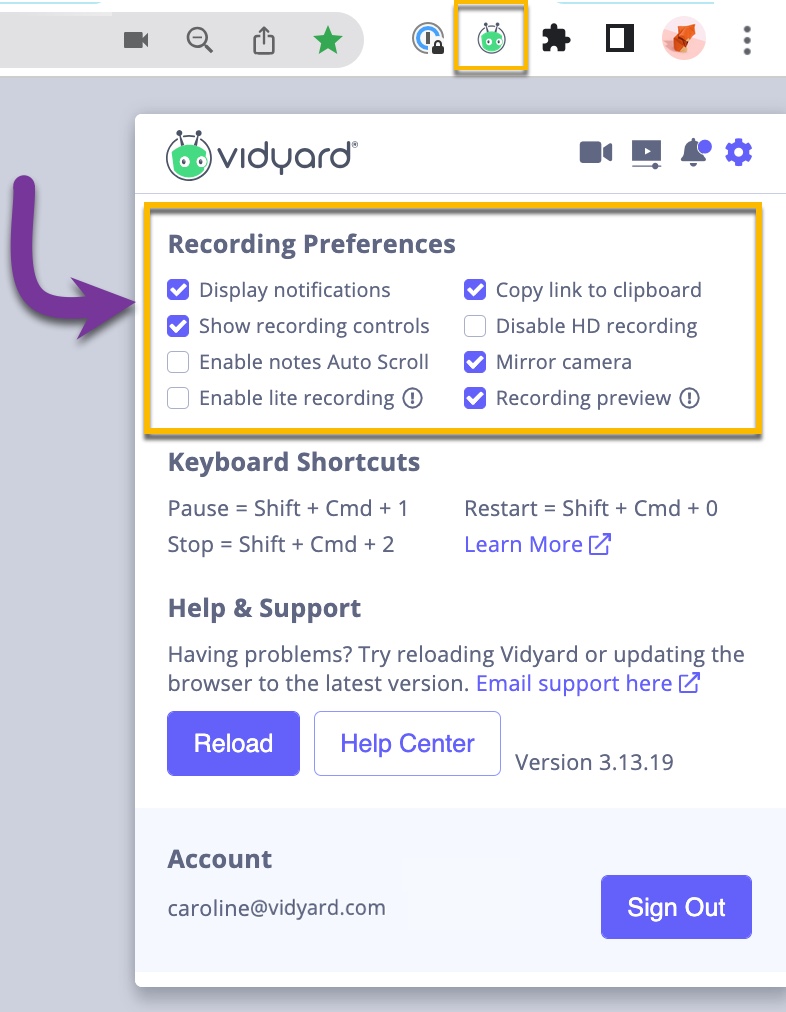 Open the desktop app
Select the Settings icon
Use the checkboxes to change your preferences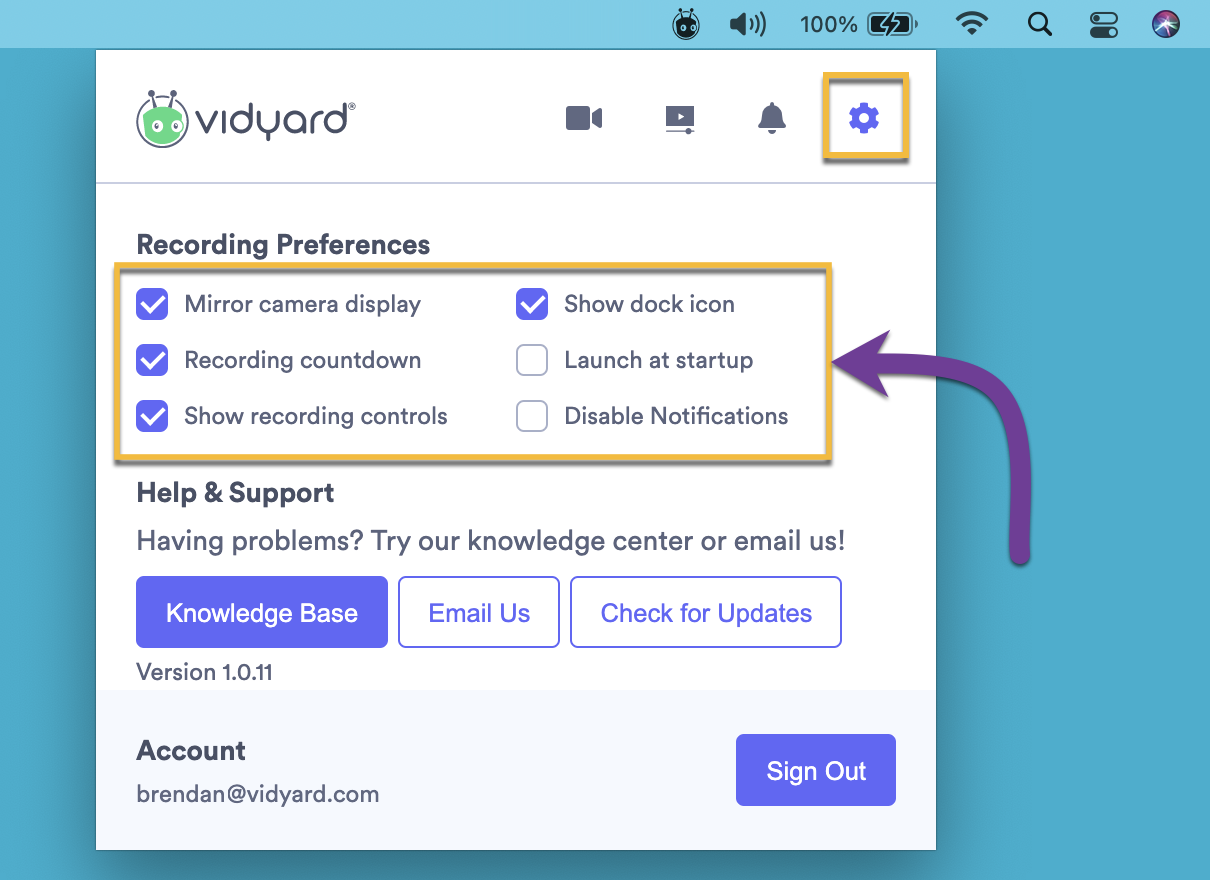 Here's a quick breakdown of what each preference does, and which app(s) it applies to:
Application
Preference
Description
Browser extension & desktop app


 




Display/disable notifications

Get Vidyard notifications on your computer.

Video views - Receive a notification whenever someone watches your video(s).

Vidyard Rooms - Receive notifications about activity in your Rooms or Rooms you participate in (Room visits, video views, comments and mentions).

Mirror camera

Flip your camera input to make text from a whiteboard, book, or backdrop readable

Show recording controls
Show or hide the controls (pause, stop, restart, etc.) that appear when recording a video
Enable Lite Recording

Improve recording quality on devices with lower or constrained processing power. 

Recommended on devices with 2 or less CPU cores

If you are using the browser extension, Lite Recording also limits the resolution captured in the video to a maximum of 720p.

Browser extension only




 




 

Copy link to clipboard

Automatically copy the sharing link to your new video when you finish recording
Disable HD recording

Enable this setting if your webcam is incompatible with HD recording

Allows you to record video with a lower resolution quality (less than 720p)

Recording preview

Toggles a preview window that appears when you complete a recording.

The preview allows you to change the recording's title and share your video more quickly.

Auto scroll when recording starts

Make your Speaker Notes automatically scroll when you begin a Camera recording

Desktop app only
Launch at startup

Automatically launch the desktop app when you sign in to your computer

Recording countdown

Use a 5-second countdown timer before your recording starts
Show dock icon (MacOS only)
Add the desktop app to your Mac's application dock