Audio problems? Camera not working? Try these steps to resolve the problem!
The following video shows you how to do some basic troubleshooting steps to resolve problems with your camera and microphone.
Test your camera and microphone
You can use the Vidyard cam and mic test to help isolate the problem.
If your camera and/or mic do not work during the test, the problem is likely with your browser settings or your device locally.
If your cam and/or mic do work during the test, then the problem is likely within Vidyard.
Check your browser permissions
Make sure your browser has permission to use your camera and microphone. You can make these changes in your browser's site settings.
On Chrome or Microsoft Edge:
Open the menu (the three dots ⋮) in the top, right-hand corner of your browser
Select Settings > Privacy & Security > Site Settings
Ensure that your Camera and Microphone both have Ask before accessing set to ON
Check that both Vidyard and the website that you're trying to record from are not listed under the blocked section.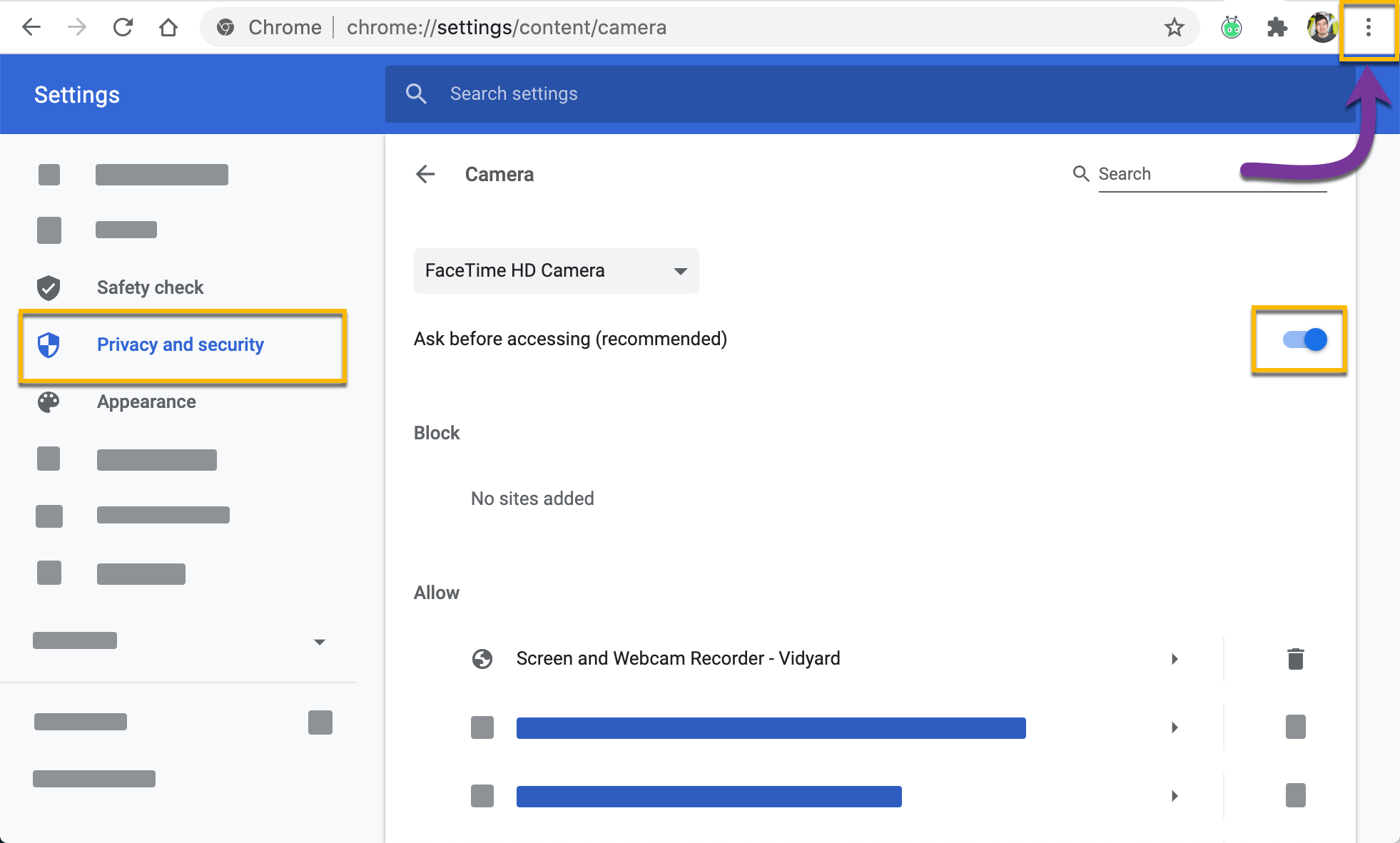 Alternatively, return to the webpage where you're attempting to record.
Click on the lock icon next to the website URL
Select Site settings (or Site permissions, if using Edge as your browser)
Ensure you have "Allow" selected for both camera and microphone
Restart your browser

On Mac: press "Command" + "Q" on the keyboard to perform a hard quit
On Windows: close down all browser windows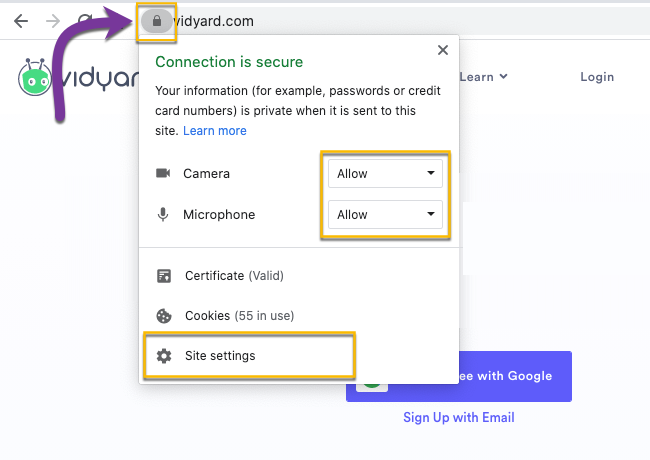 MacOS users: grant apps access to your camera & microphone
If you use MacOS (Mojave or above), make sure you've granted your browser access to your computer's camera and microphone. You can make these changes in your System Preferences.
Open System Preferences > select Security & Privacy
Select Camera or Microphone
Select the checkbox next to an application to allow it to access your camera or microphone.
Note: you may also need to select Screen Recording as well to allow specific apps to record your screen.
Check for driver updates (external camera and microphones)
A driver is software that allows your computer to communicate with hardware devices. Without drivers, the devices you connect to your computer—for example, an external camera or microphone—won't work properly.
Otherwise, visit the online support portal for your device's manufacturer. Use your device's serial or identification number to check for software updates.
Reload or re-install the browser extension
If your camera and microphone work with the cam & mic test, the extension may be having trouble recognizing your devices. Start by reloading the browser extension. If necessary, re-install the extension altogether.
Open the browser extension, then click on the Settings icon . Select Reload.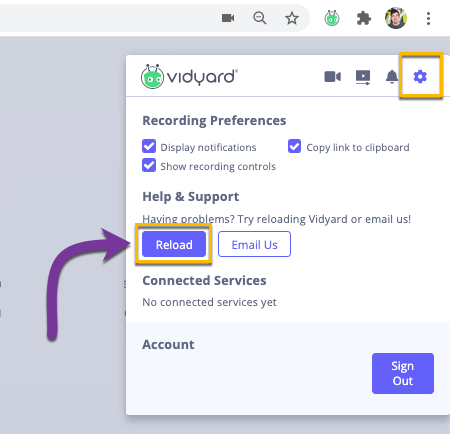 Still having problems? Remove and then re-add the extension to your browser.
Open the menu (the three dots ⋮) in the top, right-hand corner of your browser
Select More Tools > Extensions
Select Remove next to the Vidyard extension
Re-install the browser extension
If the problem has not yet resolved, uninstall and re-install your browser completely. This may help if there are driver connection problems and the browser has difficulty recognizing an available camera or microphone.
Disable HD recording
By default, the browser extension records video with a 16:9 aspect ratio and up to 1080p resolution. In rare cases, you may have trouble recording with Camera or Screen + Cam mode if your webcam is incompatible with these input constraints.
Generally when you have this problem, your camera preview will appear as a blank, grey screen as it struggles to load in high-definition (HD).
Use the Disable HD recording preference in your extension preferences to solve this problem. The setting forces your webcam to output at 640x480p with a 4:3 aspect ratio.
Open the Vidyard browser extension
Select Settings
Check the Disable HD recording box.
Close and reload the extension, then try to record again