In order for GoVideo to function correctly and so that you can take full advantage of the features it has to offer, the GoVideo extension requires certain permissions.
Note that the description of these permissions are written by Google Chrome. We've expanded upon each permission below to provide a more detailed explanation of how each permissions relates to the use of GoVideo.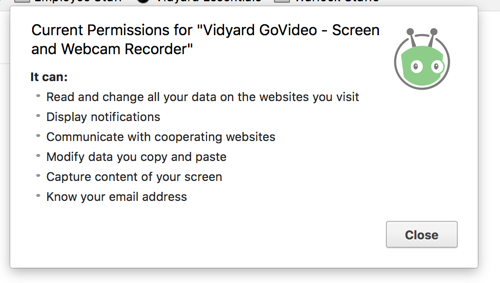 Read and change all your data on the websites you visit:

Required for GoVideo to interact with your browser and allow you the ability to manage your video library.



Display notifications:

Allows GoVideo to notify you directly inside your browser when someone watches your videos. You can disable this option inside the extension settings.



Modify data you copy and paste:

Allows you to share, embed or provide a link to your videos with from the GoVideo sharing page.



Capture content of your screen:

Required so that GoVideo can record your screen



Know your email address:

Required so that GoVideo can deliver, edit, and share videos from inside your browser within having to log into another platform.