Why do Chrome extensions request access to my data?
A common function of Chrome extensions in general is the ability for "content scripts" to run on the pages you visit.
Google requires that developers disclose what aspects of your browser an extension needs access to in order to operate so that you (the user) can make an educated decision to install a third-party application.
Google also provides you with controls to limit this access to certain websites, giving you more power over how and when Chrome extensions access your data. Because Vidyard allows you to record in most places on the web, however, you may find that limiting site access prevents the Chrome extension from functioning as expected.
You can always visit chrome://extensions in your browser settings to manage your extensions, review what permissions they require, and limit site access if necessary. You will likely find that many of your extensions require similar permissions to Vidyard.
You can also read more about permissions requested by apps and extensions.
What permissions does Vidyard request?
Vidyard takes user privacy and security very seriously. We've built the Vidyard Chrome extension for our users first, to make creating and sharing videos easier and available to all.
The permissions that the Vidyard Chrome extension requires allow us to deliver a product that we hope adds value to your everyday life.
Below you'll find a more detailed explanation of how each permission relates to your use of the Chrome extension. Visit chrome://extensions in your browser settings to review permissions and manage the extension.
If you have any further concerns, please consult our privacy policy or contact our Privacy Team with any questions at privacy@vidyard.com.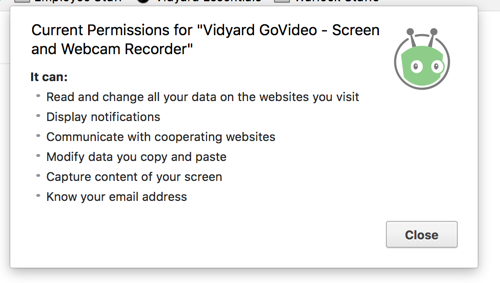 Read and change all your data on the websites you visit: allows Vidyard to interact with your browser in order to record videos. Allows you to access and manage your video library from the extension.
Display notifications: allows Vidyard to notify you directly inside your browser when someone watches your videos. You can disable this option inside the extension settings.
Modify data you copy and paste: allows you to share, embed or provide a link to your videos with from your video library.
Capture content of your screen: required so that Vidyard can record your screen
Know your email address: required so that Vidyard can deliver, edit, and share videos from inside your browser without having to log into another platform.