Keyboard shortcuts are a handy way to control your recording without having to click a button or distract the viewer with your cursor.
Shortcuts are especially helpful if you've chosen to hide the recording controls in your Chrome extension preferences.
You can use shortcut commands to open the Chrome extension as well as resume, pause, cancel, and restart a recording.
Set up keyboard shorts
Click on the extensions menu in top, right hand corner of Chrome
Open the main menu on the left hand side, then select Keyboard shortcuts
Find the Vidyard Screen and Webcam Recorder in the list of extensions. Enter a keyboard shortcut for each of the 4 commands that control the extension.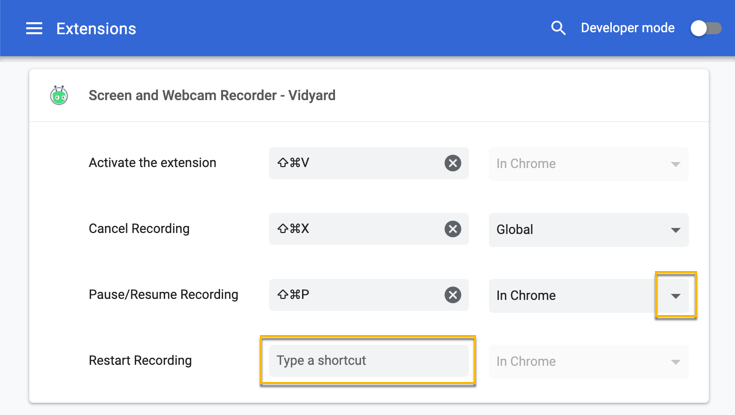 Each shortcut must include one of the following keys:
On Mac OS: Command (

⌘)

, Ctrl (

⌃)

or Alt (

⌥)

On Windows OS: Ctrl or Alt
Use the dropdown menu next to each shortcut to set where the command can be used: In Chrome or Global.
Shortcuts set to In Chrome will only work when you have the browser open and selected. Global commands can be used even when Chrome is not actively open or in focus (for example, when showing something on your desktop while recording).