Who Can Use This Feature?
Business Plans
(with add-on)
Essentials
Growth
Enterprise
The Vidyard for HubSpot integration must be enabled in the account
With Vidyard's integration for HubSpot CRM, you can easily add video to your HubSpot landing pages and website using our built-in drag-and-drop module.
Instead of searching in Vidyard for videos you want to add to a website or landing page, you can access and add videos from your Vidyard library directly within HubSpot. No jumping between different applications.
Requirements
Add a video to your landing page or website
You can add videos from your Vidyard account to any HubSpot landing page or website that allows for drop and drop editing with custom modules.
Create a new page (or edit an existing page) in HubSpot

Select Marketing > Landing Pages or Website Pages to get started

In the page editor, select the Add tab
Search for Vidyard Video then drag the module onto the page
Select the module on the page, then click on Select from Vidyard Videos to browse your video library
Once you've chosen a video from your library and finish customizing its size, select Apply Changes to add the video to the page
Selecting videos from your Vidyard library
When you use the Vidyard Video module, there are 2 ways to select synced videos from your library.
You can either use the search bar to find videos by title, or click on Browse folders to navigate and select videos from their folders.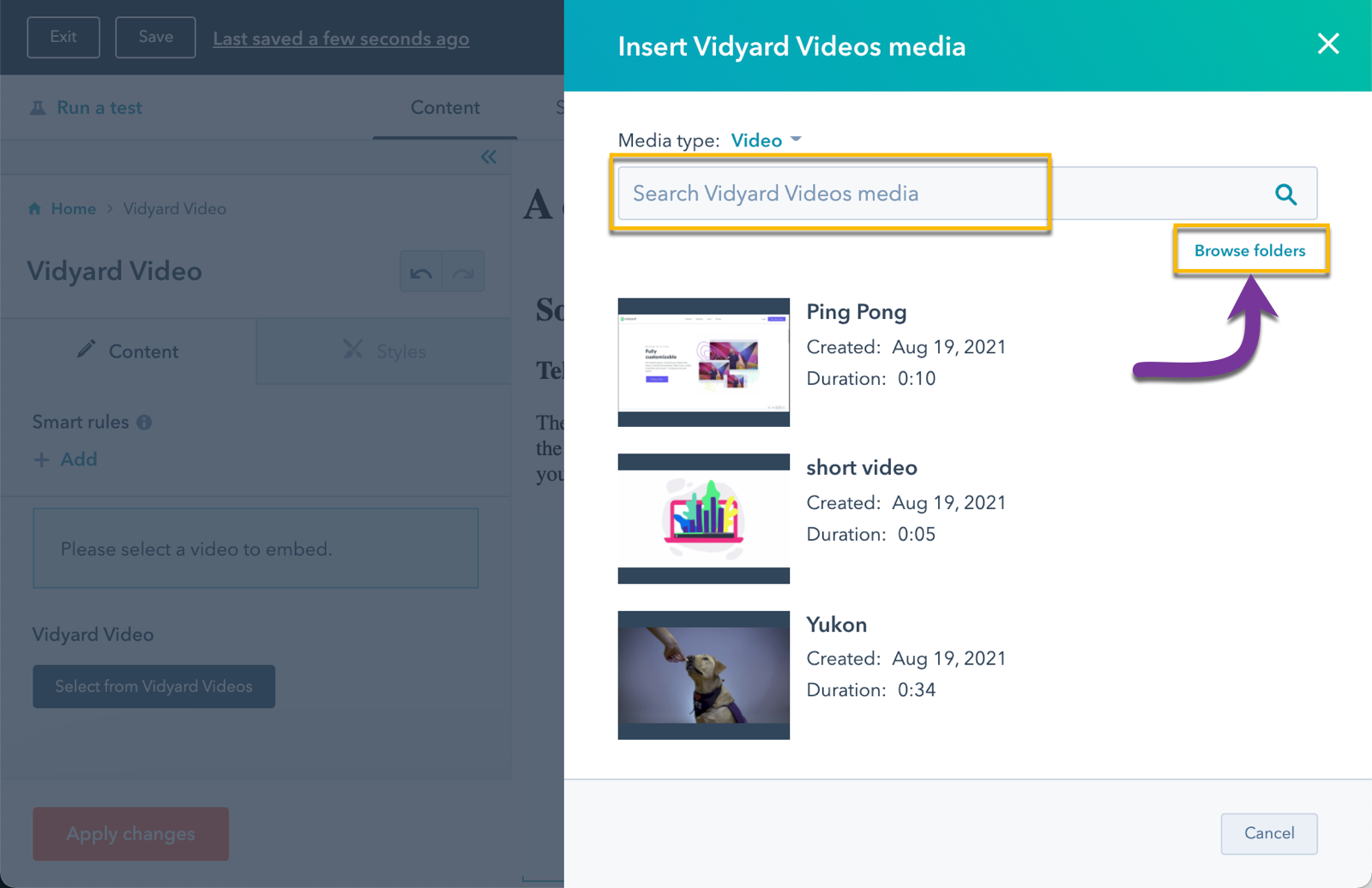 Why can't I add the Vidyard module to my page?
Having difficulty adding the Vidyard Video module to your page?
If the template that you've selected for your page in HubSpot does not include drag and drop areas, you cannot add any additional modules to the page, including the Vidyard Video module.
For example, you might see the message "Adding is turned off" in your page editor.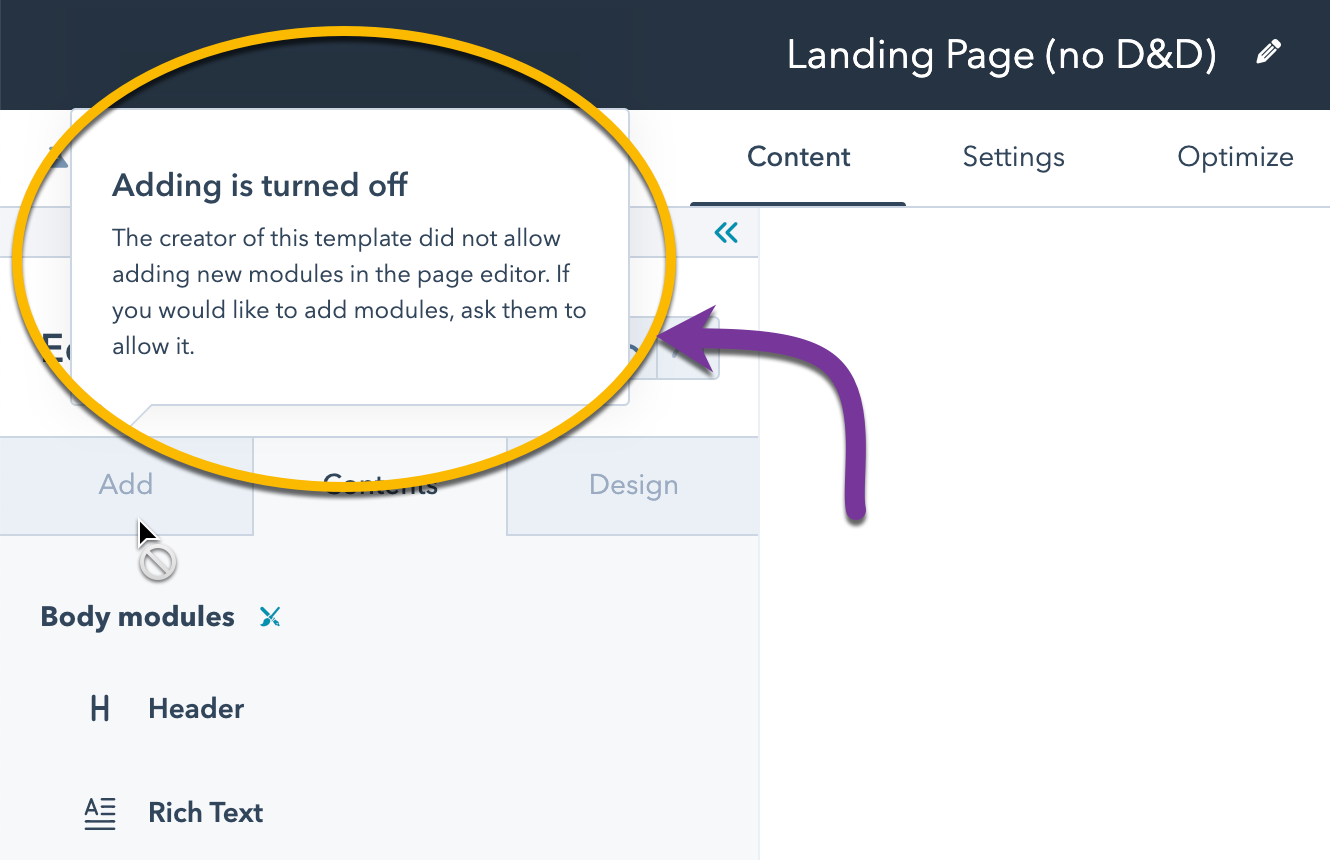 Ask your web developer or theme provider if your template supports drag and drop areas. For reference, here's a breakdown of the different types of page templates in HubSpot:
Template type
Support for drag & drop with custom modules

Starter templates

Simple website and landing page templates that come with all HubSpot plans

❌ Starter templates have drag & drop areas, but do not support custom modules (like Vidyard's)
Coded templates and themes
(designed with drag and drop areas)


✅ Templates created by a web developer in HubSpot's Design Tools, specifically designed with drag and drop areas. You might get these templates from:
Add a Vidyard video to your blog
The Vidyard Video custom module is not currently available for HubSpot blog posts or listings. The best way to add video to a blog post is by pasting an embed code into a rich text module. 
In the content editor for the blog post, select a rich text module on the page
From the toolbar at the top, select Insert > Embed
Paste the embed code for your video (obtained from Vidyard) into the field, then click Insert to finish
Alternative ways to add video to pages in HubSpot

If you don't have the Vidyard for HubSpot integration, you can still add videos to your HubSpot landing pages and website. You can either:
Embed your video in a rich text module (the same steps as adding video to a blog post)


Get HubSpot's HTML module for free on their Asset Marketplace. You or your web developer can then add the module to page templates or make it available in the drag & drop editor. Simply paste an embed code from Vidyard into the HTML box to add a video to the page.