Sharing video content through social media channels is a great way to create brand awareness, generate organic traffic, and build viewer engagement.
With Vidyard, you can share videos to your contacts on Facebook, Twitter, and LinkedIn from directly inside the platform.
Share a video to social
From the Vidyard dashboard, select Content > Players
Hover over a player, then click Share


Under Social Media, select the channel to which you want to share (you may be asked to sign in)

Note: The video that you share must have been uploaded to Vidyard directly (and not an import from YouTube, for example).
Expected behavior for shared videos
When a video is shared to social media, the social platform looks to Vidyard for information about how to format and display the video. What is the player thumbnail? Is there a video description? What is the URL?
Typically, the video is displayed in the format of a "card" with a hyperlinked image to the video sharing page (the below example is from Facebook):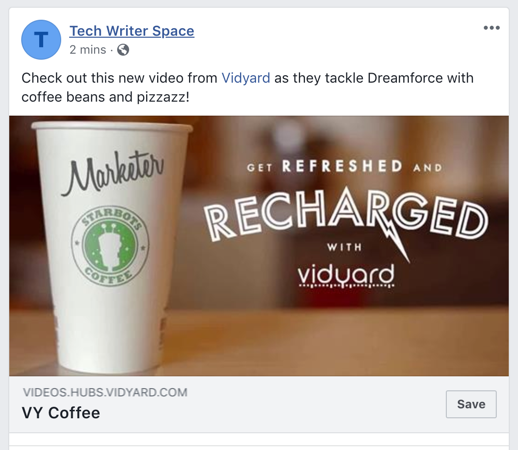 Some social platforms may take things a step further and permit native inline playback. Inline playback offers a convenient in-platform viewing experience for the user; however, in this scenario there may be some limitations as to what the Vidyard player can and cannot do.
Note: for most social apps (particularly Twitter) to properly format and display the video thumbnail and description on their platform, search engine indexing must be enabled on the sharing page for your group. Otherwise, only a link to the sharing page will be posted.
| | |
| --- | --- |
| Social Media Platform | Behavior of shared post |
| Facebook | Opens link to sharing page |
| Twitter (dekstop) | Plays inline (see below for details) |
| Twitter (mobile) | Plays in simulated browser (see below for details) |
| Linkedin | Opens link to sharing page |
Sharing to Twitter (desktop vs. mobile)
Twitter permits native inline playback for videos shared from Vidyard. On Twitter.com (desktop), the "card" shared to Twitter will include the player thumbnail, URL, and player description (if applicable).
One click opens the Vidyard player in the twitter feed.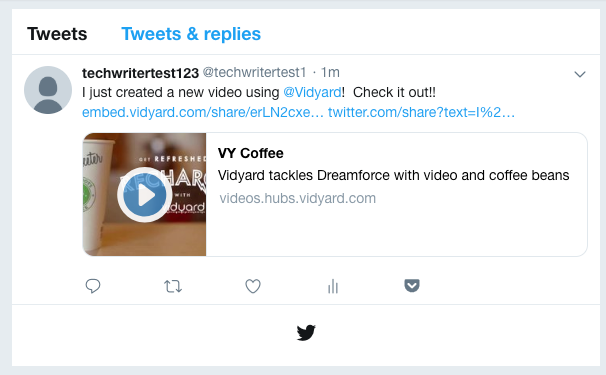 The behavior of the Twitter player card differs across devices. On the Twitter mobile app, third-party players like Vidyard do not play natively inline. The player thumbnail will display, but the video will open in a simulated browser outside of the Twitter app.
Vidyard player behavior in Twitter
General Playback Settings
| | |
| --- | --- |
| Feature | Expected behavior |
| GIF Thumbnails | No |
| Split test thumbnails | No, the player will default to the original thumbnail |
| Custom player colors | Yes, except for play button color (Twitter places its own play button over the thumbnail). |
| Disable player pause | Yes |
| Vidyard Live | Yes, live stream players may be shared |
| Watermarks | Yes, including hyperlinked watermarks |
| Vidyard Captions | Yes |
Player Security Settings
Any security features that have been applied to your Vidyard player will be respected when shared to Twitter.
Make sure to understand whether the player in Vidyard has any security settings enabled before sharing to a social channel.
| | |
| --- | --- |
| Feature | Compatibility |
| IP range whitelists | Yes |
| Player access codes | Yes |
| Domain restriction | Yes |
| Scheduled player release | Yes |
Vidyard Events and CTAs
Event Type

Compatibility

Fullscreen Event

Yes

Annotation

Yes

Marketo Form

Yes, the Marketo form will appear; however, it will not functional properly.

Because there is no Marketo cookie on the Twitter page, information cannot be passed back to Marketo or Vidyard.
Troubleshooting social media cards
If you've made recent changes to a video's title, thumbnail, description or other metadata, the information may not update immediately on the social platforms to which the video was shared. This may result in:
Broken or incorrect thumbnails
404 errors
out-dated video information
Video metadata will update automatically after a period of time, as both Facebook and Twitter re-index content periodically (Facebook refreshes every 30 days, Twitter and LinkedIn every 7).
Otherwise, you can use the Twitter card validator, the Facebook debugger tool, or LinkedIn's Post Inspector to re-index the new information.
Additional troubleshooting includes: