What are default settings?
Default player settings define the set of behaviors, design characteristics, security settings, and sharing options that apply to all players belonging to an individual group or groups within a Vidyard organization.
Default player settings are useful because they can also be inherited by other groups within your account, including the personal accounts of users with GoVideo seats. For example, you can choose to:
Set default player settings at the parent level of your organization. These settings will then apply to players in all subgroups; or,
Set default player settings within an individual subgroup. These settings will then apply to all players within that specific subgroup.
Note: Changes to default player settings apply to all future-created players (aka. all players created after the change to defaults was made). Changes to existing players will have to be applied manually or as a bulk asset change.
Requirements
To access default player settings, a user must have the following role permissions enabled:
Edit Player Style & Restrictions
Finding default player settings
To access and change default player settings:
From the Vidyard Dashboard, click Content > Defaults
Use the General, Design, and Social tabs to navigate between the available settings
---
General Settings
Player Behavior
Use the ON/OFF toggles to determine the general behavior of your player, then click Save Changes.
Autoplay: This causes the video to play automatically when the player loads (subject to limitation of browser and mobile devices)
Disable pausing: Prevent viewers from pausing the video.
Mute by default: Mute the player by default. Viewers will have to unmute it to hear audio.
Show "Up Next": A small box displays on the player in the final 5 seconds of the video, showing which video is up next in the playlist.
Sharing Page: Enables the player's sharing page.
Comments on sharing page: Allows viewers to comment on a player's sharing page.
Hide Playlist: Hides the playlist button on the player so viewers can not expand and toggle through the playlist.
Disable Default Events: Your Default Events will not be added to new players.
Disable Legacy Mode: If enabled, new players will not load in unsupported browsers. Otherwise, the player will play with limited functionality.
Learn about how Vidyard players act in unsupported browsers.
Enable Playback Speed Controls: Adds playback speed option to the player. Playback can be set to 0.5x, 1x, 1.25x, 1.5x or 2x speed.
Note: Playback speed does not impact player analytics. Engagement data is measured based on seconds watched, not the amount of time spent during playback.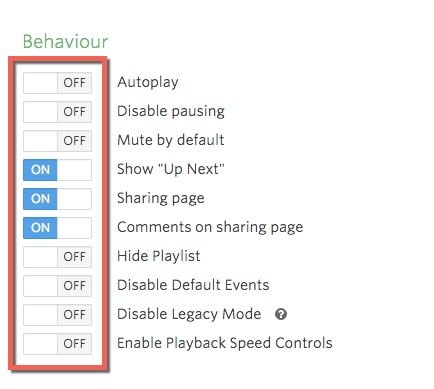 Secure Platform Whitelist
The Secure Platform Whitelist allows you to restrict playback to the following secure platforms by default. This option is required for players being shared on:
Salesforce Chatter
User authenticated Video Hubs
Secure web portals using JSON web tokens
Simply select the Restrict to secure platforms checkbox, then click Save.

---
Design Settings
Player Embed Size
Width: Set the width of your embedded video in pixels.
Height: Set the height of your embedded video in pixels.
Lock Aspect Ratio checkbox: Lock in the ratio between the width and height. This means that if you change the width of the player, the height will adjust to maintain the original aspect ratio, and vice versa.

Player Colors
Use these settings to set a color scheme for your player. You can define a color using an RGB or HSB value, or a Hex code.
Primary: Select a color for the colored elements of the player, such as the time slider, or the hover color of the play/pause button.
Play button: Select the color of the play button on the splashscreen (thumbnail) when the player first loads.
Background: Select Black, White, or Transparent for the background of your player. This color will affect the standard 'black bar' area for any videos whose aspect ratio does not fit that size of the embedded player.

Playlist Style
Playlist Theme: Select a color for your playlist menu (for players that contain multiple videos).
Playlist always open: The playlist will stay open beside the player. This adds 319px to the width of your player.


Player Splashscreen
Turn the switch on or off to enable or disable the following features:
Play button: Show the play button overlaid on your splash screen.
Mouseover fade: Newly loaded player will brighten slightly when a viewer's mouse hovers over it.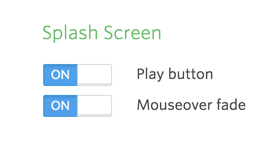 Player controls
Turn the switch on or off to enable or disable the following features:
Overlay name: Display the player name during playback.
Hide controls: Hides the player controls from viewers. Player controls include the time slider, play/pause button, quality settings, volume slider, and expand option.

Captions
Select an option from the dropdown to determine how captions will behave.
Automatic: Captions are automatically shown when someone views the player.
Optional: Captions can be turned on/off by the viewer.
Disabled: Captions will not be displayed.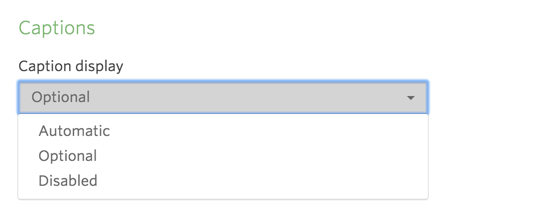 ---
Social Settings
Embed Codes
Embed Codes toggle: enables a button on your player that allows viewers to access its embed code. This allows others to re-embed your player on other webpages.

Social Sharing
The Social Sharing switch lets you decide whether or not your viewers can share your videos through their social media accounts.
The following options are dependent upon the Social Sharing toggle:
Sharing Message: Customize a default message to be included when users share your player.
Custom Sharing Link: When viewers share the player, the default share link is the page where the player is embedded. Turn this switch ON to add an alternative link here.
Social Sharing Options: Toggle the ON/OFF switches to determine which social media platforms appear as a share option on your player.