Who Can Use This Feature?
Business Plans
(with add-on)
Essentials
(with add-on)
Growth
Enterprise
Users must have the Edit video security defaults permission enabled.
You can restrict your teams' videos so that only viewers connected to a specific IP address (or range of addresses) are permitted to watch.
Restricting viewers by IP address is ideal if you have a company network or VPN that team members must connect to in order to access internal information.
Set up an IP restriction
IP restrictions are managed as a default folder setting in your account. When you enable a default setting, the change applies to all videos within the folder and any subfolders except for videos that have already been given a unique access setting (e.g. password protection).
Any future updates to the list of permitted IP addresses will automatically apply as well.
Select the folder where you want to apply the IP restriction
Open the settings menu next to the name of the folder, then click on Settings
Select  Sharing > Default Access, then click on the Change button
Select Only viewers within an IP address range, then click on Update
Enter an IP address or range of IP addresses using CIDR notation (e.g. 127.0.0.1/24)
Click on Add IP Address to finish
Viewers not connected to a permitted network
Once the IP restriction has been set up, any viewers not connected to a permitted network will be prevented from watching the video. 
The restriction applies regardless of where the video has been shared (whether someone attempts to watch the video on its dedicated sharing page or embedded on a website).
Unauthorized viewers will be presented with the following message:
Access Denied: This video has restricted access.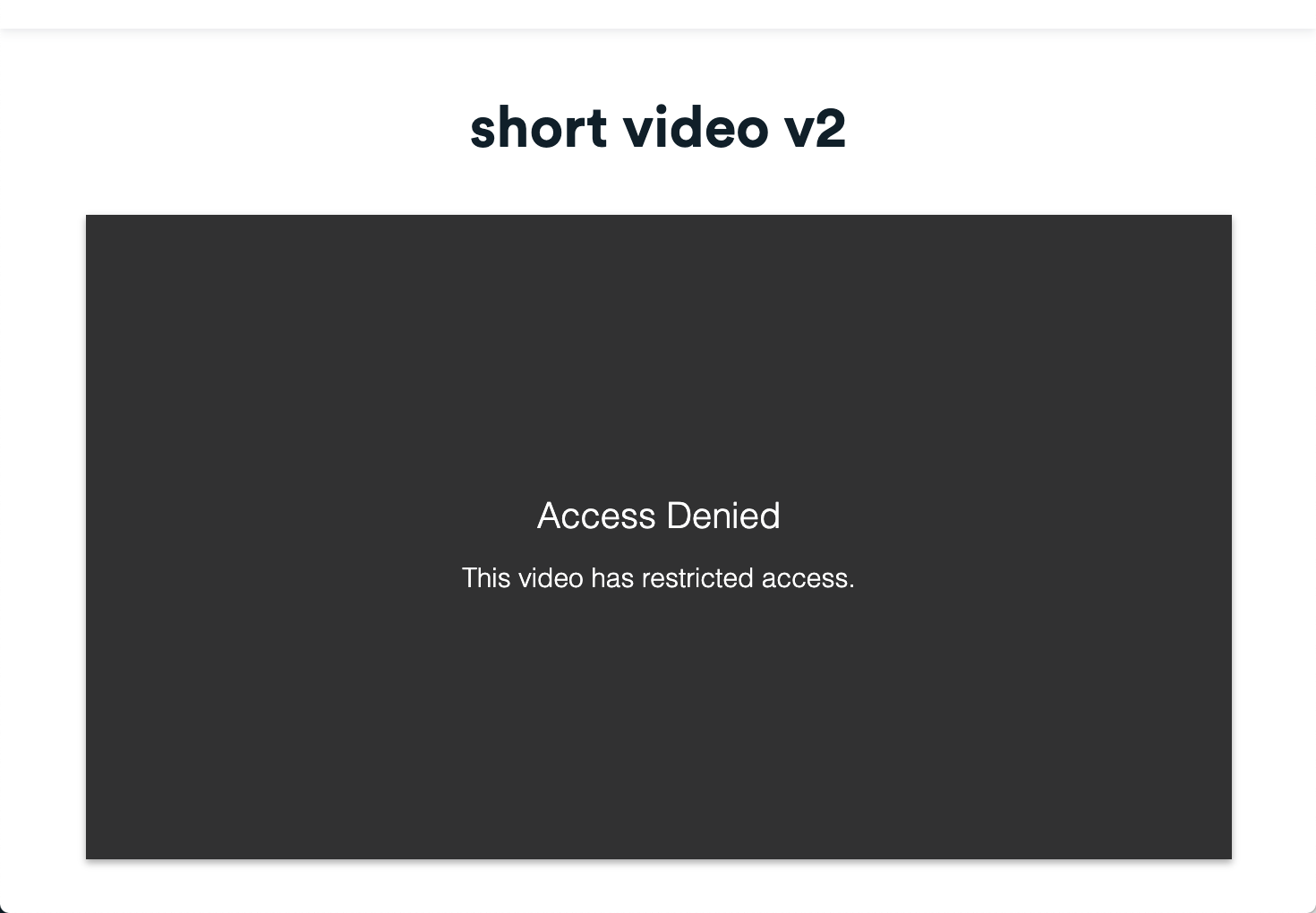 Optional: also require viewers to enter a password


Additional Requirements: you must belong to a Team with the Edit Videos permission enabled

In addition to being connected to a permitted IP address, you can require that viewers must also provide a password to access a specific videos. This is a great way to limit access to an even smaller audience of viewers within your permitted IP networks.
Select the title of a video from your library to open the edit page
Select the Sharing > Access, then click on Change
Choose the option Only viewers within an IP address AND with a password
Select Update to finish
You can now enter a password for your video, then select Add Password to confirm. 
Optionally, open the Advanced Password Settings menu to set limits on password usage (number of times the password can be used and/or the duration until expiry).
You can also enable the setting to allow viewers request access to your video.