Who Can Use This Feature?
Business Plans
(with add-on)
Essentials
(with add-on)
Growth
(with add-on)
Enterprise
Users on Business plans must have the Edit videos permission enabled to change video settings, and/or the Edit video security defaults permission to change folder settings.
Whenever you share a video from your library, you control how widely others have access to it. You can do this by changing the access settings on a video.
However, how you change access settings on a playlist is slightly different.
Playlists obtain their access settings from the videos that belong to the list. Depending on the number of videos with unique access settings, more than one setting may apply to the playlist.
In order to change who can to watch your playlist, you must change the access settings on the video(s) that comprise the list.
Change the access settings on a playlist
Select a playlist from your library to open the edit page
Scroll down to the Access section, then click on the dropdown arrow. Here you can review:


What settings are being applied to the playlist (e.g. Anyone with a link, anyone with a password, etc.)
From where the settings are being applied (specific videos, the folder's default access settings, or both)

Open the menu (the three dots) next to the setting that you want to change.
Select an option to navigate directly to the settings for the video or folder (whichever is applying settings to the playlist) and change as needed.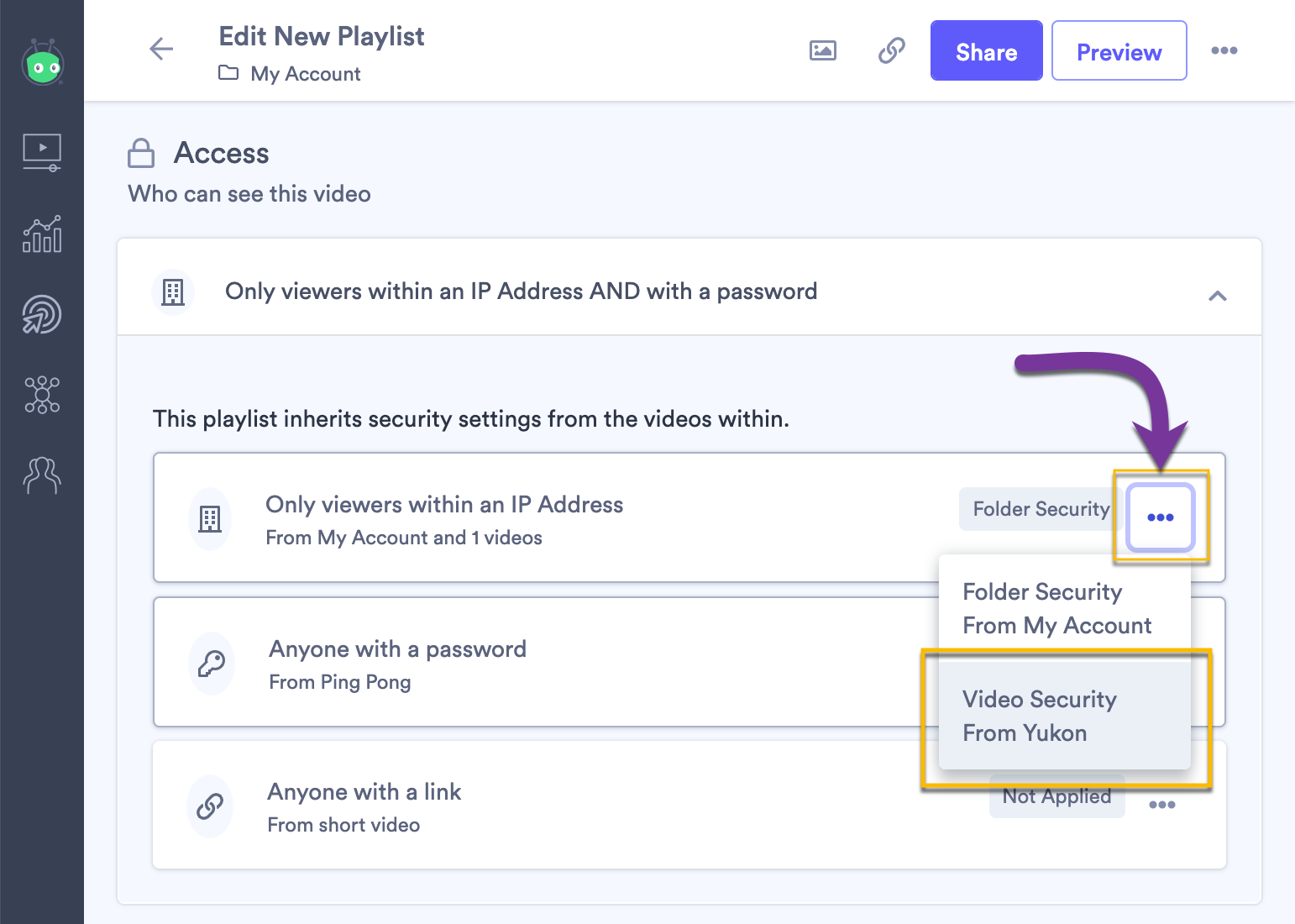 Playlists with multiple access settings
When a playlist adopts more than 1 access setting from videos in the list, a viewer must pass all requirements in order to watch.
For example, if a playlist adopts both an IP restriction and a password, the viewer must satisfy both rules before they are permitted to watch any of the videos in the list:
a) they must be connected to the permitted IP address
b) they must also submit the correct password
The only exception are playlists that contain a video that has been restricted to a secure platform (e.g. videos secured with SSO). The secure platform requirement takes precedence over all other access settings. In these cases, the viewer only needs to pass the authentication process for the secure platform in order to watch the videos in the playlist.
When a secure platform has taken precedence over other access settings, you will see this reflected under the Access section on the playlist edit page. All other settings will appear with the label "Not Applied".