Vidyard allows you to easily create and share videos with your audience through a number of integrated apps and products that you already use—Gmail, Outlook, Salesforce, Outreach + many more.
In many of these products, the Vidyard app allows you to access your personal video library and share videos with contacts in an email message.
You'll be able to record new videos, build and share playlists, and receive notifications indicating who's watched your videos, and for how long.
You can use the Vidyard app as both a free product or as part of a paid subscription for larger teams.
Record and build video playlists
You'll find the Vidyard app in many of the products where you already work. The app is typically represented by a video camera icon. Below you'll find an example of using the Vidyard app in Gmail.
Click on the camera icon to open the Vidyard app.

You can either create a new account or sign in to an existing one


Click on New Video to record or upload a video file from your computer

Build playlists from your video library

Use the Folders dropdown to add videos from any team folders in Vidyard that you've been given access to (this is a paid subscription feature)
Use the Selected tab to arrange the order of your chosen playlist
Select the title of any video to preview it in-app.

Insert a recording or playlist directly into the text editor, email message, or communication tool within the application that you're using.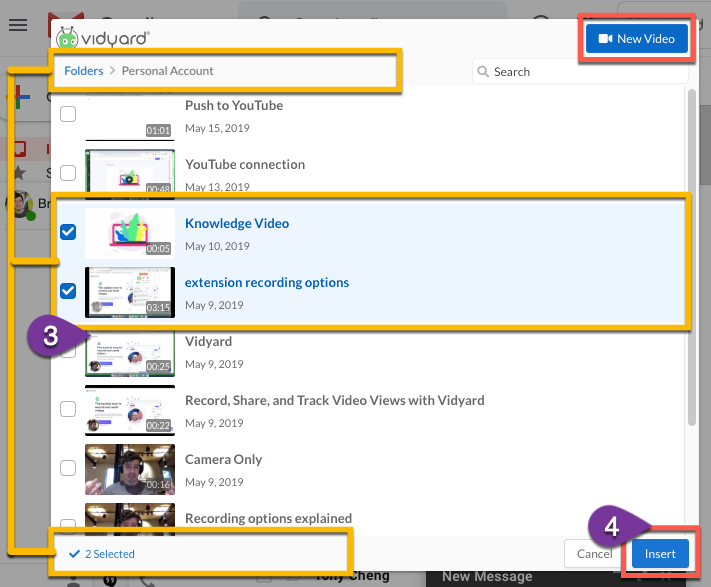 Identifying your viewer
Whenever you insert a video into an email, Vidyard will attach a tracking token to the sharing page URL when an email recipient is indicated. The tracking token allows Vidyard to associate the given email address with your recipient's viewing activity.
https://share.vidyard.com/watch/<uuid>?vyetoken=<alphanumeric token>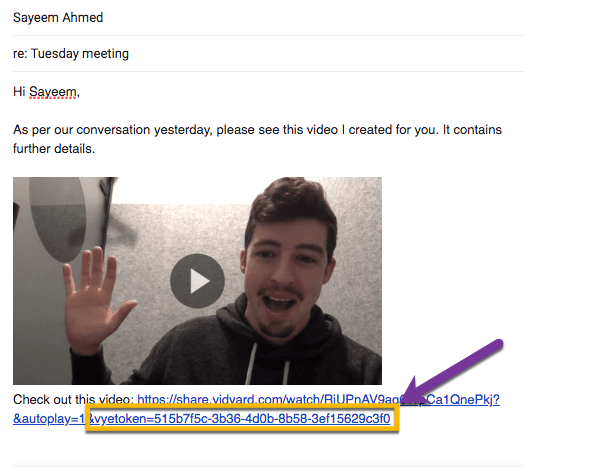 Emails with multiple recipients
Identifying your viewer works best when sending a videos on a one-to-one basis. The ability to identify viewers with a tracking token changes when multiple recipients are added to an email.
| | | |
| --- | --- | --- |
| Scenario | Tracking behavior | View notifications |
| Multiple email addresses in the To, CC, and BCC fields | The tracking token is removed from the video sharing page URL* | You will receive view notifications where the recipient is unidentified |
| Multiple email addresses with the same email domain (e.g. @vidyard.com) | The tracking token changes to identify views from the email domain | You will receive a view notification indicating that "someone@<emaildomain>.com" has watched your video |
| Videos shared to social media, SMS messengers. | No tracking token | You will receive a view notification where the recipient is unidentified |
*Note: In both Gmail and Outlook, Vidyard will not remove the tracking token when a Salesforce or HubSpot email forwarding address is added to the BCC field. These email addresses are used to relate correspondence to lead or contact records in your CRM.
View notifications
View notifications can be found in both Vidyard Chrome extension and the Vidyard mobile app.
The mobile app will also send a push notification to your phone.

For any views that are identified, you will receive an email notification similar to the following:
Using the Vidyard app in different browsers
Full functionality of the Vidyard app within Chrome relies upon use of the Vidyard Chrome Extension
Browser functionality is additionally subject to the limitations of the host application
| Browser | Create Playlist | Camera Recording | Screen Recording | Screen Recording w/ Camera |
| --- | --- | --- | --- | --- |
| Chrome | Yes | Yes | Yes, with Chrome Extension | Yes, with Chrome Extension |
| Firefox | Yes | Yes | Yes | No |
| Safari | Yes | Yes | No | No |
| Edge | Yes | Yes | No | No |
| IE 11 | Yes | Yes | No | No |