HubSpot smart lists allow you to identify and organize contacts by the traits they have in common. With the Vidyard for HubSpot integration, you can begin to segment contacts in your account based on their video engagement and Vidyard form submissions.
Learn more about creating lists in HubSpot
Requirements
Create a new list
In HubSpot, select Contacts > Lists
Click on Create List
Segment contacts with video data
When you create a new list, you'll find two new options under filter types: Watched Vidyard Video and Submitted Vidyard Form.
Each of these filter types offers you a set of data that you can use to build criteria for a list (e.g. video name, embed location, percentage watched, seconds watched, etc).
Use these data points to build video engagement criteria into your lists.
Reference a full list of the sets of data that Vidyard pushes to HubSpot.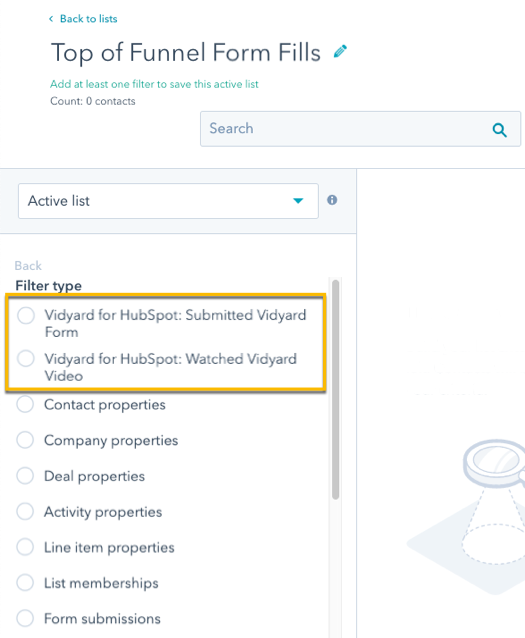 In the example below, we've created a list that contains contacts who either:
Watched 50% or more of a video that contained the custom attribute TOFU (top of funnel)

OR; specifically watched a video called Yukon the Video Dog
Remember, you do not need to build lists with video data alone (although you certainly can!). Incorporate the video engagement data from Vidyard into your existing segmentation model and pair it with other key criteria about your contacts.