You may encounter a "Browser not supported" message when opening a link to a page with a video. Vidyard displays this message for 1 of 2 reasons:
You are using a web browser that does not meet the minimum requirements to view a Vidyard video. Either use a different browser or update your current browser to the most recently supported version.


If you're using Internet Explorer 11, the webpage where the video is located may be set to run in compatibility mode. Remove the webpage from the browser's compatibility view settings.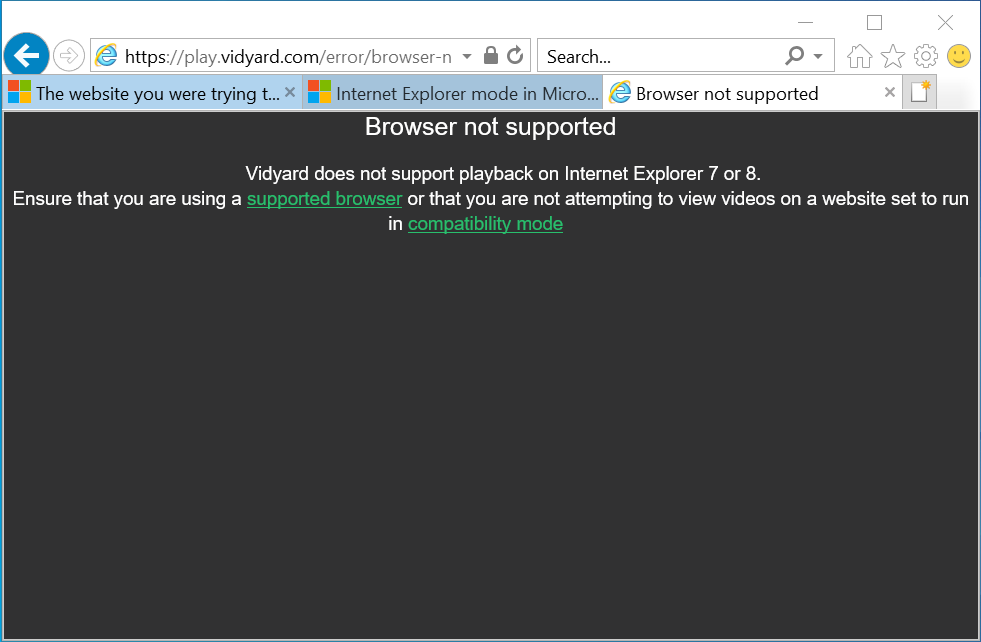 How to remove a website from compatibility view (IE 11)
Some sites are built to work with older version of Internet Explorer and have functionality that is not supported by modern browsers like Chrome or Edge.
Vidyard allows you to watch videos on IE11, but if your browser is set to view the page where the video is located in compatibility mode then the page will fail to load.
Remove the affected website from the compatibility view list to watch the video on IE11.
Open the settings menu in Internet Explorer (the cog wheel)
Click on Compatibility View settings

Select the webpage URL where you are attempting to watch the video
Click Remove