Vidyard for Service Cloud allows you to create, send, and track video from directly inside Salesforce Service Console.
Help customers resolve problems faster with the power of video
Add a personalized touch to support and customer interactions
Log view data from customer cases against their contact record
Requirements
Note: Vidyard for Service Cloud is not compatible with Salesforce Lightning Experience. It must be used in the Classic Service Console interface.
Insert video(s) into an email
Open a case in Service Console to get started.
In the case view, click on the Vidyard icon in the lower, right-hand corner to open the GoVideo app. 


If you are not already, you may be asked to sign in to the GoVideo app
The GoVideo app can also be re-sized and moved around the screen

 New Video to create a recording or upload a video file
Build playlist from your video library

Use the Groups dropdown to add videos from any Vidyard groups to which you have been added as a member
Use the Selected tab to arrange the order of your chosen playlist
Select the title of any video to preview it in-app.

 Click Insert to add the video(s) to your email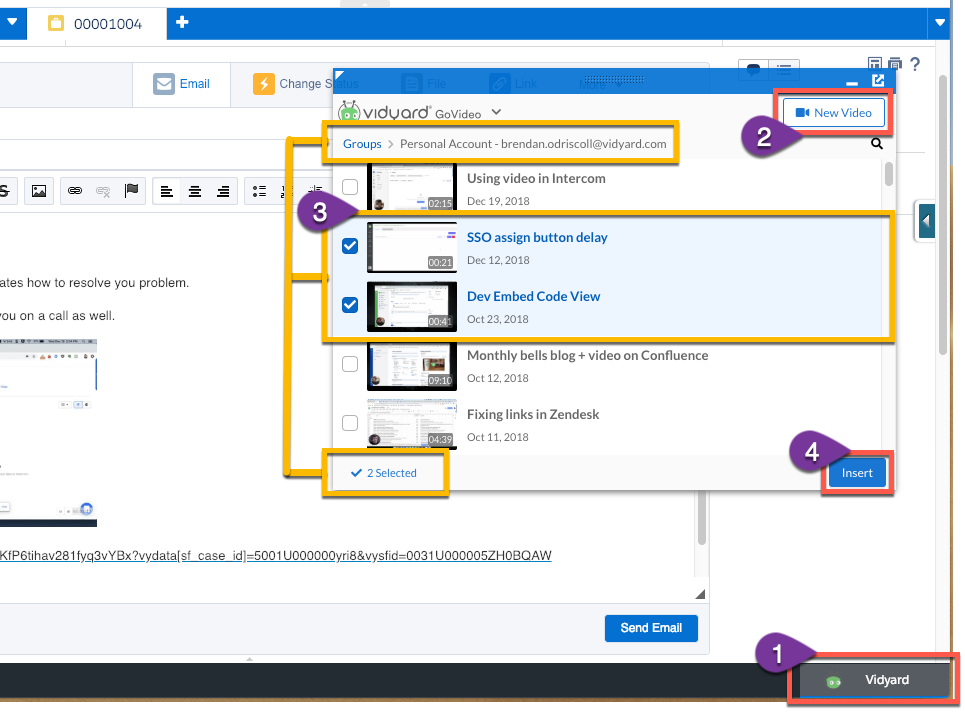 Track viewer engagement
One of the main features of GoVideo is the ability for users to track their recipients' viewing behavior and receive notifications that indicate who has watched their videos and for how long.
In addition to an email notification, support agents can follow a contact's interaction with their video solutions directly on the case or contact record (as long as the Vidyard video view object has been added to the page layout).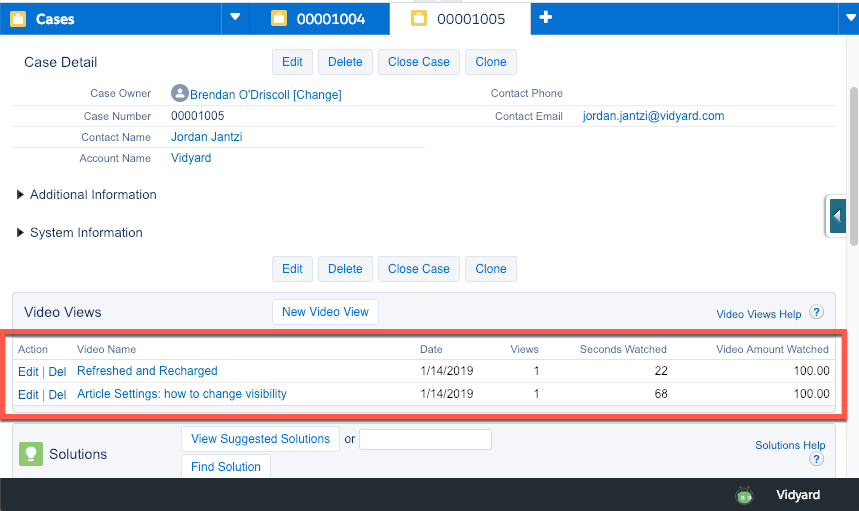 Supported browser functionality for GoVideo app
Full functionality of the GoVideo app within Chrome relies upon use of the GoVideo Chrome Extension
Browser functionality is additionally subject to the limitations of the host application
Browser
Create Playlist
Camera Recording
Screen Recording
Screen Recording w/ Camera
Chrome
Yes
Yes
Yes, with Chrome Extension
Yes, with Chrome Extension
Firefox
Yes
Yes
Yes
No
Safari
Yes
Yes
No
No
Edge
Yes
Yes
No
No
IE 11
Yes
Yes
No

No