The GoVideo Chrome extension allows you to create and share videos with your customers, prospects, and colleagues in just a few clicks.
The Chrome extension also allows you to edit your videos, including the ability to download or share a link to the source file of your video.
You can download your video on edit page in the GoVideo extension at any time. The edit page will also open whenever you finish a new recording.
Requirements
Note
The Download feature is available to paid users with either the GoVideo Pro or GoVideo for Teams pricing plans
Open a video from your library
Whenever you finished recording a new video, the edit page will open. You can also open the edit page for a video at any time.
Click on the GoVideo extension in the top, right-corner of your browser
Click on Videos to open your GoVideo library
Hover over the video you want to edit, then click Open Video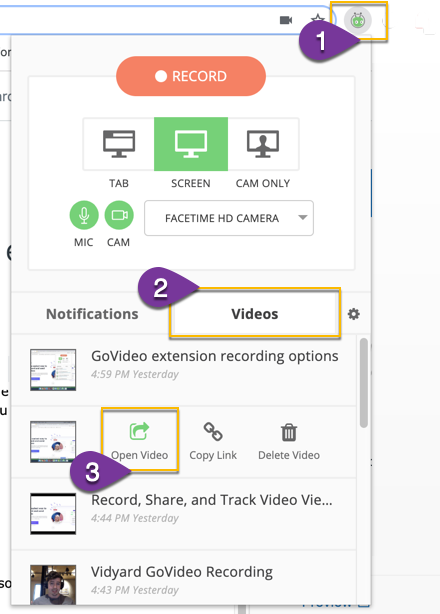 Download your GoVideo recording
Open a video on the edit page, then select the Download button
Click on the download icon next to the version of the video that you want to download

Alternatively, copy a download link to share with anyone

When complete, click Close
Note
When Vidyard prepares a video for use (aka. encoding), it provides multiple versions of the video in different resolutions (1080p, 720p, etc). The Source option is the video file in its original format.