The thumbnail for your video is typically an image of your choosing, along with the play button in the center of the player itself.
By using the Vidyard Player API on your webpage, you can add additional metadata to the thumbnail that helps provide information about the video to your visitor.
In this example, we've added a timecode directly to the bottom, right-hand corner of the thumbnail to indicate the length of the playlist (or single video). Including the the duration of the playlist/video on the thumbnail is important because it may influence whether a page visitor decides to click play.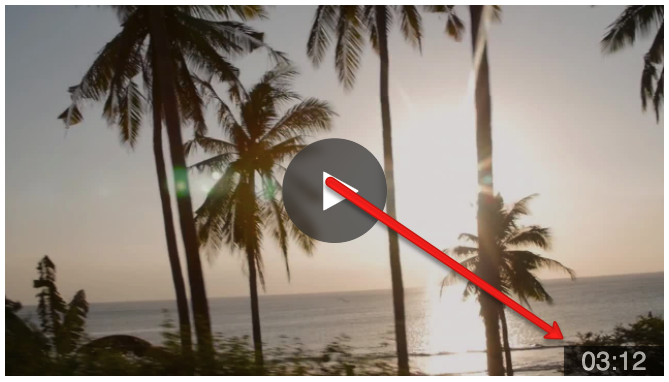 See a working example on our CodePen page.
Code sample
<!--Thumbnail Timecode by Chris Broughton, Jan 2020
Designed for a single player on a webpage. Replace PLAYER IMG with your own embed-->
<!-- JQUERY CDN -->
<script src="https://ajax.googleapis.com/ajax/libs/jquery/3.4.1/jquery.min.js"></script>
<!-- PLAYER JS -->
<script type="text/javascript" async src="https://play.vidyard.com/embed/v4.js"></script>
<!-- PLAYER DIV START -->
<div style="max-width:640px">
<!-- PLAYER IMG -->
<img
 style="width: 100%; margin: auto; display: block;"
 class="vidyard-player-embed"
 src="https://play.vidyard.com/8VgWAuTYZfxErcDgAePuft.jpg"
 data-uuid="8VgWAuTYZfxErcDgAePuft"
 data-v="4"
 data-type="inline"
/>
<!-- PLAYER DIV CLOSE -->
</div>
<!-- STYLE THE TIMECODE BOX -->
<style>
#lengththumbnail {
 display: block;
 position: absolute;
 bottom: 0;
 height: 30px;
 width: 100px;
 color: white;
 background: black;
 filter: opacity(0.6);
 text-align: center;
 font-size: 26px;
 font-family:sans-serif;
 right:0;
 visibility:hidden;
}
</style>

<!-- DIV FOR THE TIMECODE -->
<div id="lengththumbnail"><div>

<!-- THE MAGIC (add div to player, turn it into minutes, hide it on play, etc -->
<script type="text/javascript"> 
 
window.onVidyardAPI = (vidyardEmbed) => {
vidyardEmbed.api.addReadyListener((_, player) => { 
 
 var video = VidyardV4.players[0];
 var videouuid = video.uuid
 var vlength = video.metadata.length_in_seconds;
 var minutes = Math.floor(vlength / 60);
 var seconds = vlength - minutes * 60;

function str_pad_left(vlength, pad, length) {
 return (new Array(length + 1).join(pad) + vlength).slice(-length);
 }

var finalTime = str_pad_left(minutes, '0', 2) + ':' + str_pad_left(seconds, '0', 2);
 document.getElementById('lengththumbnail').innerHTML = finalTime;


$('#lengththumbnail').appendTo('.vidyard-div-' + videouuid);
 $("#lengththumbnail").css('visibility', 'visible');

video.on('play', function() {
 $("#lengththumbnail").hide();
 });

video.on('playerComplete', function() {
 $("#lengththumbnail").show();
 });
 })
}
</script>