Important: It is recommended that users who are able to support the use of web add-ins through Office 365 take advantage of Vidyard for Outlook (Office 365) add-in.

The Vidyard for Outlook COM add-in is intended as a fallback option. It is a solution for users who, due to technical limitations, cannot support web add-ins through Office 365.
The Vidyard for Outlook COM add-in allows you to:
Access and share videos from your library in a new email or thread
Upload new videos to your library
Requirements
A supported version of Windows 7-10 (v.1703+)
Outlook 2013 or 2016 only
Internet Explorer 11 installed
Supported video recording functionality
| | | | |
| --- | --- | --- | --- |
| | Record (Camera only) | Screen recording (fullscreen) | Upload from computer |
| Outlook 2013 and 2016 | Not supported (use Chrome extension)* | Not supported (use Chrome extension)* | Supported |
*Note: these features are not supported through the Outlook application itself. However, users are encouraged to install the Vidyard Chrome Extension in order to access the full suite of recording options.
Install the Vidyard COM Add-in to your computer
Depending on whether you have a 64-bit or 32-bit Windows operating system, ensure that you install the appropriate corresponding add-in.
You can typically find Windows system information within the Control Panel or Windows Settings.
Using Vidyard for Outlook
From your Outlook inbox, select New Email to open a compose window
Click on the Vidyard tab
Select the Vidyard Camera Icon
Sign in and use the Vidyard add-in:

New Videos: Choose the New Video icon to upload new content to your video library.
Select video: click on the videos in your library to build a playlist. Alternatively, select the title of any video to watch it.
Change Folders: access video content from any additional content folders to which you have been granted access (this is a paid subscription feature)
Playlist tray: click the Selected tab at the button of the add-in to open the playlist tray. Use the playlist tray to arrange the order of your selected videos.
Insert button: click Insert to drop your selected videos into the email text editor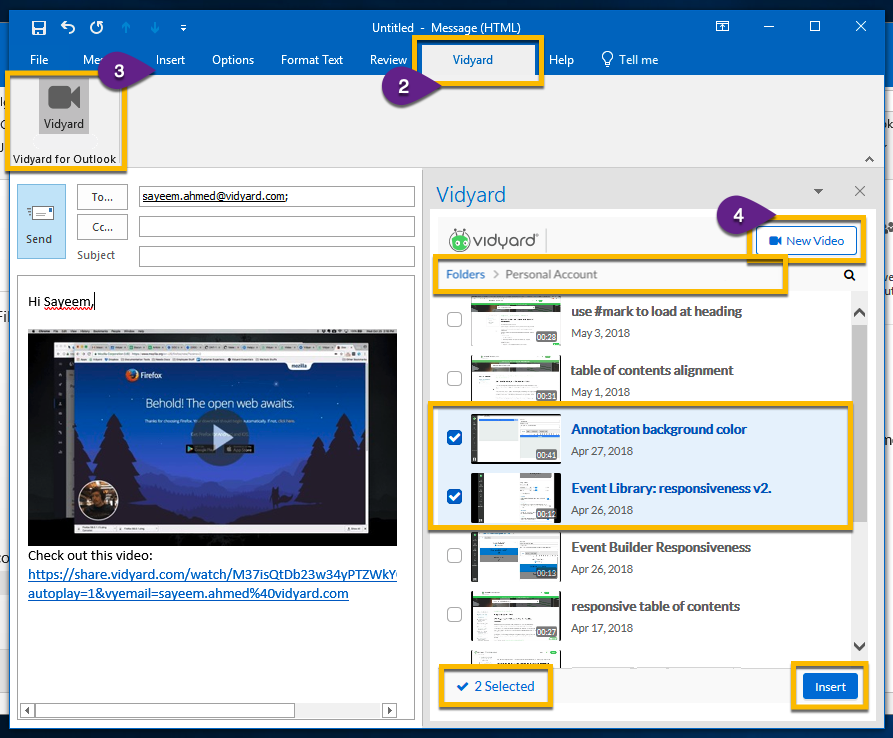 Outlook email text format
When using the Vidyard for Outlook add-in, ensure that you have either HTML or Rich Text enabled as a text format. The Vidyard add-in does not support use of the Plain Text option.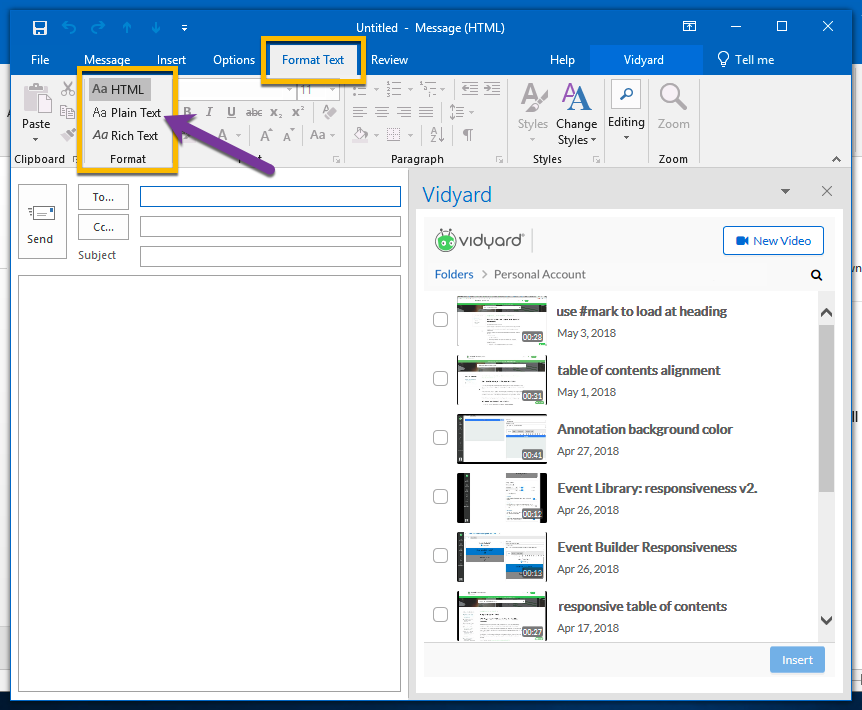 Identifying your viewers
When you send a recording using the Outlook add-in, your recipient's email address is automatically associated to each view by use of a video tracking token. This allows you to track what videos your recipients have watched, and for how long.
You will find the tracking token appended to the video sharing page URL in the following format:
vyetoken=c1g38d0b-5167-9832-812g-jk29861addeb
Note: The tracking token will append to the sharing page URL upon insertion of the video into your email text editor.

This means that the token will not append if you insert a video into the text editor before indicating a recipient. The recipient must be specified first.
Similarly, if you change the recipient after the video has been inserted, the tracking token will need to be updated. Update your recipient, remove the video thumbnail and URL from the text editor, then re-insert the video.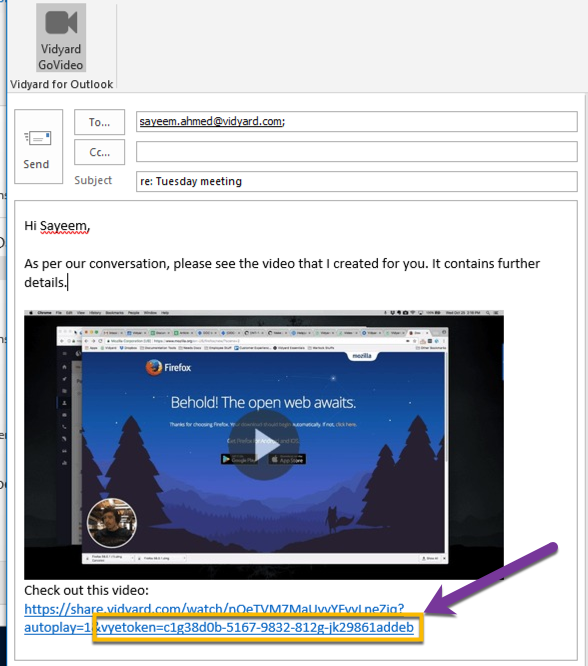 Uninstalling the COM add-in
If you are experiencing any issues with the Vidyard for Outlook COM add-in, or it is no longer required, you can easily uninstall it.
Search for the Control Panel in the Windows Start menu.
Select Programs and Features > Uninstall a Program
Right-click on Vidyard GoVideo for Outlook, then select Uninstall.

If you do not see this in the list, you may have an older version of the Vidyard COM add-in. This will be labeled ViewedIt for Outlook.