Welcome to GoVideo Enterprise!
You now have access to the simplest way to make a personal connection with your contacts. In just a few clicks you'll be able to record a webcam or screen recording and then send your video from directly within a Gmail compose window. No download, uploads, or fancy embeds required!
In this article you will:
Step 1: Set up GoVideo Enterprise
Step 2: Use GoVideo Enterprise
Requirements
An invitation to join GoVideo Enterprise from your Vidyard administrator
A Chrome browser
Step 1: Set up GoVideo Enterprise
Accept your invitation to GoVideo Enterprise
After your Vidyard admin invites you to Govideo, you will receive an email invitation asking you to confirm.
If you have already accepted the invitation - great! You can continue with the set up instructions.
If you have not accepted, look for and accept your GoVideo invitation email.
If you do not have an email invitiation, ask your Vidyard admin to add you as a GoVideo user.
Install and sign in to the GoVideo Chrome Extension
Navigate to the GoVideo Chrome Store listing.
Click + Add to Chrome to install the GoVideo Chrome extension.
 
In the upper, right-hand corner of your Chrome browser, click on the V-bot icon and sign in to GoVideo with the same email address to which you received the GoVideo Enterprise invitation.
 
Now in Gmail, open a new email compose window. Click the arrow in the bottom right-hand corner of your new message and ensure that Plain text mode is not checked.
 
You're done! Time to try out GoVideo!
Step 2: Use GoVideo Enterprise
There are two main tools that enable you to create, send, and track video with GoVideo Enterprise: the GoVideo Chrome Extension and the GoVideo Library in Gmail. 
The GoVideo Chrome Extension operates as your primary tool for creating webcam and screen recordings. 
The GoVideo Library in Gmail allows you to build and organize playlists from across the different groups in your organization. It also allows you to insert video(s) into an email directly from within the Gmail compose window. 
GoVideo Chrome Extension
Use the GoVideo Chrome Extension to:
Access options for Tab, Screen, or Cam Only recordings
Review the GoVideo Feed to see who has watched your videos
Open your GoVideo library; includes options to:

Copy a link to a video
Open the sharing page to a video
Delete a video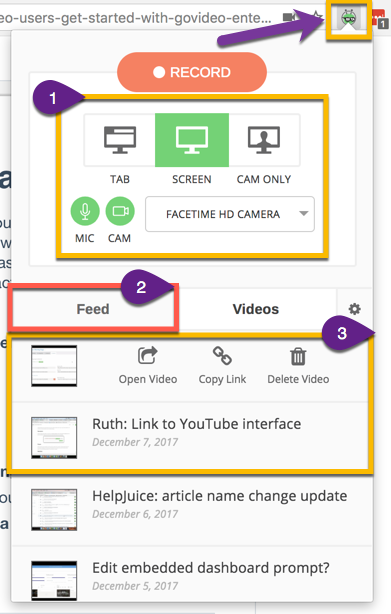 GoVideo Library in Gmail
Use the GoVideo Library to:
Build playlists from your video library

Add content from across different groups
Reorder selected playlist content

Record or upload new videos
Insert a recording or playlist directly into the Gmail compose window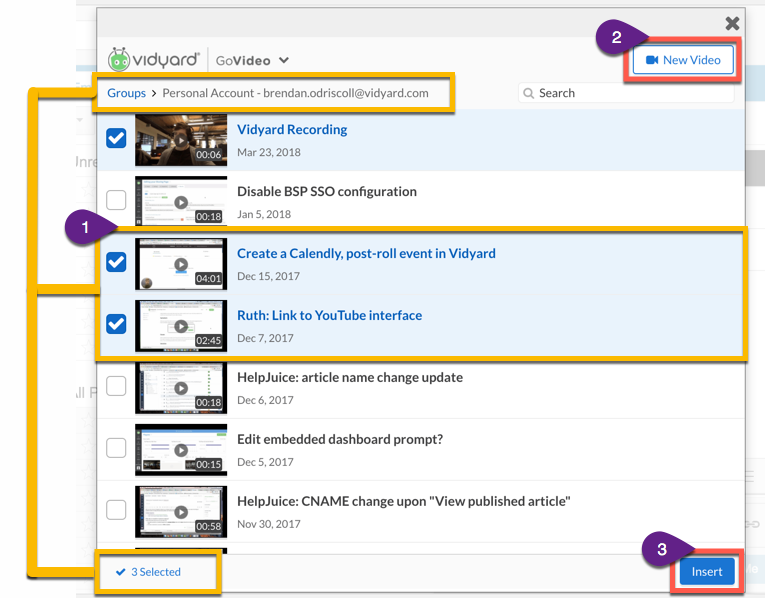 The GoVideo sharing page
After you've completed a recording with the GoVideo Chrome Extension, your video will load onto an editable sharing page. Each GoVideo recording has its own sharing page.
From here, you're able to access additional sharing and configuration options:
Use the editable title field to name your video
Click Thumbnail to decide whether to use a static or GIF thumbnail

Static thumbnails are generated from the first second of your video
GIF thumbnails are generated from the first three seconds of your video

Select Gmail to insert directly into your email compose window (or Copy Link to share elsewhere)
Click Share to reveal further sharing options

Share to Facebook, Twitter or LinkedIn
Use Copy Link & Thumbnail to paste a hyperlinked thumbnail of your video into any HTML editor

Click Delete to remove the recording from your account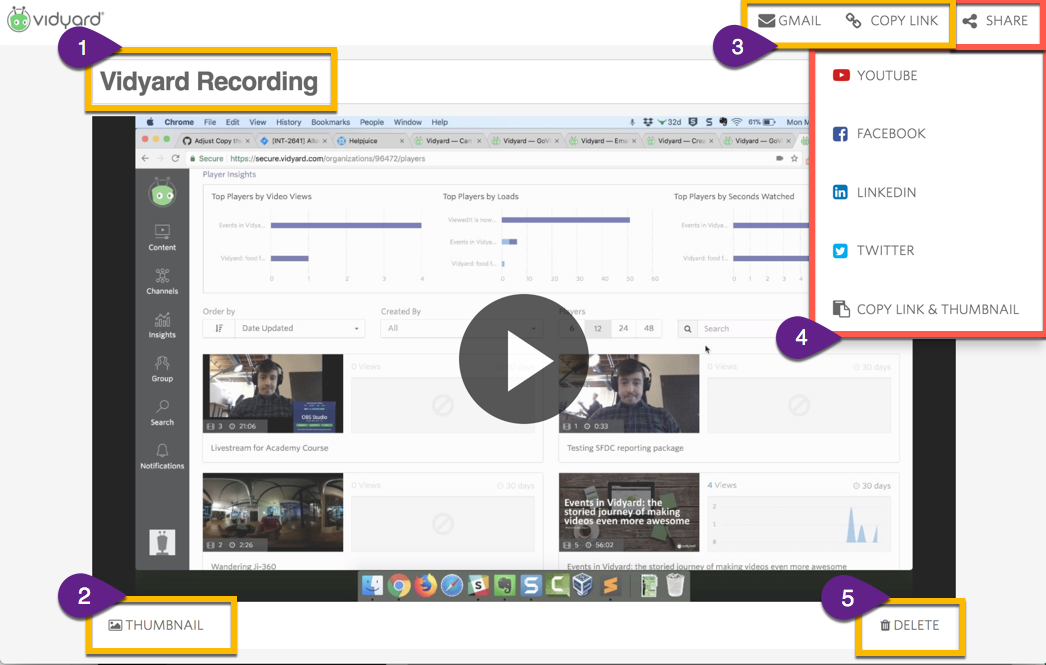 Track engagement with GoVideo Enterprise
GoVideo Enterprise tracks how much of your videos viewers have watched. Use this information to follow up with the most engaged leads.  
There are two quick ways to review who has watched your video: 
You will receive an email notification when known viewers watch videos that you send from Gmail.

Review the GoVideo Chrome Extension Feed

Furthermore, if your organization has integrated with a CRM or marketing automation tool like Salesforce, Marketo, Eloqua or HubSpot, this viewing data will be pushed into your contact or lead records.