Additional Requirements: to create and manage Actions you must belong to a Team with the Edit videos permission enabled
---
Vidyard allows you to easily add an Action (CTA) to the videos in your library. Actions are an effective way to prompt your viewers to engage with your message and take a next step directly from your videos.
You might use Actions to direct your viewers to:
Sign up for a newsletter or upcoming event
Schedule a meeting in your calendar
Learn more about a product or service on your website
Enter information into a form in order to watch your video
Learn more about the different types of Actions that you can add to your videos.
Adding a new Action to a video
Select a video from your library to open the edit page
Select Actions from the menu
Click on + Add Action (before, during or after the video)
Select New Action, then choose either Fullscreen CTA, Banner or Email Capture Form

Alternatively, select Existing Action to choose from the list of Actions that have already been created
Editing your Action
Once you've added an Action to a position in your video, you can then edit and adjust its settings.
Edit the text of your Action's message and button
Switch the setting toggles ON or OFF to change how the Action behaves (e.g. only show the Action once, allow your viewer to skip, etc)
Under Details, give your Action a name and add a description (something that tells other users what the Action is for)
Here's a quick breakdown of the settings that you can change and their corresponding Action types:
Setting
Quick Action type
Description
Ability to skip

Fullscreen CTA
Banner
Email Capture Form

Allows the viewer to skip the Action
Only show once

Fullscreen CTA
Banner
Email Capture Form

Only show the Action to the viewer once per page load
Skip for known contacts
The Action will only appear if the viewer is not yet a known contact in Vidyard (they have not been previously identified)
Pre-fill known contacts
Automatically fill in the viewer's email address if the viewer is already a known contact in Vidyard (they have previously been identified)
Removing an Action from your video
Don't want a particular Action on your video anymore? Select the Action to remove it.
Select the Action that you want to remove from the timeline
Select Remove from the menu in the bottom right-hand corner
Select Remove again to confirm
When you select Remove, the Action is only removed from the current video. This does not affect other videos that you have added the Action to, and it will still be saved in your list of Actions for future use.
Alternatively, if you never want to use the Action again, you can select Delete. Choosing Delete permanently removes the Action from your account as well as any other videos that it's been added to.
Note: Need to remove a Default Action from your video? Learn how to exempt a video from Default Actions.
Understanding the different types of Actions
When you add a new Action to your video, there are 2 main types that you can choose from: Quick Actions and Custom Actions.
Quick Actions: Select from 3 simple, templated Actions designed to address common use cases -- a fullscreen CTA, a Banner and an Email Capture Form


Custom Actions: create your own custom CTA from scratch with HTML and CSS. Access to Custom Actions is dependent on your Vidyard subscription plan.
Quick Actions
You'll find the 3 different options for Quick Actions whenever you add a new Action to a video. Each of these templated Actions starts with the word "Quick".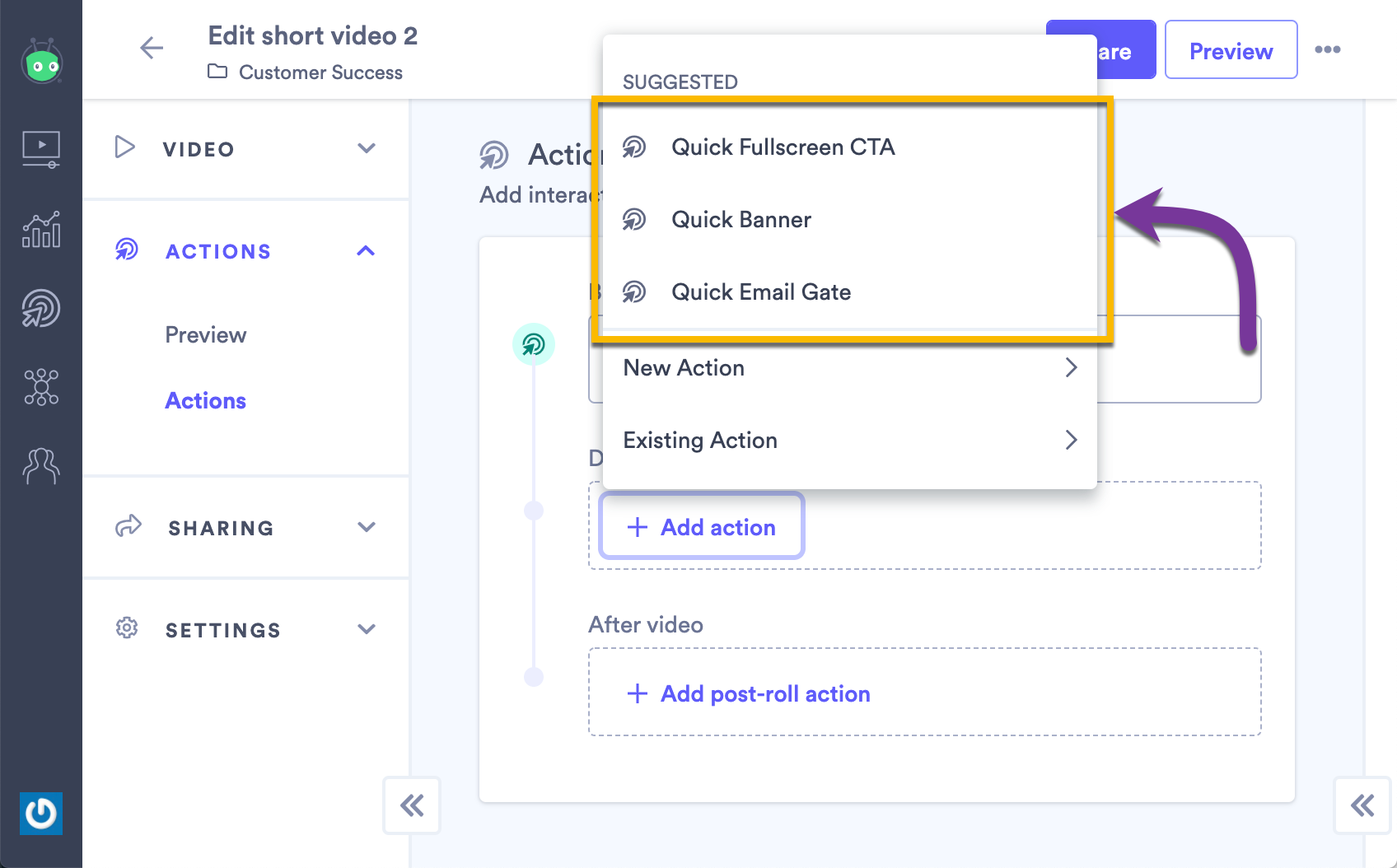 The table below explains what the 3 different Quick Actions are, where they can be used in your video (before, during or after playback), and what they are typically used for.
Type of Quick Action
Where it can be used in your video
Reason to use
Fullscreen CTA

A message + button

Takes up up entire frame of the video

Before

During

After

Use to send viewers to complete next steps, such as a link for:


An external web page to learn more about a topic, register for an event, or watch more videos


Your personal calendar to book a meeting (i.e. through tools like Calendly or HubSpot Meetings)

Banner

A message + button

Take up 1/3 of the video frame. Appears just above the video progress bar + controls

Only During

(you choose start and end time)

Email Capture Form

A form to capture your viewers email address

Takes up entire frame of the video

Before

During

After

Ask for an email address so that you can identify viewers who watch your video.


Identified viewers are recorded in the Vidyard Contacts Center as well as your Video Insights.

When you have an active data integration, video analytics from identified views are passed to your marketing automation (MAP) or CRM platforms.
Custom Actions
Custom Actions are ideal for anyone who wants to design their own call-to-action (CTA) from scratch. Making your own Custom Action often requires an understanding of both HTML and CSS.
Want to design your own CTA? Learn more about how to create Custom Actions.