The Insights Dashboard provides you with an account-wide set of digestible video analytics to help you make actionable decisions around your use of video.
Video analytics are presented as a set of components called widgets. Each widget offers a different view of video performance, usage, and viewer engagement.
Measure how well visitors convert across key video metrics, from video loads to identified viewers
Review performance against a previous period of time (week over week, month over month, etc).
Identify top performing videos in terms of views, time watched, and attention span
Understand where your viewers are watching based on geography, embed location, as well as device and browser type.
Requirements
You must belong to a team with the View Player Insights permission enabled to access the Insights Dashboard
Access the Insights Dashboard
The folder that you open the Insights Dashboard from determines the data that you will see.
In your account, video analytics roll up to the parent folder. So when you access the Insights Dashboard from the parent, it includes data from your various subfolders—an account-wide view of video performance.
If you access the Insights Dashboard from within a particular subfolder, you will only see data associated with the videos and players from that folder.
Select Change Folder from the Vidyard dashboard to ensure that you access the data that you want to see (an account-wide view or a subfolder view).
Select Insights > Dashboard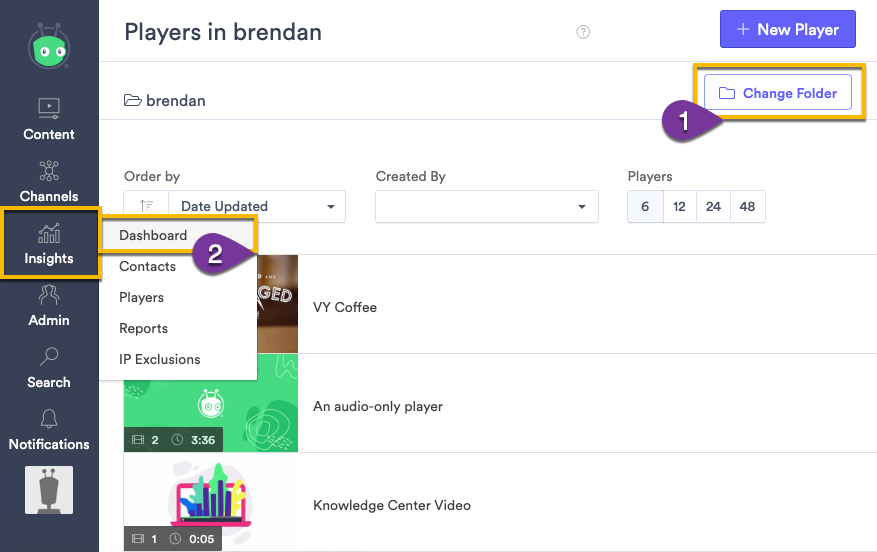 Apply or remove a filter to change the available data
The type of the data that appears in the dashboard changes as you apply or remove a filter.
Unless a filter for a specific video or player is applied, the data in each of the widgets represents aggregate data for the folder (or, if in the parent folder, for the entire account).
When a filter is applied, data in the widgets become specific to the selected video or player. Some widgets, such as the Viewer Retention widget, only appear when you filter for a specific video.
Use the Date Range dropdown menu to select a period of time. You can view data based on common business cadences (weekly, monthly, quarterly, etc).
To filter data to a specific video or player, enter a name in the Filter By field.
Click on the info icon to learn more about each widget.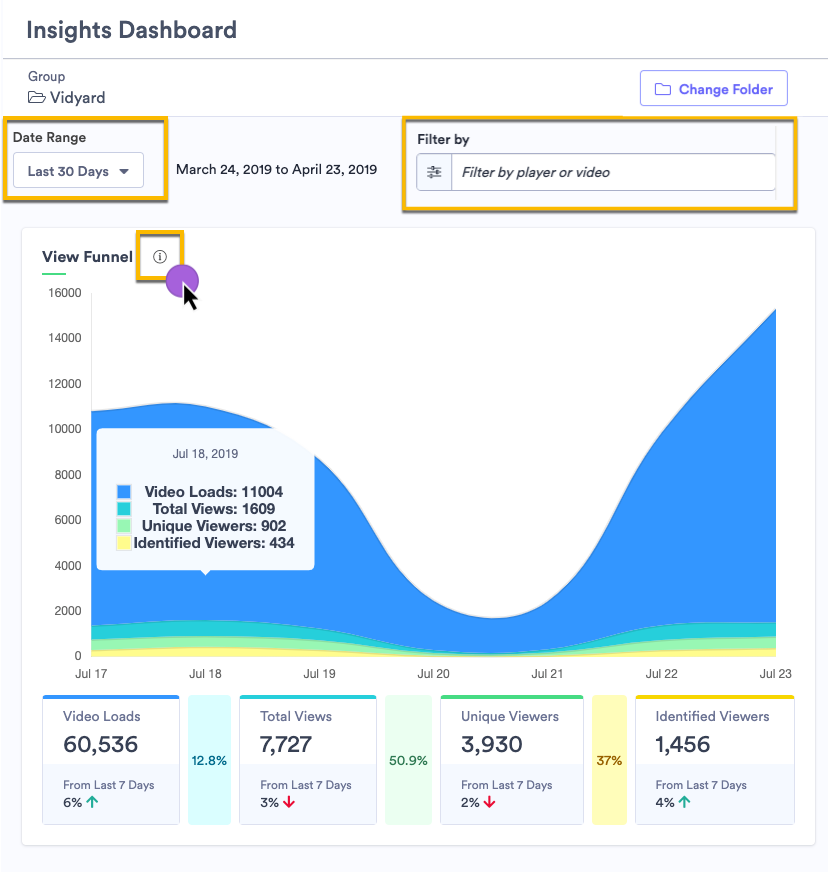 Get even more data
Some widgets only appear when a filter is applied. For example, if you filter for a specific video, the Viewer Retention widget becomes available.
Pay attention for the "Want more data?" prompt. The prompt appears when additional widgets are available in a different view (adding or removing a filter).

Some widgets (like Top Videos) contain more data than can be shown on the dashboard itself. Click on See more to expand the information in the widget.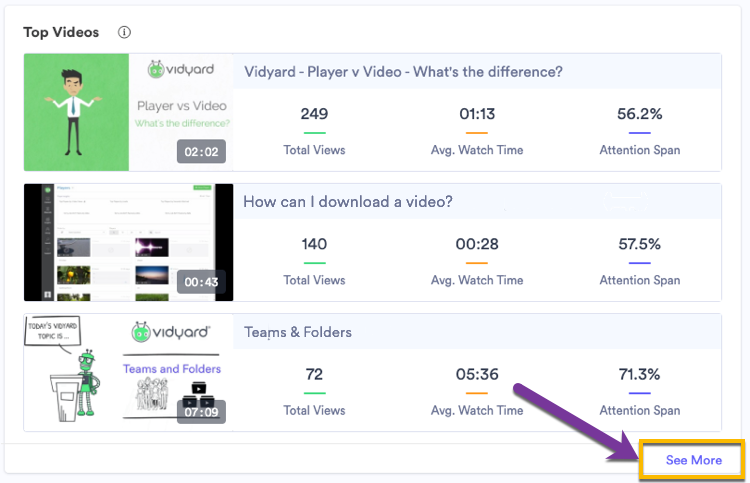 Remember!
If you need even more granular data about videos, identified viewers, attention spans, and more, you can always compile a report for additional information.
Learn more
Learn more about the types of video analytics available in the Insights Dashboard.