The GoVideo Chrome extension allows you to create and share videos with your customers, prospects, and colleagues in just a few clicks.
The Chrome extension also allows you to edit your videos, including the ability to change your video thumbnail.
You can change your GoVideo thumbnail on the edit page at any time. The edit page will also open whenever you finish a new recording.
Requirements
Open a video from your library
Whenever you finished recording a new video, the edit page will open. You can also open the edit page for a video at any time.
Click on the GoVideo extension in the top, right-corner of your browser
Click on Videos to open your GoVideo library
Hover over the video you want to edit, then click Open Video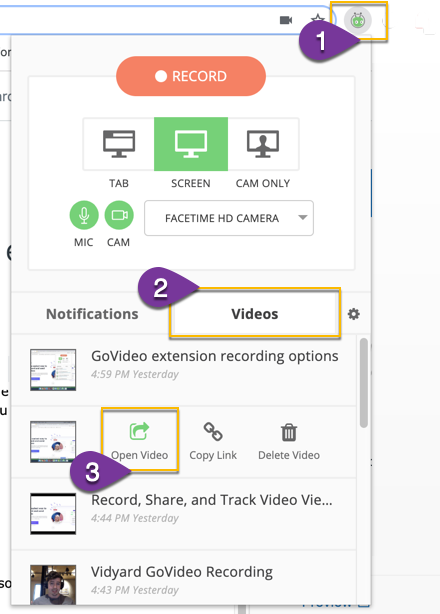 Change your GoVideo thumbnail
Open a video on the edit page, then scroll down to the Thumbnail editor to choose from 1 of 3 options:
Static thumbnail: a still image taken from the 1st second of your video
Animated thumbnail: a .gif taken from the first 3 seconds of your video
Take a picture: don't like your static thumbnail? Take a photo with your webcam to create a new thumbnail.